Steam hauled
train rides


Miniature
Railway

Main Line Steam


Art Gallery

Visitor Centre/
Refreshments/
Exhibits

National Railway Museum wagons


Shop



Special Events

Turntable

Industrial diesel
During the enforced closure of Yeovil Railway Centre due to the Coronavirus pandemic (initially to end of May 2020), we thought we would offer something a little different.

With your help, this page will contain bits and pieces of information about the Centre, what our volunteers do to keep themselves active, perhaps some photos (please send them in) and other material. Contributions welcomed from all our friends and members.

Please email yeovilrailway@hotmail.com with your contributions!

CLICK HERE to go to our normal Index and other pages
---
CLICK HERE to go to our Appeal for help for funds to construct our replacement toilet block.
Please donate here (via PayPal-no account required!):-
Due to our enforced closure we anticipate having our income reduced by some £10,000 even if we can resume operations in the Summer.
If you are able to help us please donate here (via PayPal-no account required!):-
---
Please email any contributions to keep us up to date and smiling to yeovilrailway@hotmail.com - thank you! (All photos & contributions are copyright the owners-no reproduction without written consent please!)
---
---
9 April 2020

Keep the contributions coming! Tell us about your self - hobbies - embarrasing events - other funnies! email yeovilrailway@hotmail.com

Two more clips of Roger's visit to the Harz mountains by steam - please CLICK HERE

Brian writes:- Do you remember when in 1986 there seemed to be an almost overnight change to our stations, starting by painting the lamp posts red, (mocked at the time) but the start of a new way of looking at running our railways. A psychological as much as a physical change. British Rail had introduced sectorisation with a business led organisation by traffic type. Three passenger sectors were created in 1982, of which Network SouthEast (NSE) was one, responsible for commuter and inter urban traffic around London. It also took in the West of England line to Exeter.

The person responsible for making things happen was Chris Green who took over as director in 1986, with a proven track record of having already transformed and rebranded Scotrail. He now proceeded to do the same for NSE. Drab, dirty stations were to become clean, bright and colourful, and he was looking for reliability of services within five years. Station platforms had new red metal seating, which on sitting down in winter froze the parts which were not intended to be frozen. Then there were the click-clack digital clocks, red with the NSE logo along the bottom. Signs, advertisements, information, all were rebranded, and locomotives and carriages had a new livery of rail blue with a horizontal white (or very light grey) band with red stripe, the ends of which were later upturned (like a go fast stripe) to meet the yellow front. The carriage interiors were refreshed and brightened with seating recovered in rail blue moquette and the NSE logo on fittings. All this was done as an interim measure until new rolling stock could be introduced.

The off-peak Capital Card from local stations to London was introduced, with unlimited travel on bus and Tube journeys within the London area. Then there was the network card introduced to tap into the unused off peak leisure market which allowed a third off the fares after 9.30 am weekdays and all day at weekends. The whole of the NSE region was covered, from Exeter to Southend, Milton Keynes to Weymouth. NSE was launched with a massive TV and press campaign and proved a great success.

I made good use of this to go to London. At this time the main motive power on our line was the English Electric Class 50. Originally built to take heavy Anglo-Scottish expresses over Shap during the time the West Coast line was being electrified, once the Crewe to Glasgow section had been completed they moved to the Great Western. They in turn started to introduce HST's so the 50's passed to the West of England line. Powerful 100mph machines, they were an overcomplicated design and by the time they came to our line their age was showing. Designed for continuous full power running they were unsuitable for the stop-start nature of our line, much of it singled. So when a 50 sat down the timetable went through the window waiting for a rescue loco.

I experienced a problem loco one grey and misty November day. The up train arrived at Sherborne sounding rough and misfiring, occasionally cutting out then restarting. At Salisbury the engine finally stopped completely, I went up and asked the driver what was the problem, "contaminated fuel line, I am going to absolutely thrash it, we will see if that clears it, if that doesn't do it nothing will". He was as good as his word, once clear of Tunnel junction the 50 went up the rising gradient past Porton Down like a rocket, and so it continued. Andover came and went, then Basingstoke, between there and Woking there are long straight stretches, leaning out of the window I could see a succession of green signals stretching into the very far misty distance. The arrival at Waterloo was almost uneventful, but the problem had clearly been solved.

Another journey on a sizzlingly hot summers day in London, so hot you could fry an egg on the pavement, I departed from Waterloo in the late afternoon. With all the window vents open to try and get cooling air the sound levels from the engine's exhaust steadily increased as the train accelerated through Vauxhall, easing for Clapham Junction then really opening up to a full throated steady roar, exhilarating but at the same time with an element of apprehension as the ride became lively. How fast were we travelling? I had had this discussion on a previous occasion with an enthusiast armed with stop watch, timetable, gradient profile etc. He said up trains could achieve 100+mph, It was more difficult on the down ones as the gradients were against them, but with a good loco and driver it could be done.

(to be continued)

Paul recalls trying to check the speed of Class 50 hauled trains on the long straight approaching Templecombe from the Gillingham direction. Using the method of counting the number of rail joints he managed to convince himself that 100mph was achieved on occasions!

The Trustees are practising holding meetings via the internet using Zoom. Its a bit different - as long as only one person talks at a time it seems to work!


---
8 April 2020

A second clip of Roger's visit to the Harz mountains by steam - please CLICK HERE

Brian sends in a response. Following on from Roger's experiences at Sherborne signal box, here are some photos that were passed on to me by Ray Baker from the camera club.

His great grandfather John Isaac was signalman at Sherborne signal box about 1870's? The other two photos are of the station, one taken from the signal box dated 1875 (and appears in Salisbury to Yeovil by Mitchell and Smith). The other photo from the footbridge is in rather poor condition but may be from the same date. One of Ray's relatives was an amateur photographer, there are a few more photos to follow on other subjects.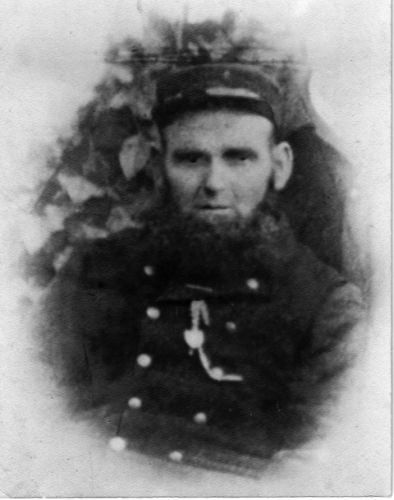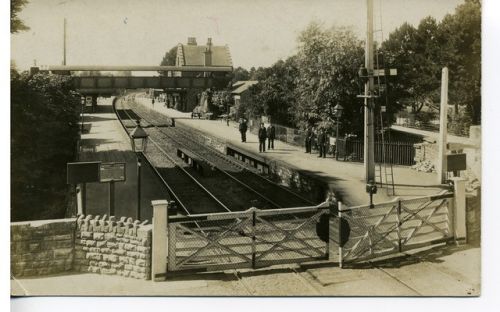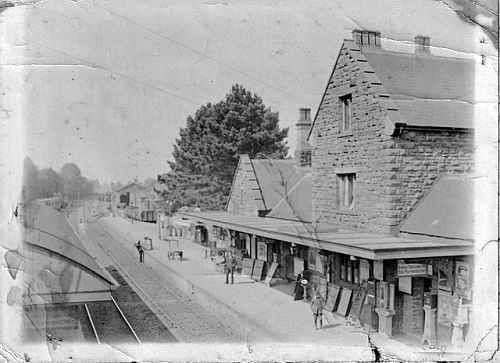 A heartening display locally marking an important birthday Please CLICK HERE


---
7 April 2020

Another Roger (you can't have too many Rogers) has forward lots of interesting clips of his (and family) visit to Harz mountains by steam on 1 May 2019. Turn up the sound and enjoy the action! We have created a Yeovil Railway Centre You Tube (thanks Tony) account to show these - please CLICK HERE

MEMORIES OF SHERBORNE STATION (by the original Roger...)

As a lad in the 1950's I used to spend hours at Sherborne Station which was at the other end of the town from where I lived. During the days spent on the platform I got to know a few of the station staff. Most memorable was Bill Downs who was a porter with a broad Devonshire accent. When on duty you could hear Bill bellowing out 'Shabone' as each stopping train drew to a halt in the platform.

One of my favourite times was watching the early morning shunter which was usually a Yeovil Town 'U' Class that spent time shunting various wagons around the yard before proceeding to the down side of the station to shunt the gasworks. The final part of the shunt was to propel a couple of box vans and a guards van up through the station to the Dorset Farmers sidings located where the Sainsburys supermarket is now located. The loco used to leave the guards van on the up line whilst it dropped off and pick up wagons from the sidings. Joy of joy - I was sat by the cattle dock one morning when Bill shouted across to ask if I wanted to ride in the guards van with him up to the sidings - of course I didn't want asking twice. It was only a small thing but it's funny after sixty years how the memory of that trip still lives on.

Whilst on the platform one morning I ventured to enter the parcels office and in conversation with the porter I discovered that he was a distant relation of mine - I was in. From then on I spent hours of my time helping Jimmy Read with his work. Sticking labels onto boxes of cheese that were delivered from the South Western Dairies for onward journey to London. Booking in boxes of flowers from a grower at Sandford Orcas to be sent to Covent Garden etc. Looking back now I realise how much free labour I gave the railway at that time. I must have been trusted (and used) as it was quite normal for me to be left holding the fort whilst Jimmy and a couple of others went for their mid-morning break across the road to the Woolmington Hotel - not drinking tea either! Then there was the afternoon Waterloo bound train where I used to help load the cheese boxes into the luggage compartment of the leading coach, with the guard looking on telling us to hurry up as he kept checking his watch and accusing us of holding up the train departure.

Some of these memories came flooding back a while ago when I came across the attached photograph of Battle of Britain Class No.34072 '257 Squadron' at Sherborne with postman Harry Green standing on the platform with the mail ready to load onto the train and the parcels office in the background.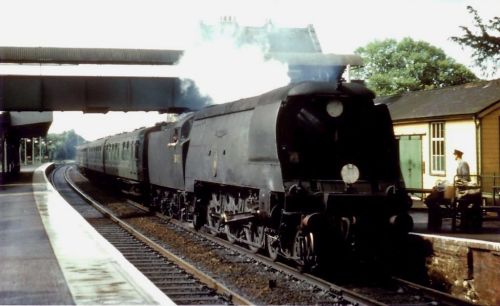 Happy days!

Derek has kindly sent in this tale (should make Ron smile...) and a few groany jokes at the end! Thanks Derek.

An amusing story as told to me by Stan Symes, a driver down at Swanage during my days down there.

Stan was firing a Bullied Pacific out of Waterloo when a "special" came out at the same time, headed by a GWR engine. A Castle I think, but it may have been a King. Now, back in the day, it was quite normal to be passed and then repass another train. Stan made sure that every time they passed the other engine, he was sitting in his seat with his newspaper open and giving them a cheery wave as the other fireman was shovelling hard. He did say, however, that he had to work really hard himself in between times to keep his fire right! One for the Southern over the GWR perhaps?

Also, to pass some time during our enforced imprisonment, I have been reading a joke book. Here are a few.

What's the difference between a kangaroo and a kangaroot? One's a marsupial, the other's a Geordie stuck in a lift.

Is the Isle of Dogs the Isle of Man's best friend?

And my favourite Daffynitions. Aardvark: the honest way to make money.

Climate: what you do with a ladder.

And lastly, one for this trying time.

Doctor, I've just been attacked by a giant beetle with an axe. Yes, there's a nasty bug going around!


---
6 April 2020

Some photos taken by the late John Cornelius (a much missed volunteer) as provided by Brian. You may already know that the later Chard signalling panel (not this one) - incorporating the Axminster loop is now at Yeovil Railway Centre and being worked on to, eventually, provide a simulation.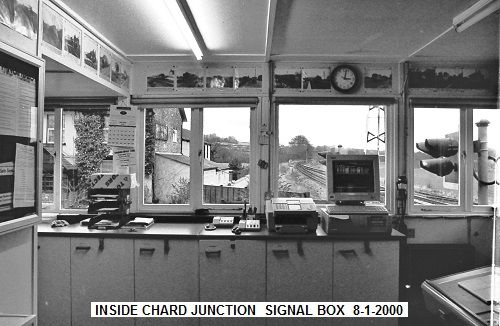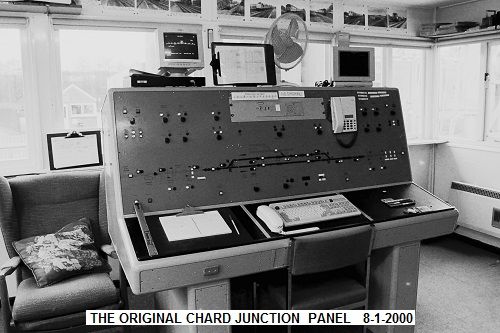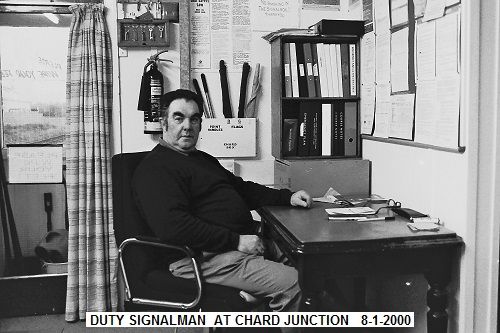 Roger has provided a link to an accident that happened at Templecombe on 10 July 1894 which may have had a bearing on the later remodelling of the station to provide a separate platform for S&D trains.

The accident report can be found HERE . A photo of the said accident follows which is full of interesting detail including the two wagon mounted cranes lifting the tender.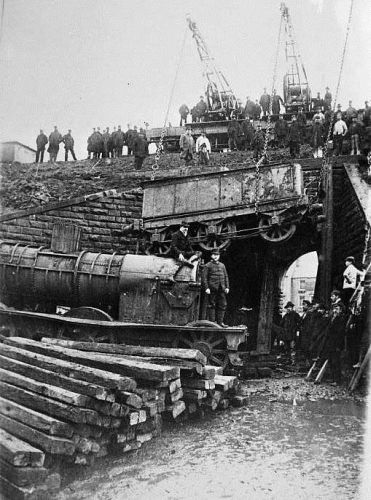 Remember the question set by Bill on 31 March? No? - a reminder:-

To name the railway the loco worked on, the make of loco and the gauge.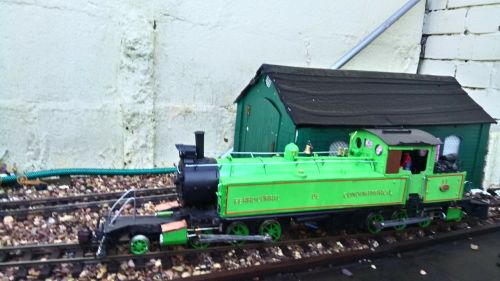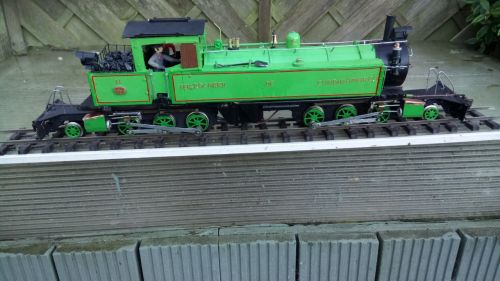 The answers are:- The loco is 3 ft gauge made by Kitson & Co, Works no 5415/7 of 1928 road number 11 number 13. Lost at sea. Built for the Cundinamarca Railway (Colombia). This was when the UK made the Locomotives for the world.


---
5 April 2020

First today is a copy of Railway Modeller from August 2017 featuring 'CRUMFORD', one of Roger's layouts. 4 pages - HERE

and click BACK when done.

Bob kindly sends in photos from 1 August 2007. He says "On a hot Aug day in 2007 I travelled to Thornford to catch a shot of the ECS move of 37 class no 37428 + kettle 34067 on the rear from Weymouth to YJ for servicing on a Kensington Olympia to Weymouth Steam Dreams Charter on 01 08 2007" "I arrived early and got set up, while I was waiting I noticed a movement in the corn field on the opposite side of the track. The next thing I saw was a small dear 'pop' its head up above the corn, it must have been having 40 winks in the warm sun, as soon as the growler 37 came it moved away".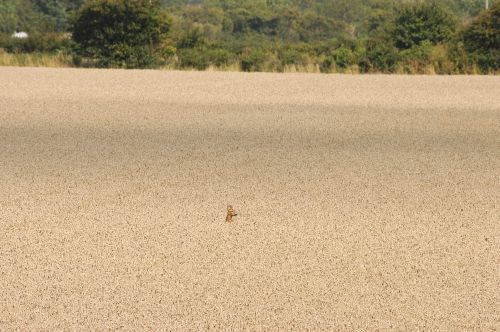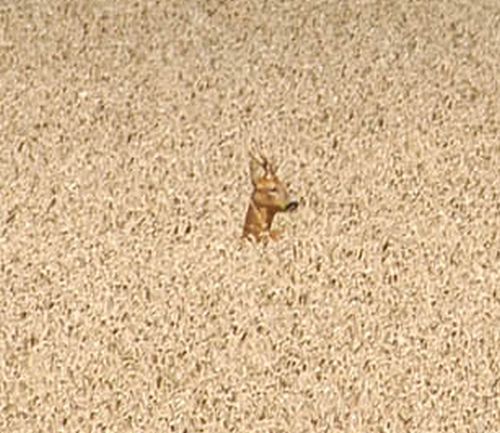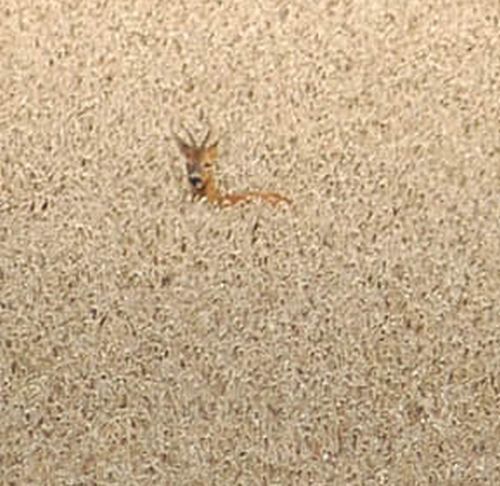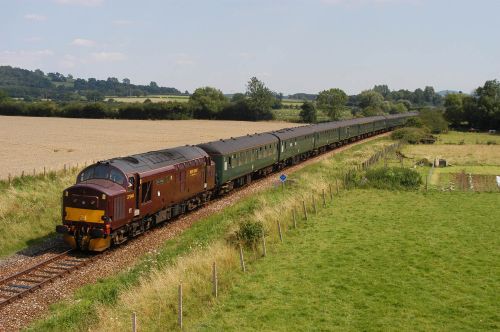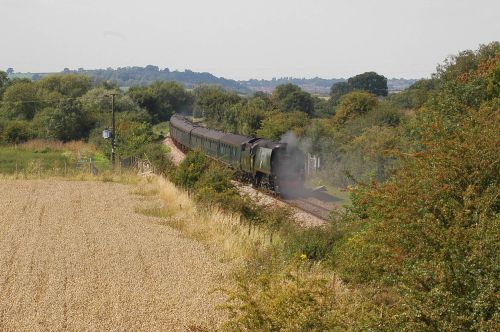 Malcolm has been catching up with work at home (just like many of us I expect!).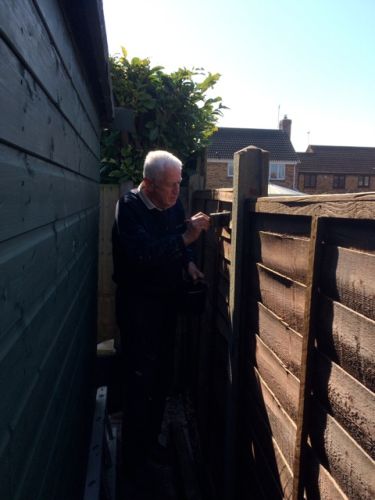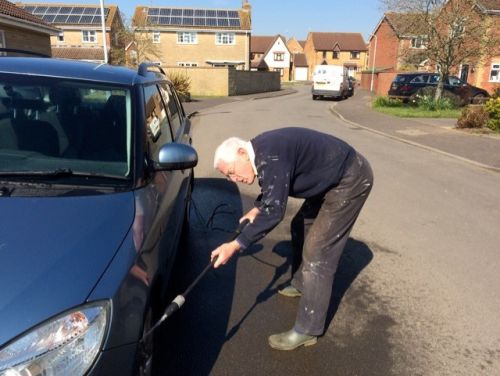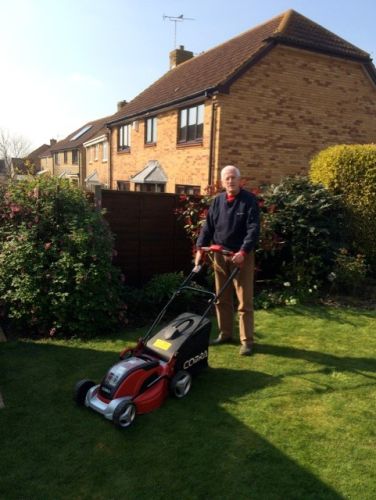 ---
4 April 2020

Our friends at Steam Dreams have put a Podcast on their website of their 20th Anniversary train to Sherborne (for the Abbey Carol Service) and onto Yeovil Junction. Includes a description of the locomotive and carriage servicing activities. CLICK HERE and turn the sound up!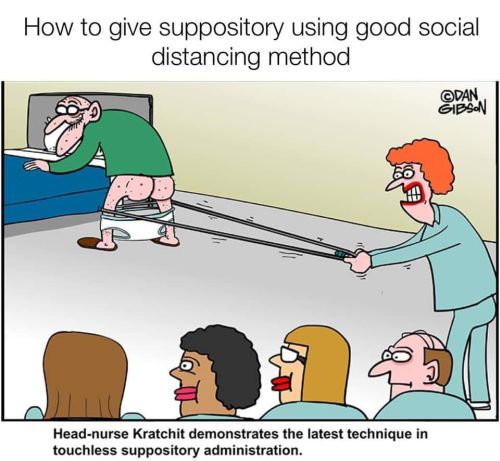 Another contribution from Roger - During the early 1980's I quite often spent some summer Saturdays at Taunton photographing the variety of motive power heading to the west. The 1st.September 1984 proved to be a memorable day.

At that time I had forgone my usual format of photographing using Agfa colour slide film and was using up a roll of black and white film that I had lying around. As you might imagine with the volume of traffic heading west quite often trains either ran late or out of sequence.

During the afternoon the 12.10 Liverpool to Penzance appeared to be missing, but that was nothing unusual, however much to everyone's surprise usual HST turned up being hauled by a Railfreight Class 58 No.58002. This must have been the first visit of a Class 58 to the west unless anyone knows different.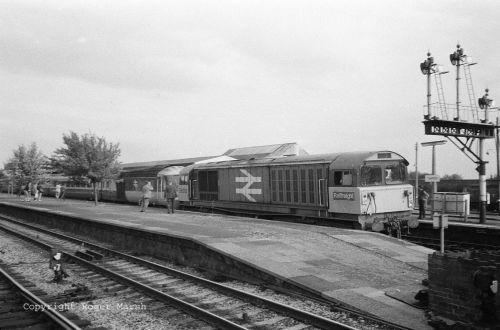 A super photo - sometimes B&W enhances the scene. Semaphores, well maintained middle platform (later closed and since reopened).

Are you superstitious? - submitted by Ian (best not read if of a nervous disposition.....)

A brief history of an exciting voyage.

1974 and after some delay I had finally passed my Second Engineers Certificate and I changed shipping companies. In August I joined a general cargo ship as Third Engineer on the Isle of Dogs loading for the Pacific Islands. We did not get off to an auspicious start! As the Third I was relieving left he said, 'Oh! by the way there is white metal in No. 2 crank case', deep joy, I had not sailed with this type of engine before (6 Cylinder Harland and Wolf.) and neither had the Second Engineer so we set to and changed the offending bearing. (The second was of little help!). We sailed on time for the Panama Canal taking Bunkers at Cristobal (east entrance to the canal.) prior to Canal transit, on completion of Bunkers I went up to my cabin to find it occupied by a new Third Engineer; going to the Chiefs cabin I was informed that the Second had been sacked and the job was mine!

Canal transit went without incident and we headed for Tahiti, however four days out from Panama we had a disastrous engine room fire. We managed to put out the fire and went up onto the Bridge for a beer and to discuss what next when the Captain said. "I will have to have words with that Pilot;" que curious looks! The Captain said that as the Panama pilot was leaving the ship he said; "do you realise Captain that you are the thirteenth ship I have taken through today, you now have a thirteen day passage to Tahiti, and thirteen ports of call through the Islands, plus today as you leave Panama it is Friday the thirteenth." Silence, we were not impressed.

After a night's sleep we spent to the next day assessing the damage and started to salvage what we could and jury rig cables to the one easily salvageable main generator, it took some days until we got running, thankfully the weather was calm and we headed to Tahiti where a riding crew of electricians were to meet us to rewire the engine room.

Our problems did not end there; the third and fifth engineers who had been on watch when the fire broke out had both badly burnt their hands, so myself and the fourth Engineer were working six on six off (normally you work four on eight off.) until the third and fifth were fit.

The trip progressed until French New Caledonia where for some reason the Second and Third mate and the Third Engineer decided to steal a car, which they crashed; breaking the Third Eng. leg in the process and he had to be paid off. The Captain was somewhat less than amused as were myself and the Fourth Eng. who were back to six on six off. Oh and to cap it off I had picked up a nasty ear infection.(both ears.)

Cargo discharged we sailed to Mourylian (Queensland) to load sugar for Penang, we also at last gained a new Third Eng. the joy did not last as the Fourth Eng. then went sick and was paid off in Penang; back to six on six off. But at least a Doctor in Penang managed to shift my ear infection.

Things did not improve as we then went to load cargo around the Bay of Bengal; Calcutta, (twice) Chalna, Chittagong, Rangoon, Madras and Colombo, bound for the West Coast of Africa. Not a pleasing prospect, but at least we gained a new Fourth Eng. back to four on eight off.

The World has been here before and come out the other side - just as it will do this time!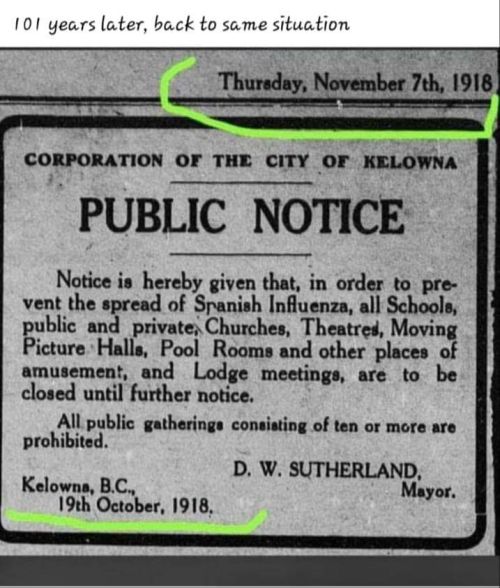 ---
3 April 2020 One of our friends takes a constitutional around the site and here are some of the flowers flourishing:-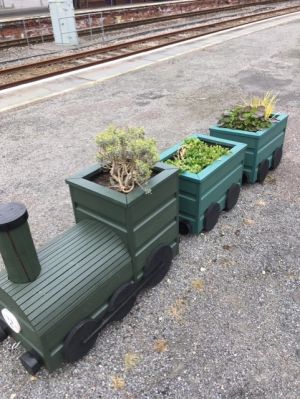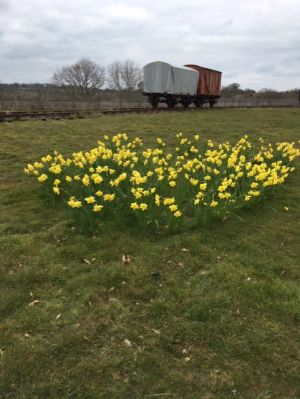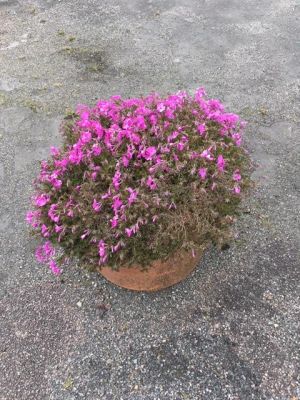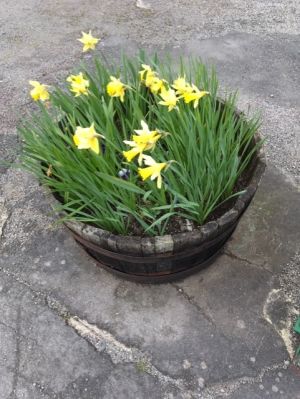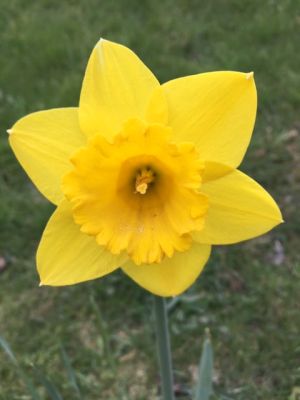 The Transport Library Mike sends on a link to this website where images can be purchased. Certainly a significant number locally (enter location in search box) by photographers which are known to us. Can't add any images as they are all copyright but may be have a browse? CLICK HERE .

Hopefully this video will make you smile?



Another fascinating story from Roger with a remarkable coincidence! (the late Terry Gough was well known to several of us and a super person) - A MEETING OF RAILWAY ENTHUSIASTS

Having always lived in Sherborne I have had a lifelong affinity to the Waterloo to Exeter line. From the days when my mother used to take me to the local station to see the 'Devon Belle' often hauled by a blue liveried Merchant Navy right up to the present day with the endless procession of Class 159 DMUs.

It was during the summer Saturdays of 1960 to 1962 that a most unsual service ran for a short period that being the Exmouth to Cleethorpes service return working. The train ran via Sidmouth Junction, Templecombe, Bath Green Park and on from Birmingham New Street. Leaving Exmouth at 10.42 a.m. the up service passed through Sherborne around 12.30 p.m.

For us trainspotters this was always an opportunity to see something different from the usual Bulleid Pacifics interspersed with a Yeovil Town 'U' Class or Standard Class 4 etc.

On Saturday the 8th.July 1961 I was sat on the wall by the lineside in East Mill Lane a quarter of a mile east of Sherborne Station awaiting the up Exmouth train and to my surprise it was hauled by a 'U1' Class 2-6-0 No.30901. I was really chuffed as this was the first of the class that I had seen. Normally they worked on the Eastern Section but some had been transferred to Exmouth Junction following the electrification of the Kent Coast Line.

It wasn't until the early nineties that I became friends with the late Terry Gough when he moved to the local area to live at Beer Hackett. We both discovered that we had an affinity for railways and it wasn't long before we were reliving the days in the 50's and 60's when we spent time around the Southern Region of British Railways. Looking back though our notes we found that I quite often saw a particular train at Bournemouth that he had seen passing his home station of Woking on the same day.

The coincidence didn't stop there when I relayed to him the story of the Exmouth to Cleethorpes service of the 8th.July 1961 I was only to find that Terry was at Axminster that day and to prove it here is his photograph of the same train.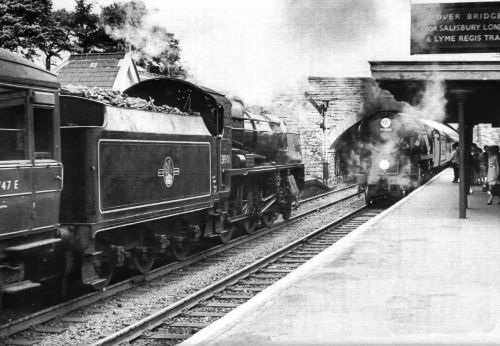 How do you get from Yeovil Pen Mill to Westbury? via Yeovil Junction and Exeter of course:- A couple of engineers on Sunday 5 April via 'The World'
CLICK HERE and CLICK HERE To think Westbury is not far from Yeovil (Thanks to Dave for these - shame we won't be around to 'spot' these!)

Our colleague in New Zealand seems to have enjoyed his long holiday! 'Yes thanks. must have been on about 60 railway journeys in Asia. 3 steam rides. lots of old steamers around too. NZ has a fire ban due to lack of rain so not much steam here. There is a brilliant miniature rail layout here too, but everything is closed now. I have taken some photos.'. We look forward to the stories and photos!


---
2 April 2020 Dave from Exeter sends in this photo of 35028 'Clan Line' at the platform at Gillingham, Dorset in October 1986.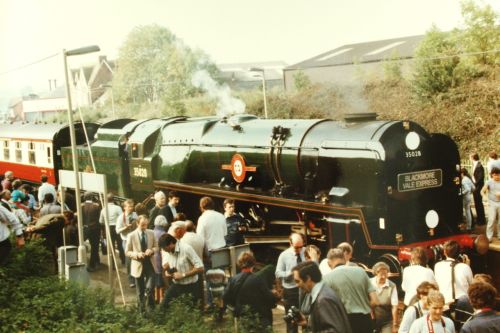 Glad to hear that our volunteer who has taken three months off to travel Asia is safe and well, holed up in New Zealand with his brother until flights are resumed! 'I have been on the lathe making drive shaft parts for a 1910 Renault vintage car rebuild, and one for a Tuktuk repair.'



The 160 eggs we had purchased ready for the Bank Holiday openings have been donated to The Lord's Larder Food Bank. The Lord's Larder Food Bank is operated by a charity called Yeovil Christian Support Trust, and is our local 'foodbank' of non-perishable food, operated by volunteers of all denominations that work together for the benefit of the community.


Roger recalls:- As a schoolboy in the 1950's I spent a lot of time at Sherborne station and I got to know most of the staff quite well. I always enjoyed talking to Jim Maidment and Ralph Bartlett, the two regular signalmen. On the odd occasion Jim would invite me up into the old signal box. It wasn't until one evening that I realised how unstable the box was when I was in it as the 7.00 pm from Waterloo sped through non-stop and one could feel the box rocking. No wonder a replacement box was built on the opposite side of the line!

Stan? Bright was another signalman that worked the box on a relief basis as I believe that his home box was Yeovil Town.

After the new box opened in 1960 I used to make a visit on the odd occasion. This was usually a Wednesday when the Station Master, Mr.Shepherd, had a day off. On that day there was usually a relief signalman on who came from Taunton and quite often he would invite me up into the box.

One evening I was in the box operating the levers, gates and bells whilst he completed the train register, the telephone rang, it was the Milborne Port signalman asking who was in Sherborne Signal Box. Obviously my bell pushing was not as snappy as the professional railwayman!

There used to be an evening goods trip working often hauled by an unrebuilt Bulleid Pacific from Yeovil Junction to Templecombe. The engine used to return light about an hour later. One evening whilst in the box with the relief signalman we passed the time by playing the odd game of cards. On one particular evening we were so engrossed in the card game that we forgot to send the train leaving section bell code to the Yeovil Junction box as the returning light engine passed through. Some minutes later the signalman for Yeovil Junction was on the phone enquiring why the loco was stood at his outer home signal when we hadn't sent him the bell code. A bit of time adjustment was hurriedly made in the train registers of both boxes!

I also remember being in the Signal Box one summer Saturday afternoon when we had to go into the locking room below to take up the slack on the up distant signal wire that had expanded due to the heat. That distant signal was always difficult to pull off, it was an acquired knack.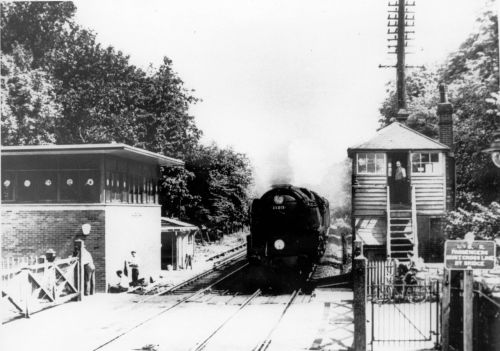 Rog also supplied a very interesting photo. He is talking to signalman Jim Maidment whilst 35015 'Rotterdam Lloyd' rattles through. Probably dating to very late 1950s as the rodding to the box is being fitted (no Hi-Vis in those days) and the box opened in 1960 with the old box being closed.


---
1 April 2020 (All Fools Day) - A prank gone wrong! CLICK HERE

John M writes:- Merchant Navy Class, 35025 'Brocklebank Line'.

35025 'Brocklebank Line' has been rusting away at Sellindge, Kent for the past 12 years, following a chequered history of movements from several sites following its exit from Woodhams Scrapyard.

Recently, The Brocklebank Line Association agreed with their Chairman Brian Seddon's proposal to put 35025 in the care of Southern Locomotives Ltd who are based at Sellindge and at the Swanage Railway and Herston Works.

SLL have made it clear that they cannot guarantee restoring it! (There are many pieces missing after a theft at Quorn many years ago). However, the Owners believe that there is more chance of something happening to it rather than leaving it slowly rusting away.

There may be hope for it yet.

South Western Railway take over Romsey, Dean and Mottisfont and Dunbridge stations from Great Western Railway with effect today (no joke!). The latter two stations have not had any GWR services for many years with the only trains calling being SWR. Read the announcement here CLICK HERE

Finally for today - is this for real (given the date)? CLICK HERE

31 March 2020 - First up is a challenge from Bill to name the railway the loco worked on, the make of loco and the gauge - email yeovilrailway@hotmail.com and answer in a few days!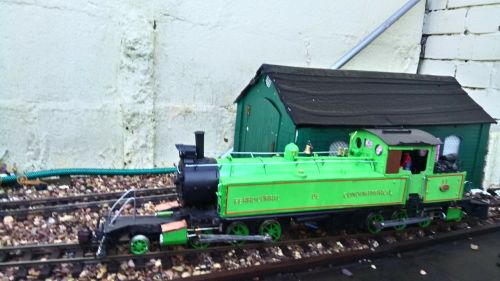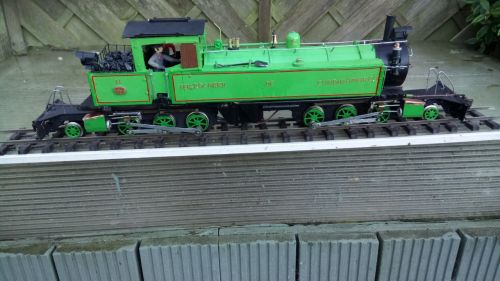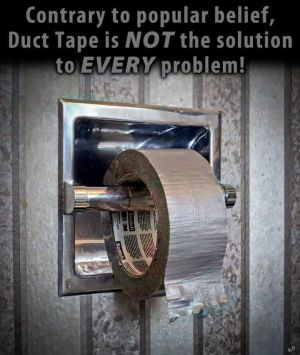 Ken has been busy in the garden (nice views!) and started on the baseboards for a new Model Railway layout (Chard Junction) - send in some photos of how you have been keeping busy!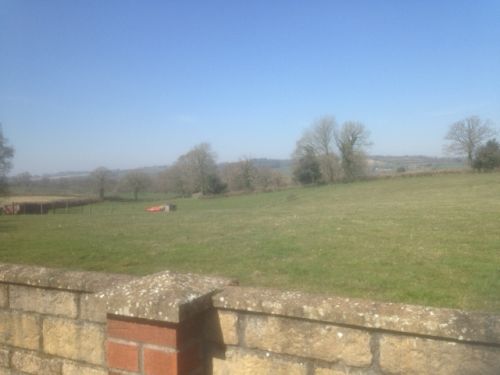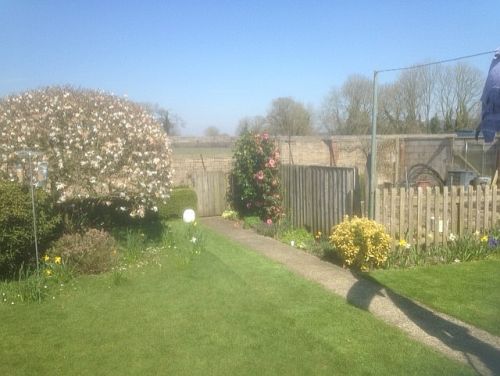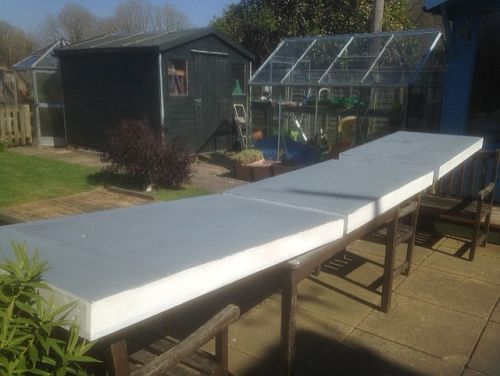 ---
Privacy | Dogs | Drones

---
South West Main Line Steam Company
a Company registered in England and limited by Guarantee.
Reg No. 2929246. Reg Office Yeovil Railway Centre, Yeovil Junction, Stoford, YEOVIL BA22 9UU.
VAT Reg No. 634 5484 28. Reg Charity No. 1043581.



Visitors from 1 December 2001.







The website and all material is © South West Main Line Steam Company and the owners of photographs included by kind permission. Although every effort is made, no guarantee is given of the accuracy of the website or the content of any linked websites. In addition attractions can be cancelled or amended as circumstances dictate - sometimes at the last moment.