Steam hauled
train rides


Miniature
Railway

Main Line Steam


Art Gallery

Visitor Centre/
Refreshments/
Exhibits

National Railway Museum wagons


Shop



Special Events

Turntable

Industrial diesel
During the enforced closure of Yeovil Railway Centre due to the Coronavirus pandemic (now Until Further Notice), we thought we would offer something a little different.

With your help, this page will contain bits and pieces of information about the Centre, what our volunteers do to keep themselves active, perhaps some photos (please send them in) and other material. Contributions welcomed from all our friends and members.

Please email yeovilrailway@hotmail.com with your contributions! CLICK HERE to go to our normal Index and other pages
---
CLICK HERE to go to our Appeal for help for funds to construct our replacement toilet block.
Please donate here (via PayPal-no account required!):-
Due to our enforced closure we anticipate having our income reduced by some £10,000 even if we can resume operations in the Summer.
If you are able to help us please donate here (via PayPal-no account required!):- Please email any contributions to keep us up to date and smiling to yeovilrailway@hotmail.com - thank you! (All photos & contributions are copyright the owners-no reproduction without written consent please!)


---
29 May 2020 Please send contributions to yeovilrailway@hotmail.com

Been a while since we had a Tommy Cooper pun or two!

A man takes his Rotteweiller to the vet. 'My dog is cross-eyed, is there anything you can do for him?'

'Well,' said the vet, 'let's have a look at him' So he picks the dog up and examines his eyes, then he checks his teeth.

Finally, he says, 'I'm going to have to put him down.' 'What? Because he's cross-eyed?'

'No, because he's really heavy'

And a second.

Guy goes into the doctor's. 'Doc, I've got a cricket ball stuck up my bottom.'

'How's that?'

'Don't you start.'

The Hampshire Venturer Railtour" of 18th April 1964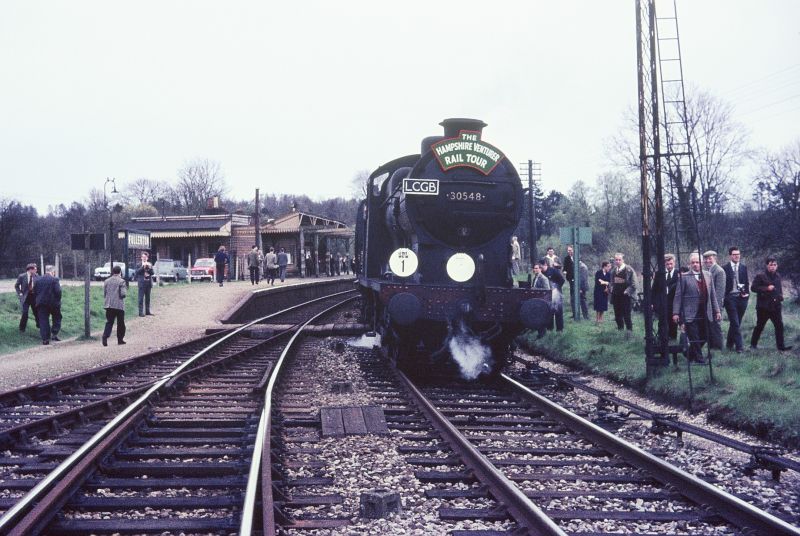 SR Q class 30548 with the LCGB's "Hampshire Venturer Railtour" at Fullerton Junction station.
(Used under a Creative Commons licence which has more details.

Fratton to Eastleigh -1964

Eastleigh Works visit - 1964

Eastleigh to Andover - 1964

Salisbury and Poole in 1964

The S&D in 1964 - The Hamworthy branch

For further information Six Bells Junction hold a vast amount of Railtour information. See HERE for details of this excursion.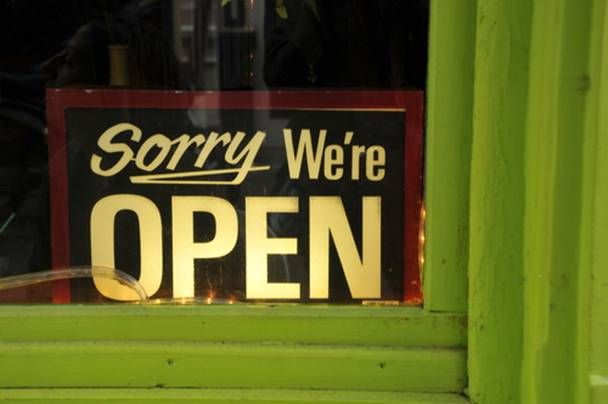 ---
28 May 2020 Please send contributions to yeovilrailway@hotmail.com



Our Appeals If you are able to contribute either to our Toilet Block Appeal or our General Funds please see the links above! Any help will be greatly appreciated!

Great Orme Tramway in Llandudno (final part)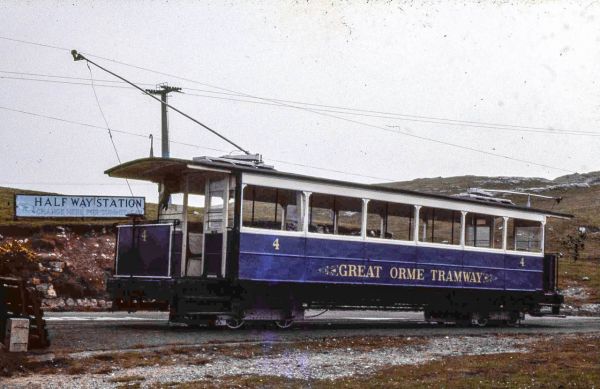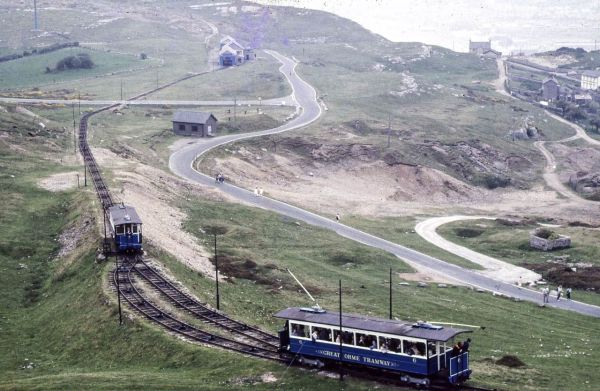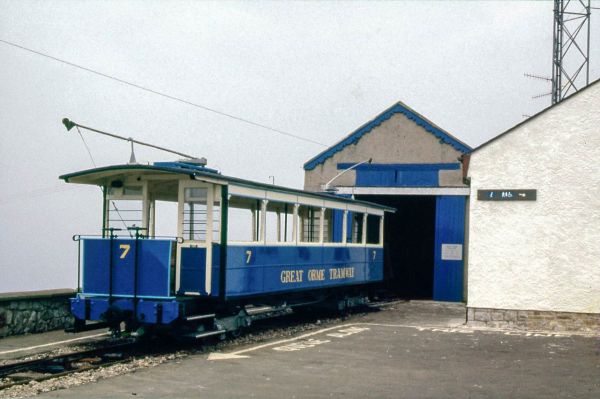 Please see commentary on 25 May 2020.

Thanks once again to Roger for these pictures and information.

American troops of the 1st Infantry Division leaving the port of Weymouth, England en route to Omaha Beach in Normandy in June 1944.




A thought provoking video! Thanks to the other Roger.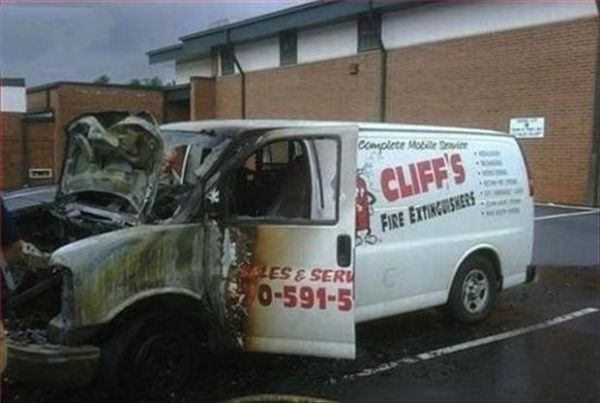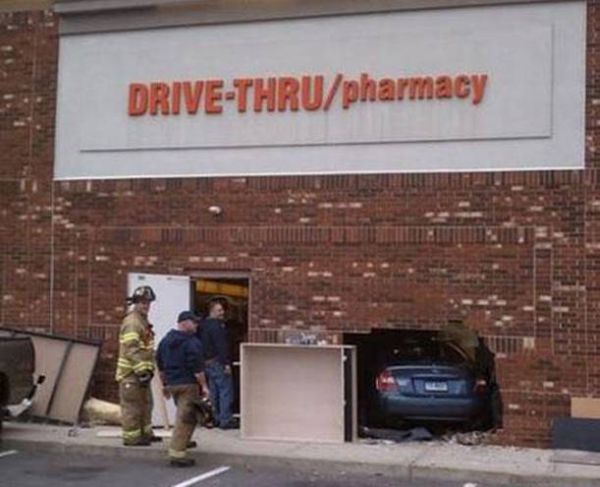 ---
27 May 2020 Please send contributions to yeovilrailway@hotmail.com

Good Twittering!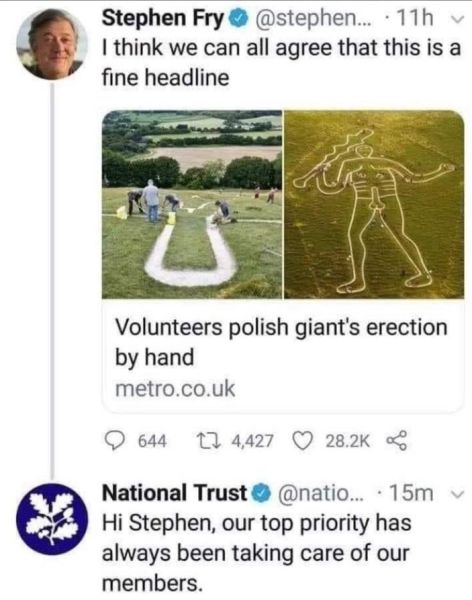 The Breeze to be rebranded as 'Greatest Hits Radio'. See HERE

The Leveller May's edition is HERE Thanks Peter for the heads up!

Great Orme Tramway in Llandudno (continued)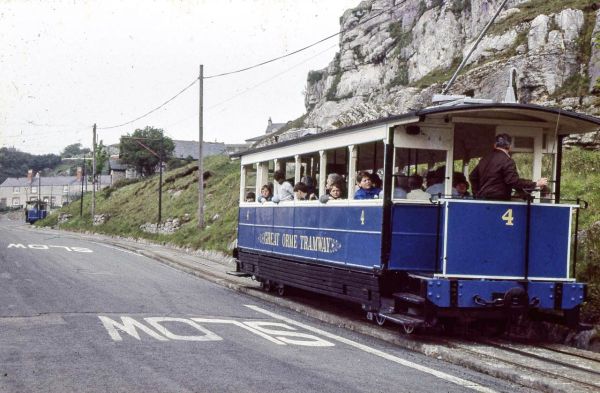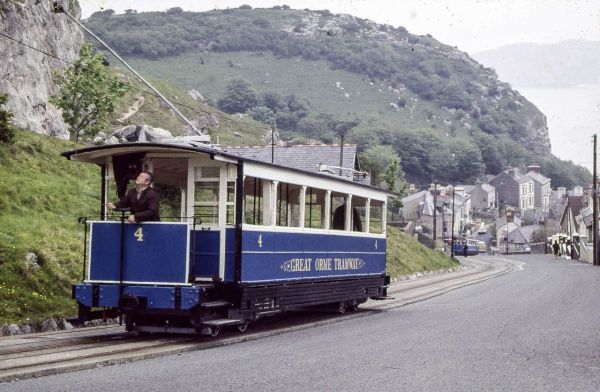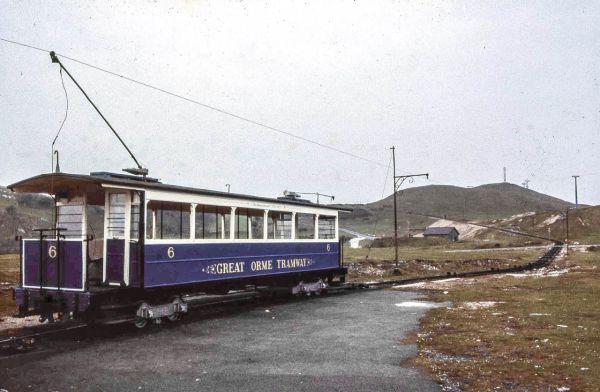 Please see commentary on 25 May 2020.

Anne Frank, said it so well:

"The best remedy for those who are frightened, lonely or unhappy is to go outside, somewhere they can be alone, alone with the sky, nature and God. For then and only then can you feel that everything is as it should be and that God wants people to be happy amid nature's beauty and simplicity,

As long as this exists, and that should be forever, I know that there will be solace for every sorrow, whatever the circumstances. I firmly believe that nature can bring comfort to all who suffer."


---
26 May 2020 Please send contributions to yeovilrailway@hotmail.com

Malcolm sends in this brilliant flight safety briefing!




Great Orme Tramway in Llandudno (continued)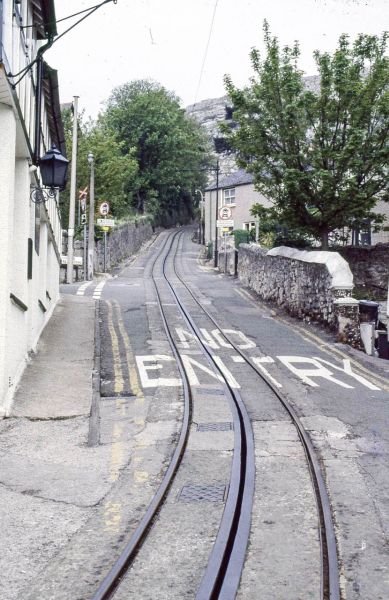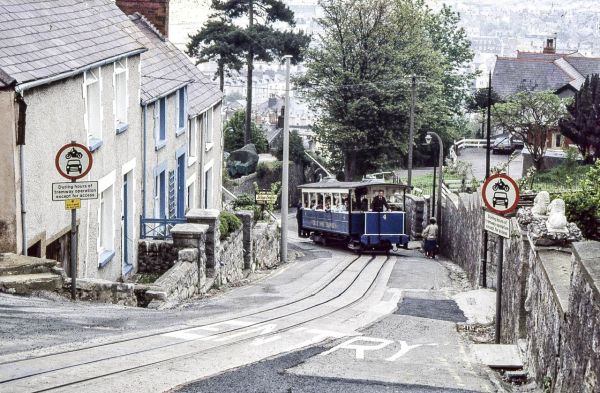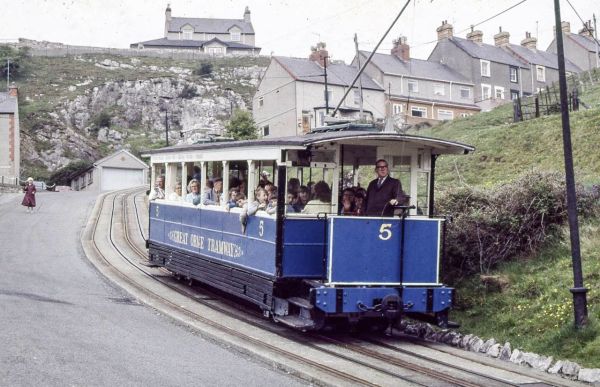 Please see commentary on 25 May 2020. However, Roger has added some interesting information regarding the (almost) double track in the final picture today.

" This is the explanation to your question regarding the tramway track.

Obviously as you can see the trams are not motorised, but drawn along by a wire rope that runs in the channel in between the running rails. The rope is operated from a winding house situated at 'Halfway Station' on level ground. Starting at the bottom station the track is single with both the upward and downward ropes running in the singe channel between the track. The track is single in order to leave enough room for motor vehicles the use the narrow roadway.

After the road junction between Old Road and Ty-Gwyn Road the carriageway is wide enough for two-way traffic and the tramway has a small passing loop. At this point the wire ropes (one up and one down) diverge.

Above the passing loop the tracks run closely side by side, each housing its respective wire rope in the centre. It remains like this right up to the Halfway Station. Trams can only pass on the short crossing loop just above the single track. In the area just above the passing loop the double track is spaced close together to maximise road width for motor traffic, but trams cannot pass one another. However, should one track be taken out of operation for any reason the trams can still operate over the remaining track.

Another interesting point is that the trams still have their contact poles from when the tramway was operated using overhead electric wiring and the lineside poles are still in place minus wires."

Thanks Roger for taking the time to provide such a full explanation! More photos of the route over the next few days!

The other Roger send this in:-

Short and funny..............

When I was young I decided to go to Medical School.

At the entrance exam we were asked to rearrange

the letters PNEIS and form the name of an important human body part which is most useful when erect.

Those who answered spine are doctors today while the rest of us are sending jokes.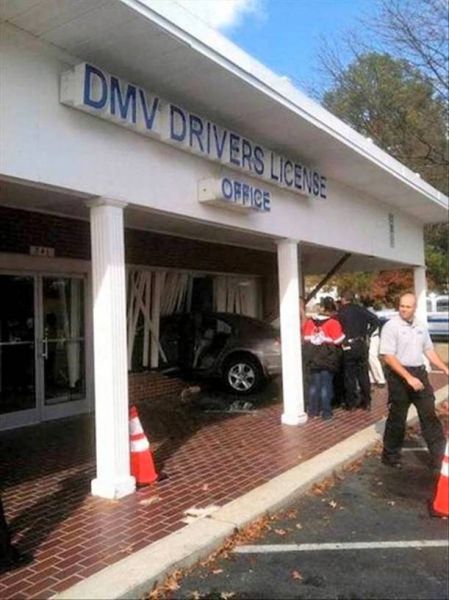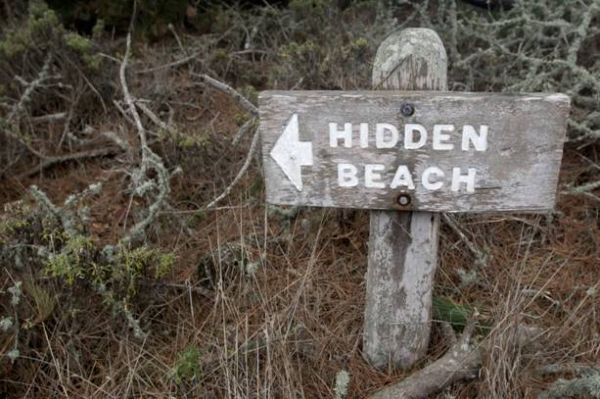 ---
25 May 2020 Please send contributions to yeovilrailway@hotmail.com

One of our current volunteers in a younger version in an official capacity! Thanks Rog. Bill says he was looking after Railtrack's money and checking on the contractors.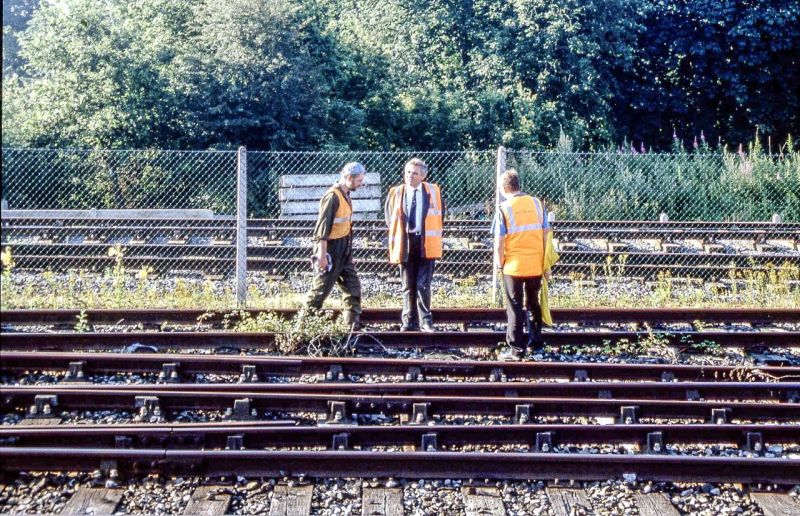 Great Orme Tramway in Llandudno. (Another great article from Roger with photos from 1985)

A bit of an historical write-up:

In 1898 the Great Orme Tramways Act was passed which laid out the length of the Tramway, the gauge and the fares to be paid. The original purpose of the Tramway was to transport passengers, goods and parcels up and down the Great Orme.

In April 1901, the construction of the Tramway began. R White and Son of Widnes were the contractors for the rails, machinery and tramcars, while Thomas & John Owen of Llandudno did the building work.

On July 31st 1902, the first paying passengers rode on the Tramway. They were seen off by the Town Band, playing God Save The King. At this time, only the lower section was completed.

On July 8th 1903, The Tramway's upper section opened to the public and people from around the country flocked to the Great Orme. The Tramway even carried coffins to the Halfway Station for burial at St Tudno's churchyard. There was no concession for grief - the mourners were charged full fare, plus 2s 6d (12.5p) for transporting the coffin!

In 1904 Victoria Station on Church Walks was built on the site of the former Victoria Hotel.

In 1932 tragedy struck. After 30 years of carrying over 3.75 million passengers safely, a tramcar on the lower section broke loose from its cable, derailed and crashed into a stone wall. The attendant and a 12 year old girl were killed and several passengers were injured. The accusation and threat of compensation claims drove the company into liquidation and it was sold. The new owners changed the name to the Great Orme Railway Company Ltd.

In 1934 the Tramway reopened to the public with strict new safety measures. It was as popular as ever and ran all through the Second World War.

On January 1st 1949, the Llandudno Urban District Council took over the line.

In 1957 the Halfway Station, the old steam-powered engines were replaced by more efficient electric engines.

In 1974 following local government reorganisation, control of the Tramway was passed to Aberconwy County Council.

In 1977 the Tramway reverted to its original name, the Great Orme Tramway. It is now run by Conwy County Borough Council as a unique and treasured part of Llandudno's heritage.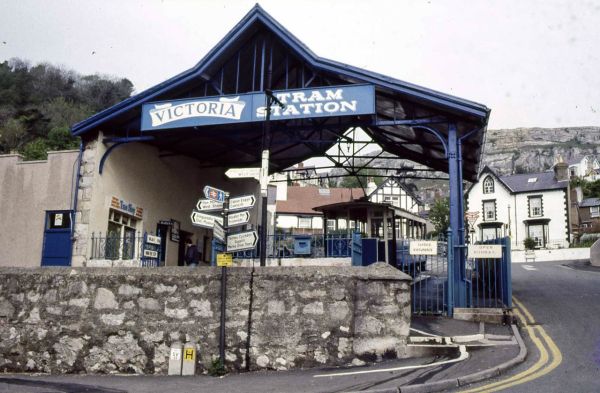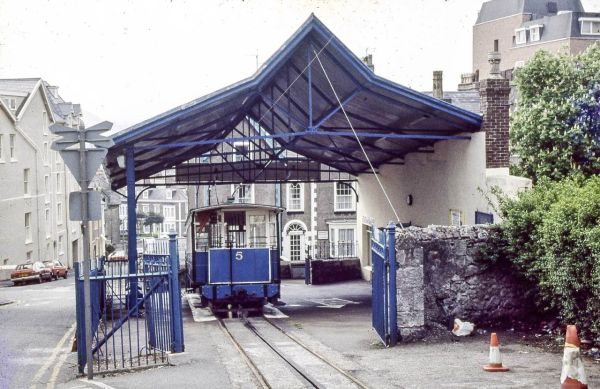 Victoria Tram Station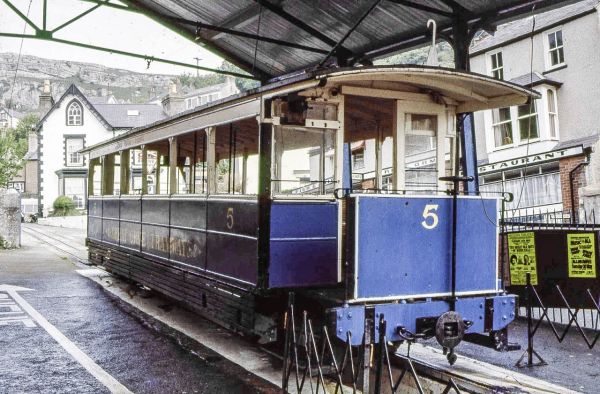 More photos of the route over the next few days!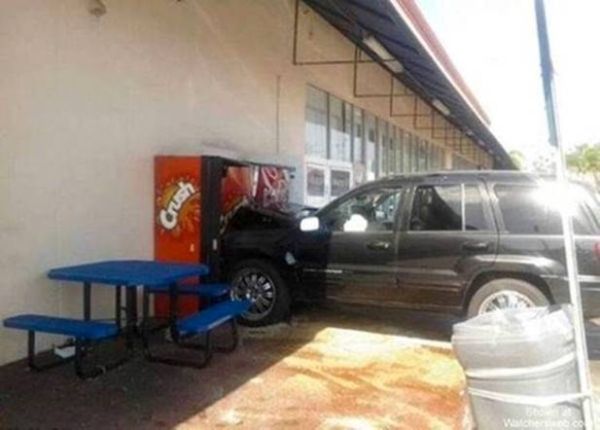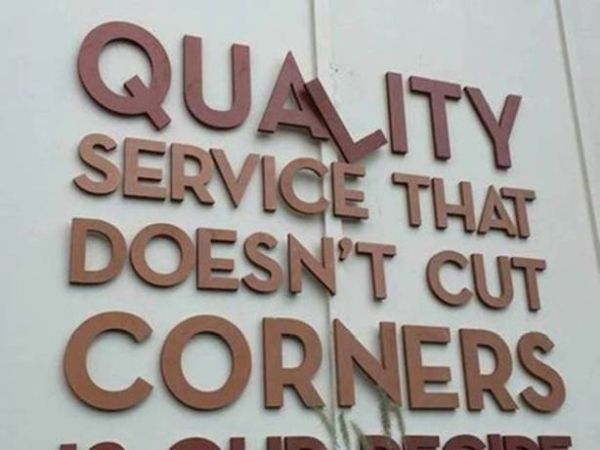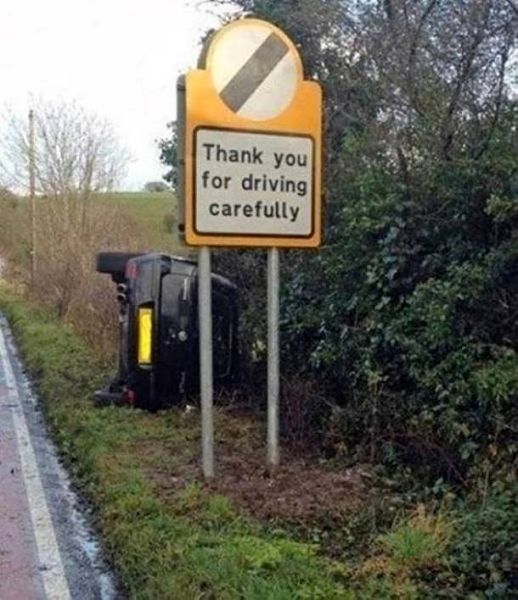 ---
24 May 2020 Please send contributions to yeovilrailway@hotmail.com

Accidents Galore! Click on the image:-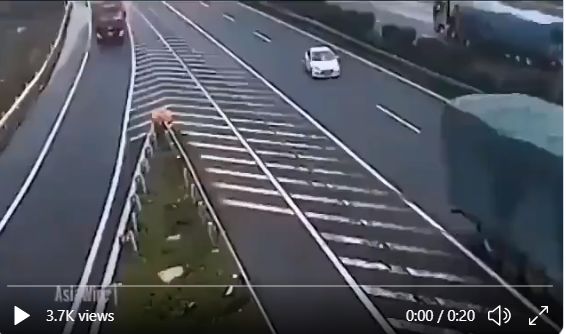 Chilmark Narrow Gauge Click on the image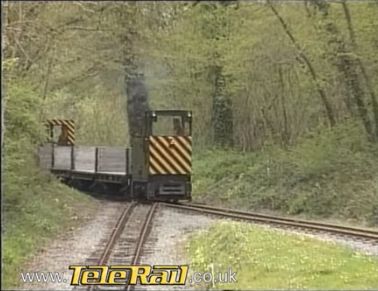 Loose coupled with ammo on board....

A Google.com map with an interesting addition! CLICK HERE

More history here:- CLICK HERE

What happened later? See the Sun newspaper report:- CLICK HERE

Air Show Disaster - AIRCRAFT HITS FOUR BUILDINGS

This is tough to see. It just shows the dangers of attending these events.

Amazing photo below shows great detail.

The pilot at low level had no control over his aircraft.

It narrowly misses a crowd gathered for the air show and slams into four buildings.

One can only imagine the horror of the occupants inside those buildings.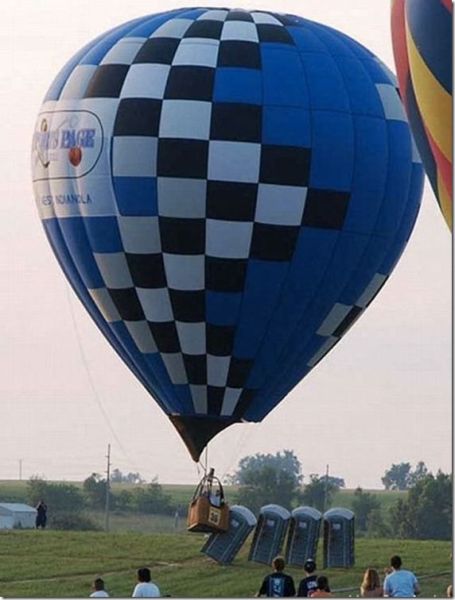 No one was killed, but it probably scared the shit out of them.


---
23 May 2020 Please send contributions to yeovilrailway@hotmail.com

Bagpipes anyone? Bob sends in this video - not seen this before!

He says:- I visited the Steam Co on Sat 4th Nov 2000 to film 4472 Flying Scotsman on a Paddington to Yeovil Junction 'Posh nosh' Charter.

"After the loco and stock had arrived it was time to do the servicing and turnaround. As I filmed the mighty loco on the turn table the piper was invited on to the side of the loco by the crew and starting playing his bagpipes."




Our website comments:- "An unexpected visit by 4472 Flying Scotsman took place on Saturday 4 November 2000 when, at 4 days notice, we were asked to organise an event to keep some 250 passengers amused for 2 hours.

The train was originally booked to pass Yeovil Junction non-stop on its way to Exeter and Taunton but due to the heavy rains, the track at Cowley Bridge (just north of Exeter) had been washed away.

Some hectic arrangements were made to steam 'Pectin' and open the site. Flying Scotsman has air braking and out turntable only has vacuum so muscle power was used the turn the engine, much to the amusement of the watching passengers (and the piper who played the bagpipes!).

A photo of the locomotive after servicing:-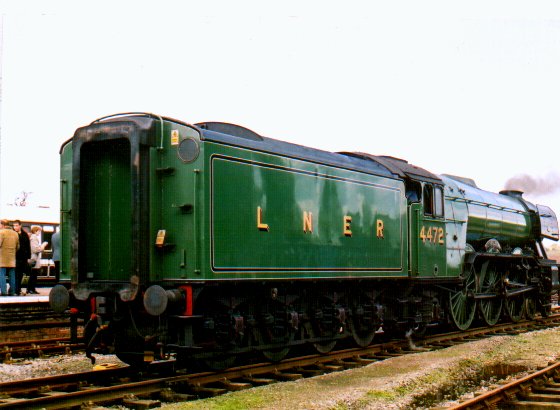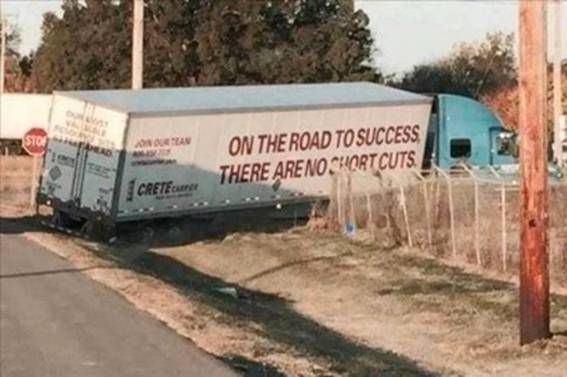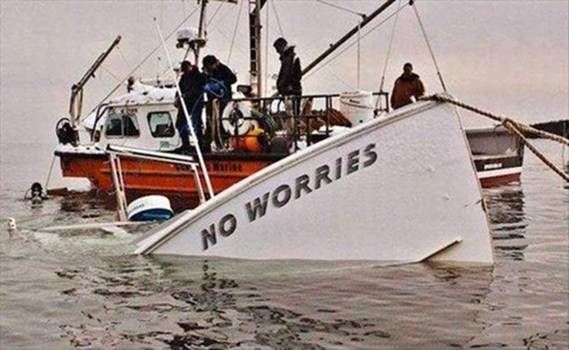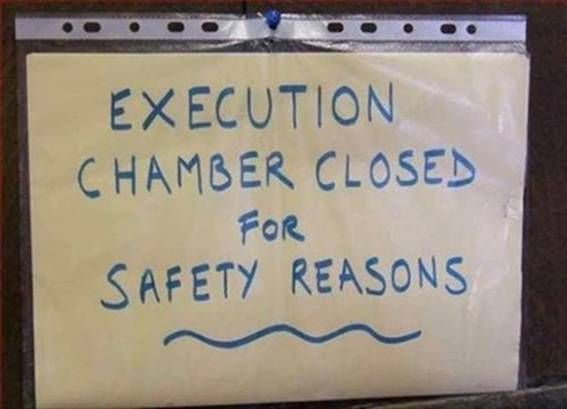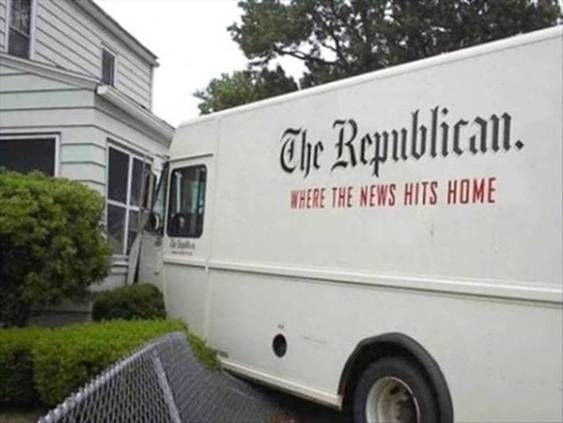 Eric has found this on You Tube - 2 East Coker Road Railway. Click on Image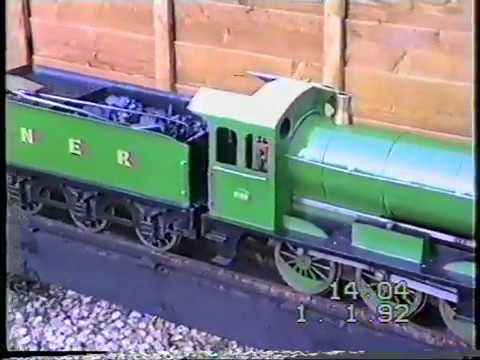 ---
22 May 2020 Please send contributions to yeovilrailway@hotmail.com



Our Appeals If you are able to contribute either to our Toilet Block Appeal or our General Funds please see the links above! Any help will be greatly appreciated!

A couple more Tommy Cooper jokes

Man goes to the doctor, with a strawberry growing out of his head.

Doc says 'I'll give you some cream to put on it.'

'Doc I can't stop singing 'The Green, Green Grass of Home'

'That sounds like Tom Jones syndrome. '

'Is it common?'

'It's not unusual.'

GWR150 celebrations. Roger says: 'In 1985 I applied to be a steward on the GW150 exhibition train that was touring the area. I was lucky to get accepted and had to go to BRB Headquarters at St. Pancras for an information and security briefing. I was selected to go on the train whilst it was at Salisbury for three days.

I have attached some photographs of the inside of the train, also a young Sugg manning the Yeovil & District Railway Society stand that we had at the time on the platform at Salisbury.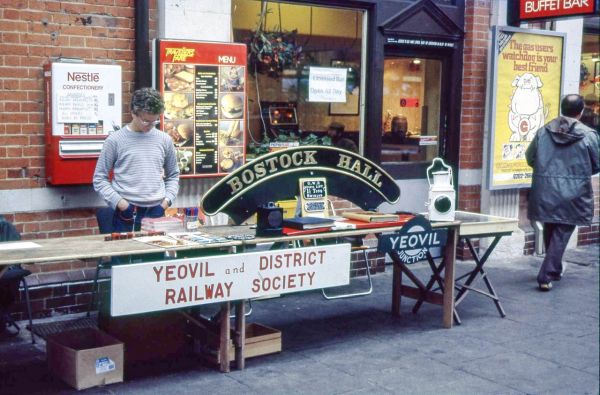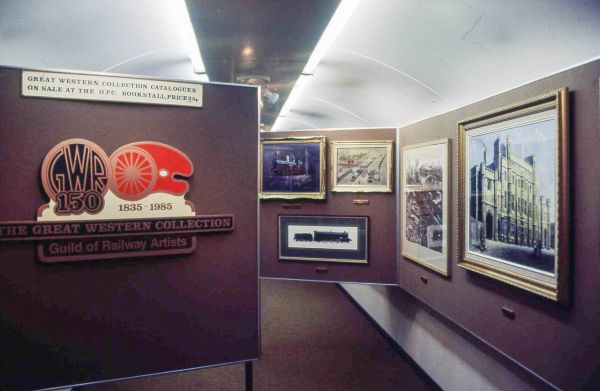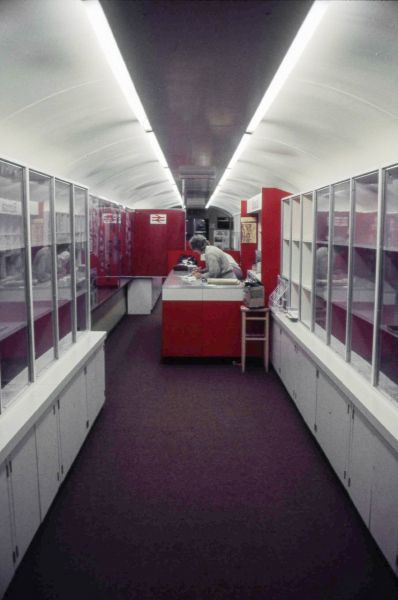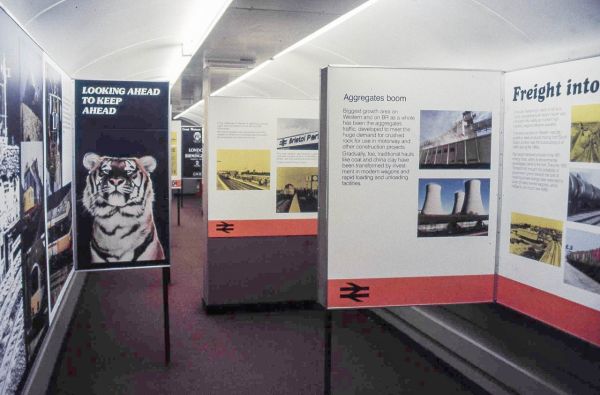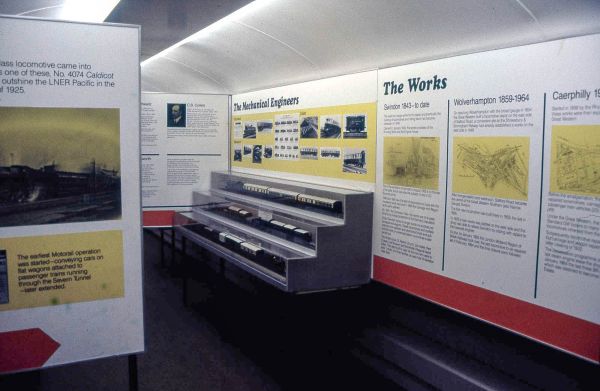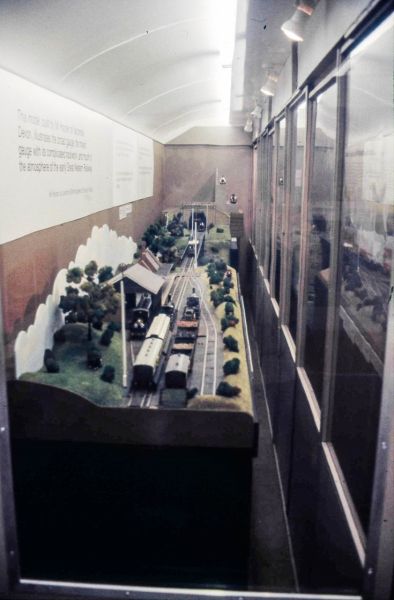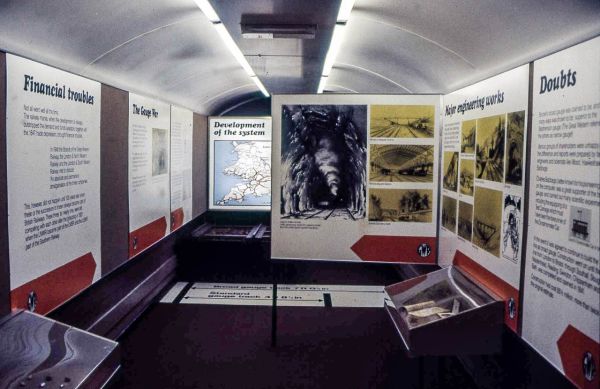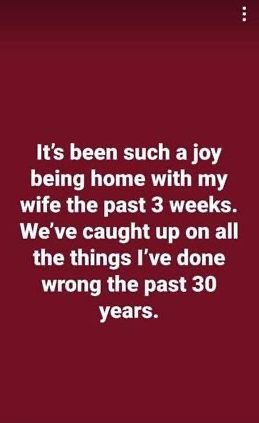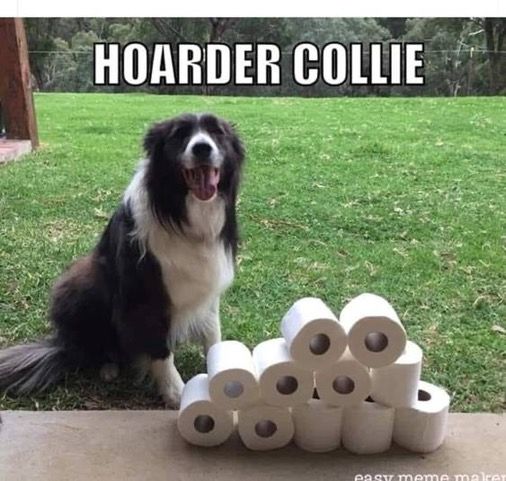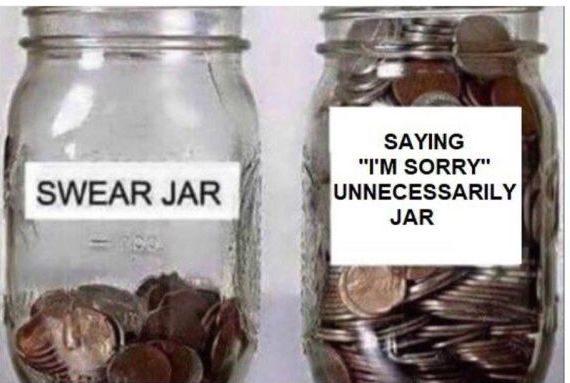 ---
21 May 2020 Please send contributions to yeovilrailway@hotmail.com

Diesel and Ship Day!

Roland has sent in photos of Class 37s at Maiden Newton on 20 May. He says: 'Two class 37's of Harry Needle fame, very rare down here, hauling the track measurement train (1Z22) 08.20 Tysley LMD. to Bristol High Level sidings, via Weymouth. Also surprise they were early! 16mins. going down, and 24 mins. going home. It's a great pity the train doesn't visit the centre via the branch on it's zig zag route. 37612 T&T 37610 pictured at Maiden Newton and a farm crossing near Stratton.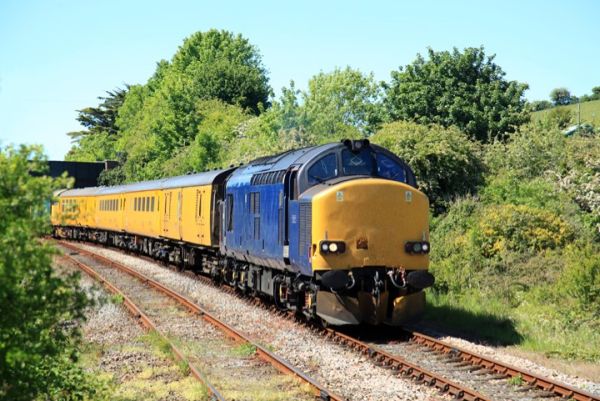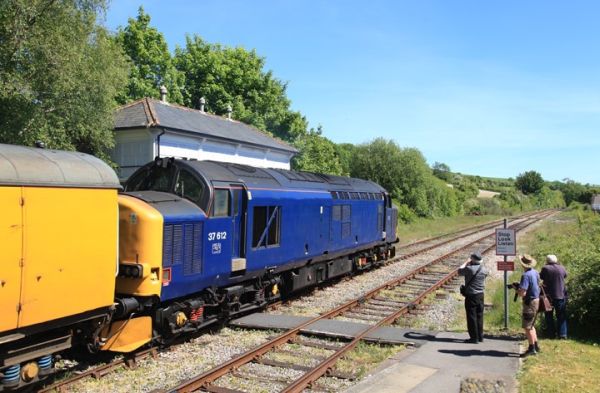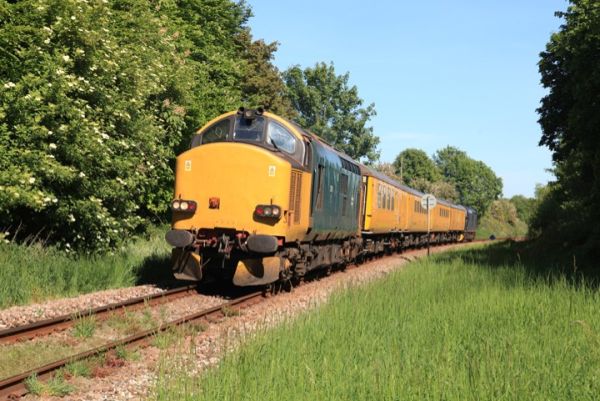 Roger has sent in photos of the cruise ships and liner in Weymouth Bay also on 20 May 'I took the attached photographs at Weymouth Bay yesterday evening.

The four passenger liners are Cunard's Queen Mary 2 and P & O Cruises Aurora, Britannia and Azura.

There are five more cruise ships moored off the south-east side of the Isle of Wight. If they moor in Southampton they have to pay a fee of £10k/week.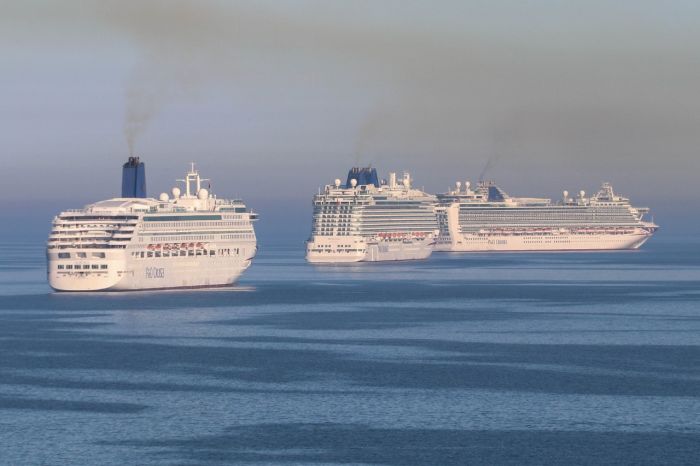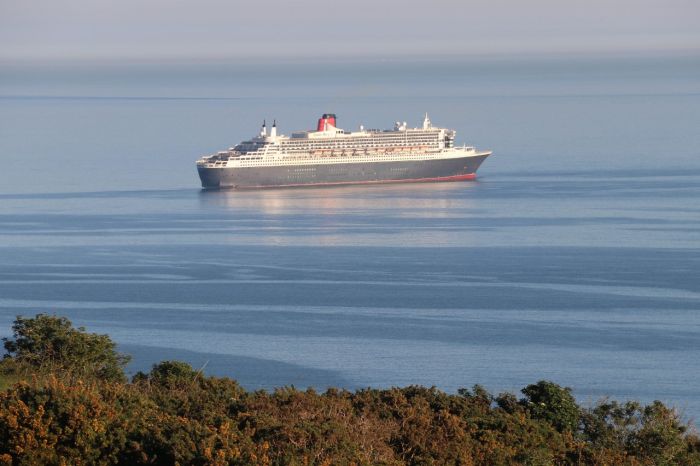 Mike recalls one of the few events the Centre has operated in 2020. This was the visit on 8 March 2020 by The Branch Line Society who operated 'The Devonian Crompton' (1Z38) from London Victoria via Yeovil Junction (twice!) to Exeter and the Coleford Junction (limit of Network Rail metals). Return (1Z39) was via Exeter, Taunton, Bristol and to London Waterloo. 33207 and D6515 feature with correct route code!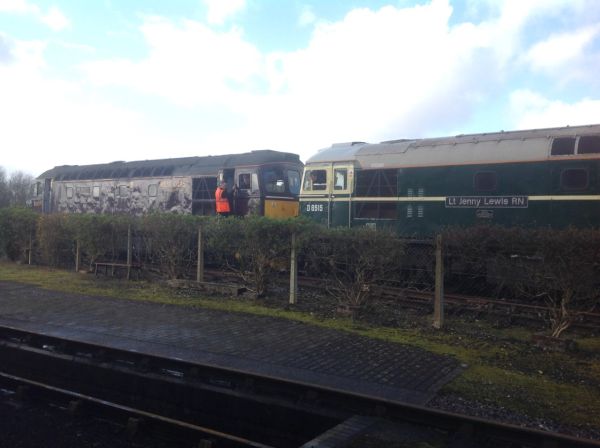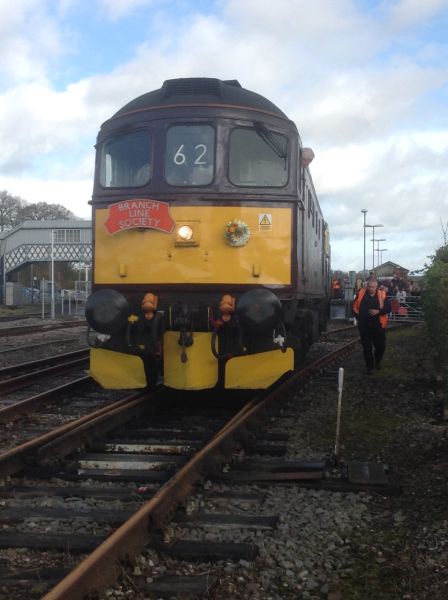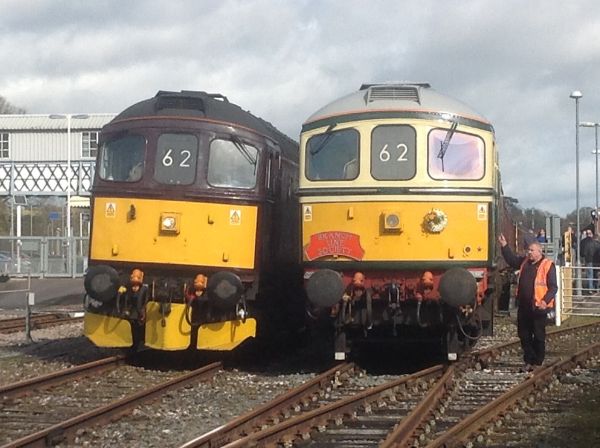 and a view of the Centre's motive power all lined up during a shunt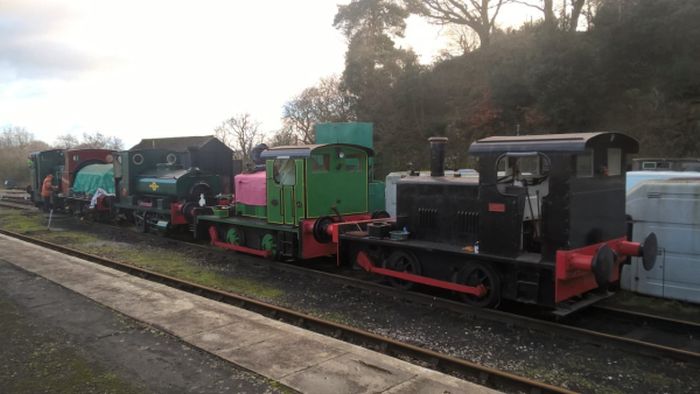 Bad Parrot

A young man named John received a parrot as a gift. The parrot had a bad attitude and an even worse vocabulary.

Every word out of the bird's mouth was rude, obnoxious and laced with profanity. John tried and tried to change the bird's attitude by consistently saying only polite words, playing soft music and anything else he could think of to 'clean up' the bird's vocabulary.

Finally, John was fed up and he yelled at the parrot. The parrot yelled back. John shook the parrot and the parrot got angrier and even more rude. John, in desperation, threw up his hand, grabbed the bird and put him in the freezer.

or a few minutes the parrot squawked and kicked and screamed. Then suddenly there was total quiet. Not a peep was heard for over a minute. Fearing that he'd hurt the parrot, John quickly opened the door to the freezer. The parrot calmly stepped out onto John's outstretched arm and said "I believe I may have offended you with my rude language and actions. I'm sincerely remorseful for my inappropriate transgressions and I fully intend to do everything I can to correct my rude and unforgivable behavior."

John was stunned at the change in the bird's attitude.

As he was about to ask the parrot what had made such a dramatic change in his behavior, the bird spoke-up, very softly,

"May I ask what the turkey did?"


---
20 May 2020 Please send contributions to yeovilrailway@hotmail.com

Exeter St Davids to Central fearsome bank - 4 differing outcomes! The bank is 1 in 37 and curved (and through a tunnel and road overbridge to boot!). Many a train over the years has come to grief and had to return down the bank to St Davids defeated.

Diesel D1015 'Western Champion' at full power makes it! Click on the image.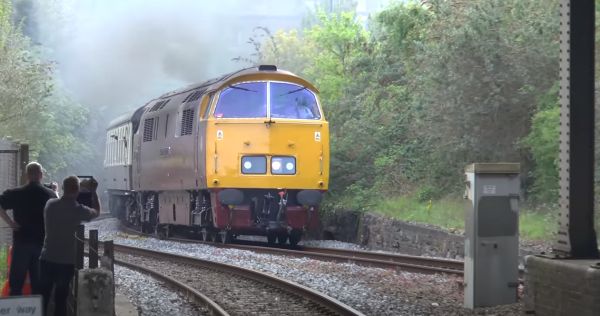 Battle of Britain 34067 'Tangmere' is banked by West Country 34046 'Braunton'. I still wait for the slip that never comes! Click on the image.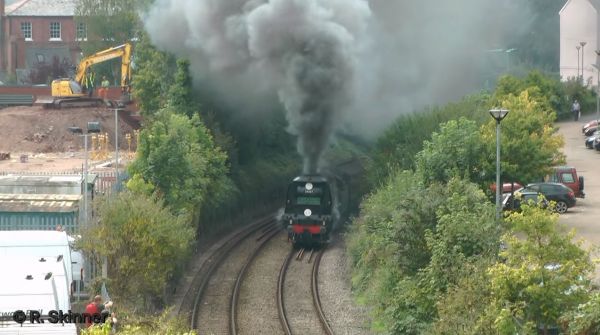 .
A different view with extra footage (including 5029 'Nunney Castle') is. Click on the image.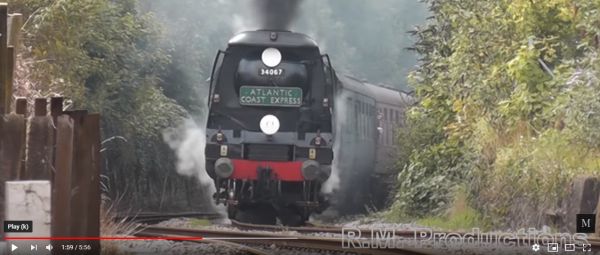 Two BR Standard Class 4 tanks 80080 and 80079 just amount make it albeit with much rail grinding! Click on the image.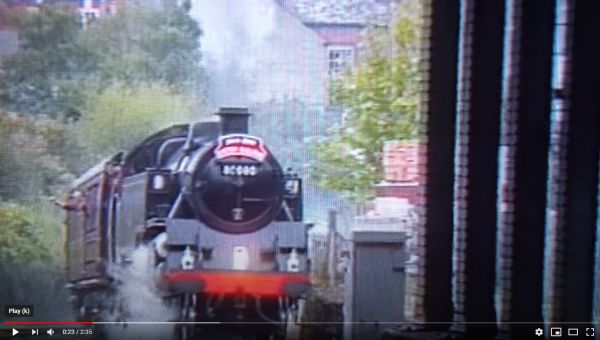 BR Class 4MT Pocket Rocket 76079 and Battle of Britain 34067 'Tangmere' fail in spectacular style. They were routed on the reversible down line and also double headed and not top and tailed. Did these factors prove the final straw to an already overloaded train? Click on the image.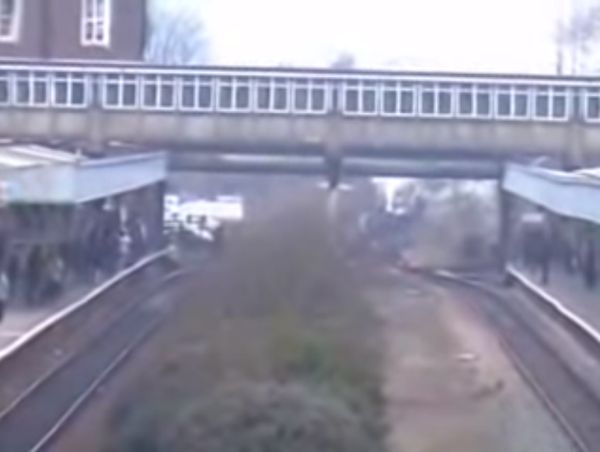 and for good measure

A derailed Class 66 on the bank which came to grief after running through trap points. One of many incidents over the years! Click on the image.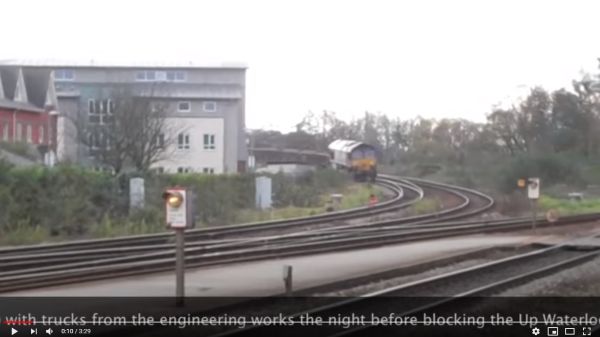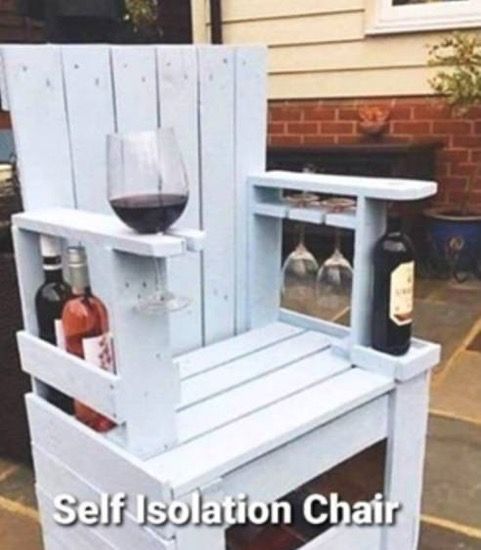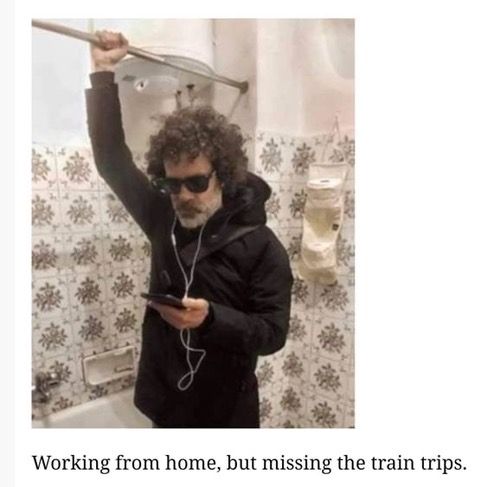 ---
19 May 2020 Please send contributions to yeovilrailway@hotmail.com

Five photos taken at Exeter in the late 1970s or early/mid 1980's Apologies for the not very good quality - no money!

a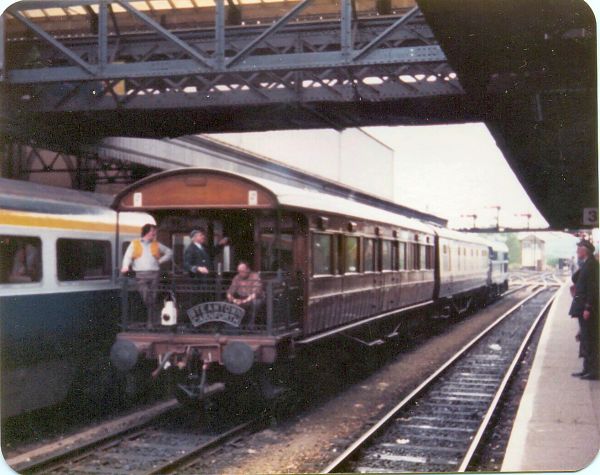 b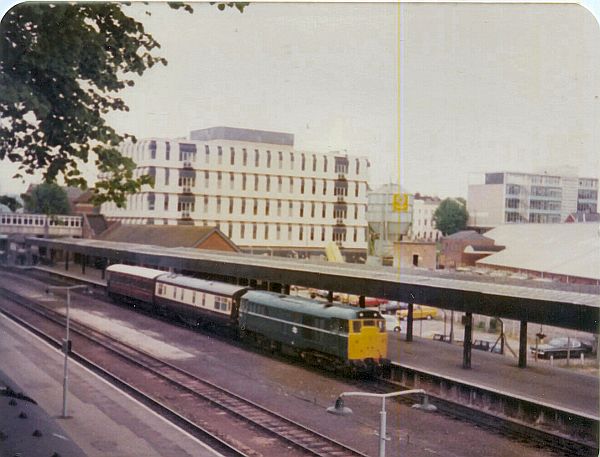 c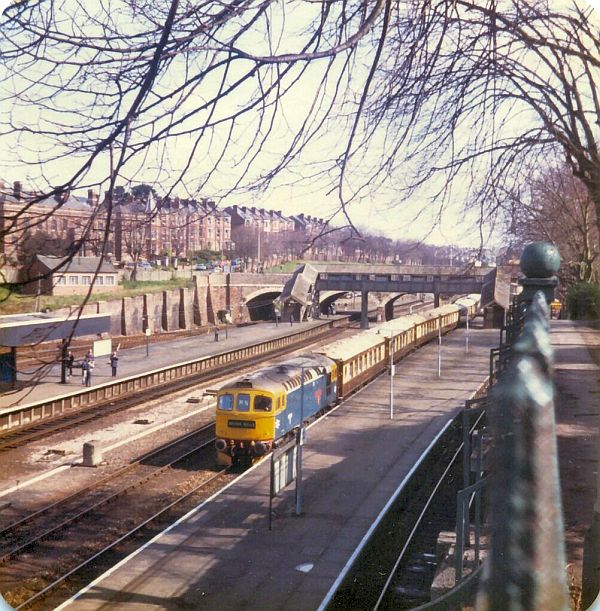 d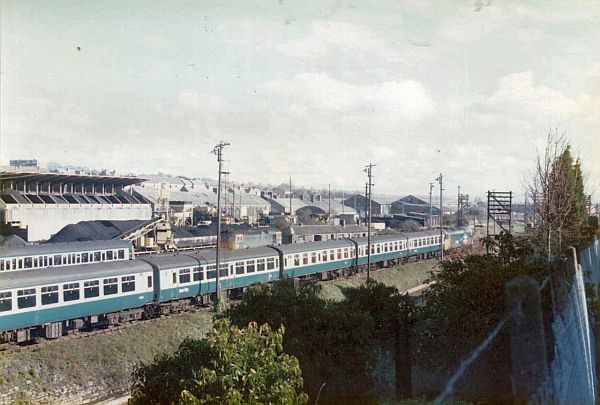 e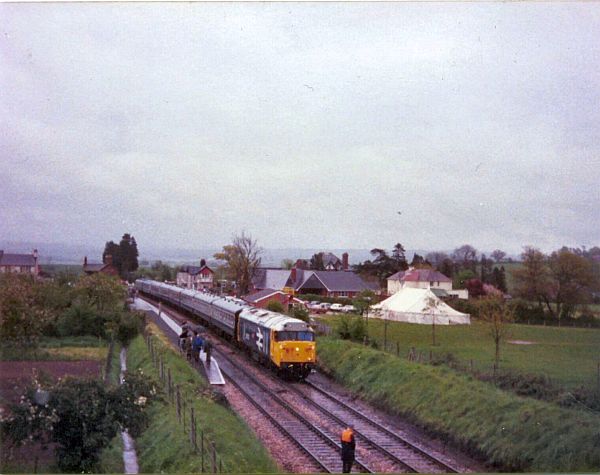 a - A special train hired by one of the McAlpine family is seen in the down middle road (now gone) at Exeter St Davids. Sir Bill McAlpine was a shareholder in Steamtown although later the Carnforth site was sold to David Smith who runs West Coast Railways from there.

b - Seen passing Exeter Central behind a Class 31 diesel. A DMU is in the bay whilst in the background can just been glimpsed Presflo cement wagons (depot now closed and sidings removed).

c - A Class 33 diesel with Pulman stock on a Devon Belle railtour at Exeter Central. The covered concrete footbridge in the background has been replaced by an open air modern version.

d - Main line stock stabled at Exmouth Junction - possibly during the remodelling of Exeter St Davids in early 1985. The stock appears to be that used on the Waterloo and Exmouth lines and would have terminated at Exeter Central. Sidings now disconnected, Coal Concentration depot closed and site being redevoped.

e - Re-opening of Pinhoe Station on 16 May 1983. Yes it was raining. Note the marquee and also the railwayman stood in the 4ft - but he does have a Hi-Vis!

More Tommy Cooper

A man came round in hospital after a serious accident. He shouted, 'Doctor, doctor, I can't feel my legs!'

The doctor replied, 'I know you can't, I've cut your arms off'.

I went to a seafood disco last week.and pulled a muscle.

Two Eskimos sitting in a kayak were chilly.. They lit a fire in the craft, it sank, proving once and for all that you can't have your kayak and heat it.

FGW HST's at Woking and Farnborough Unusally the HST's were diverted over the Christmas & New Year period from Westbury and ran via Salisbury, thence via Farnborough & Woking to London Waterloo. Shot on 1/1/2011. Link CLICK HERE

HSTs cross at Hook HERE on 29/3/2013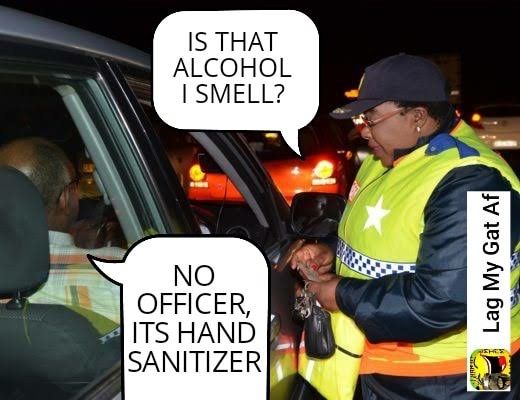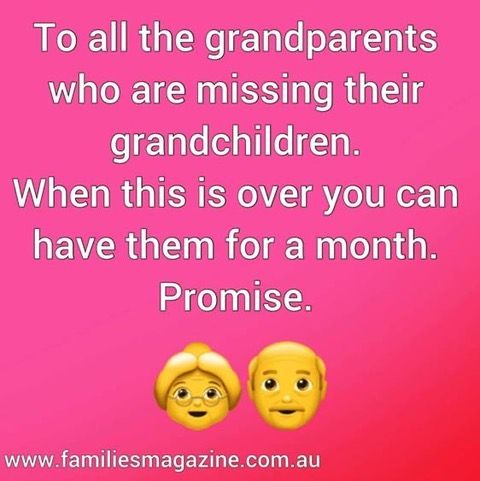 ---
18 May 2020 Please send contributions to yeovilrailway@hotmail.com

Rowtor Target Railway Before the world changed, I visited this railway on Dartmoor which is something I had wanted to do for a long time. The video on You Tube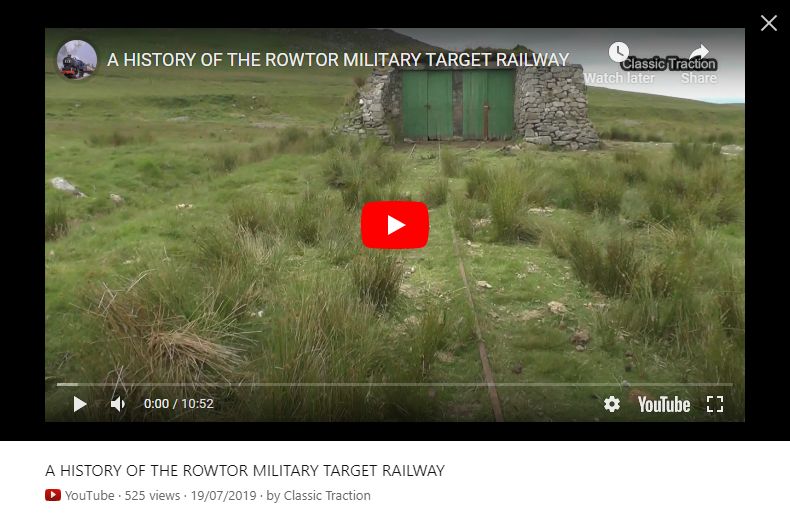 is quite lengthy but a visit by Dartmoor Railway Supporters Association reveals what is inside the Shed! Links in that report details the history of the Wickham trolley and the railway's history.

No idea what he is singing but....you do get the idea!


A wealth of history can be found here: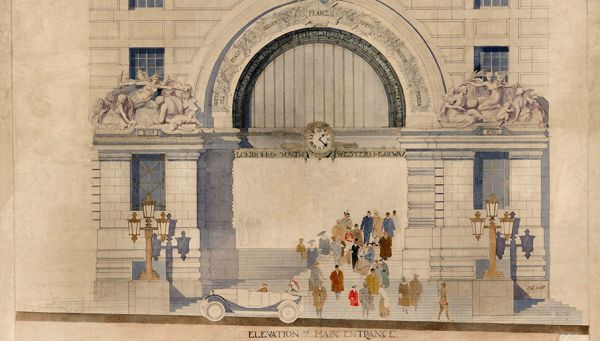 Thoughts for the Day!

My wife asked if she could have a little peace and quiet while she cooked the dinner, so I took the batteries out of the smoke alarm.

Anyone got an owners manual for a wife? Mine's giving off a terrible whining noise!

My wife apologised for the first time ever today. She said she's sorry she ever married me.


---
17 May 2020

Our Appeals If you are able to contribute either to our Toilet Block Appeal or our General Funds please see the links above! Any help will be greatly appreciated!

Bob sends in another 'Pectin' video' This is from November 2000




Today's thoughts

After my wife died, I couldn't even look at another woman for 10 years. But now that I'm out of jail, I can honestly say it was worth it.

Got an e-mail today from a "bored housewife 32, looking for some action!" I've sent her my ironing, that'll keep her busy.

The wife's been hinting she want's something black and lacy for her birthday. So I've got her a pair of football boots.

Christie, Adams & Hill 6ft 6in single 114 Frome at Yeovil in August 1862 with driver Hicks on the footplate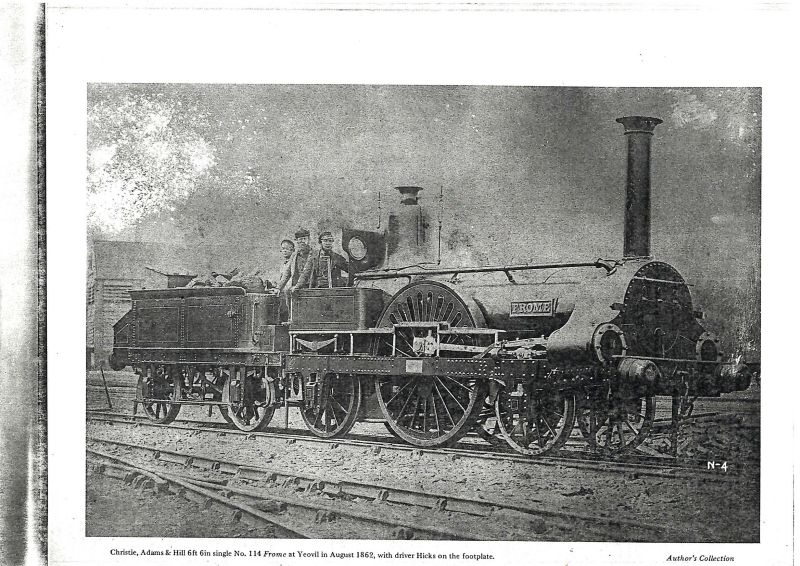 ---
16 May 2020
MEMORIES OF STEAM IN VALLEYS (Part 5 and final) by Roger Marsh - see commentary 12 May 2020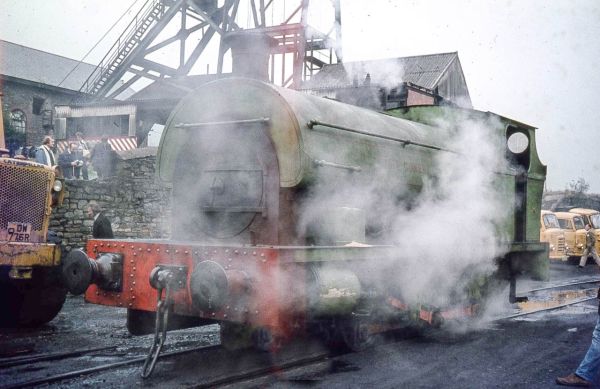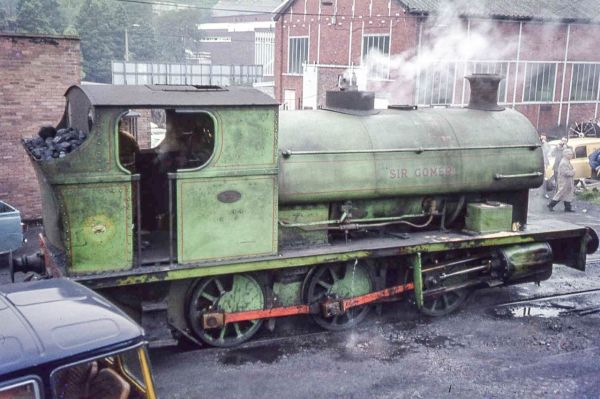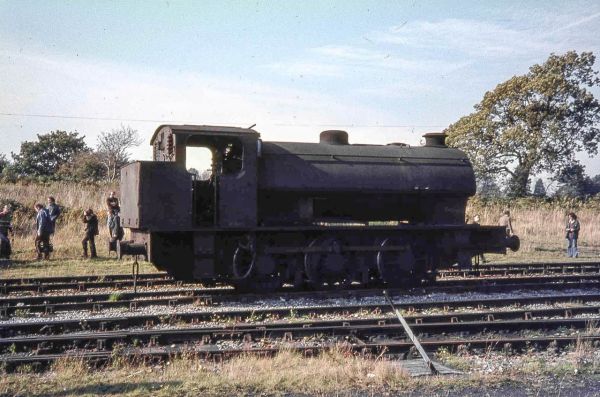 Many thanks Roger for these most interesting memories.

Stay Alert!




Thanks to Roger (the other one) for the above and for the below

The CIA had an opening for an assassin. After all the background checks, interviews and testing were done, there were three finalists: two men and a woman.

For the final test, the CIA agents took one of the men to a large metal door and handed him a gun.

"We must know that you will follow your instructions no matter what the circumstances. Inside the room you will find your wife sitting in a chair. Kill her."

The man said "You can't be serious. I could never shoot my wife".

The agent said, "Then you are not the right man for this job. Take your wife and go home".

The second man was given the same instructions. He took the gun and went into the room. All was quiet for about five minutes. The man came out with tears in his eyes, "I tried, but I can't kill my wife."

The agent said, "You don't have what it takes, so take your wife and go home "

Finally, it was the woman's turn. She was given the same instructions to kill her husband. She took the gun and went into the room. Shots were heard one after another. They heard screaming, crashing, and banging on the walls. After a few minutes, all was quiet. The door opened slowly and there stood the woman, wiping sweat from her brow.

"The gun was loaded with blanks" she said. "I had to kill him with the chair."

From Brian - many thanks An interesting photo from the late Ray Baker collection, it is not in the best condition but has been improved with Photoshop tweaks, it is after all over 100 years old and dating from the time of the end of the Boer War when the troops returned to Southampton.

General Redvers Buller was well regarded by his soldiers but had disagreements with the establishment.

The photo is is a 'Cabinet View' sized one measuring 8" x 6" . It shows the Nine Elms built T9 No.120 decorated with evergreens and flags, a picture of General Sir Redvers Buller is on the smokebox door with the Buller coat of arms above the smokebox door. On the buffer beam is a disc with the initials RB over the right buffer, then centre a heraldic device of a castle and three towers, and over the left buffer beam a special train disc.

This may have been the locomotive for the special train taking General Buller from Salisbury to his home town Crediton in 1900. The South Western Cicle monograph No. 9 page 141 shows a photo of a similarly decorated T9 whose number cannot be read. The only difference is that there are no evergreens around the special train disc.

Does anyone know the identity of the two men posing by the engine?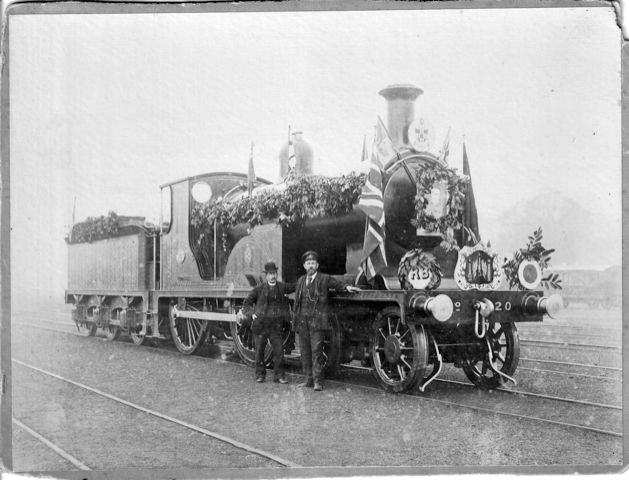 (The Wikipedia page is HERE )

Today's thoughts

I have kleptomania, but when it gets bad, I take something for it.

- Robert Benchley

The weather person is the only person that I know, that can be wrong 99.9 % of the time and still have a job the next day.

-Johnny Carson


---
15 May 2020

MEMORIES OF STEAM IN VALLEYS (Part 4) by Roger Marsh - see commentary 12 May 2020 Final part tomorrow.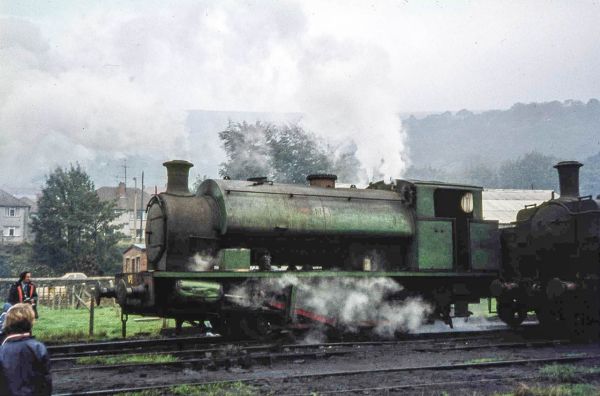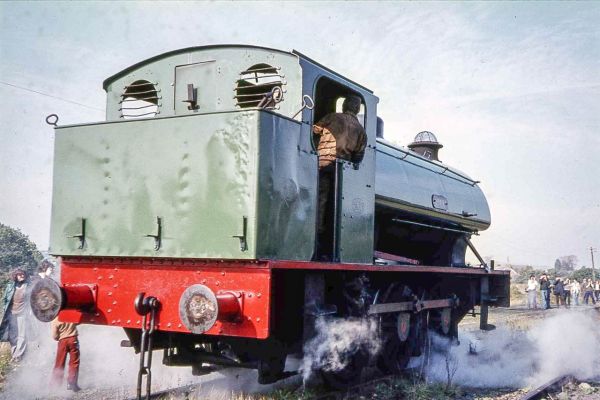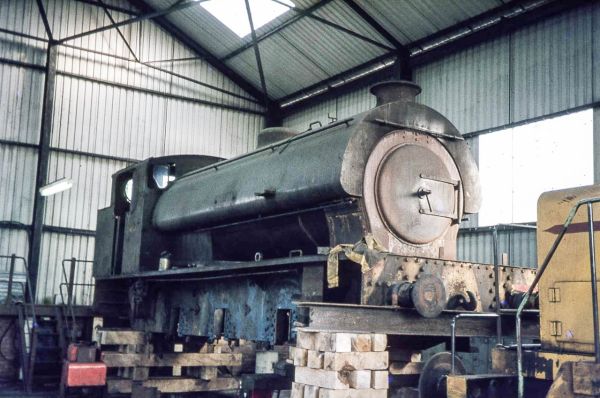 The Chase For those who watch that quiz programme an interesting exchange between a contestant and Chaser Anne Hegerty CLICK HERE

Derek sends in this quote from Rail magazine 'picked up the latest copy of Rail magazine yesterday and found this rather sobering statement on page 18. Quoting writer Andrew Roden he says, "To put HS2's carbon footprint in perspective, the estimated total carbon emissions from both building and operating Phase 1 for a full 120 years produces the same amount of carbon as just one month of the UK's road network!"

Hard to believe, or true? Who knows? Quite a statement though,don't you think?

More Tommy Cooper

I went to the butchers the other day and I bet him 50 quid that he couldn't reach the meat off the top shelf. He said,'No, the steaks are too high.'

'My friend drowned in a bowl of muesli. A strong currant pulled him in.'


---
14 May 2020
MEMORIES OF STEAM IN VALLEYS (Part 3) by Roger Marsh - see commentary 12 May 2020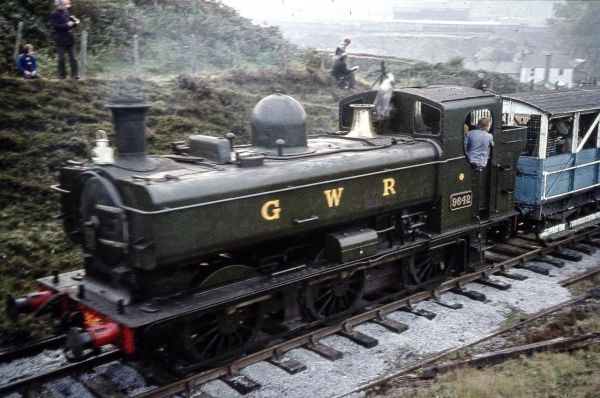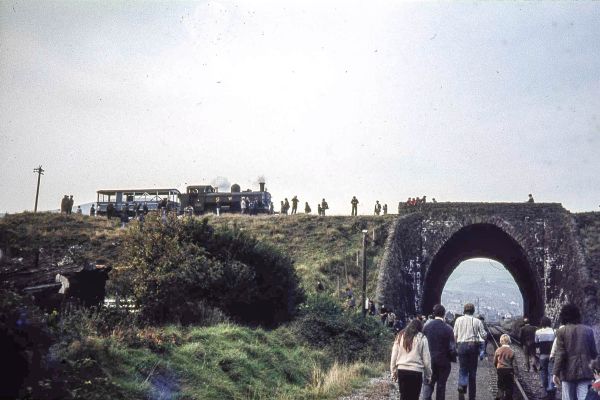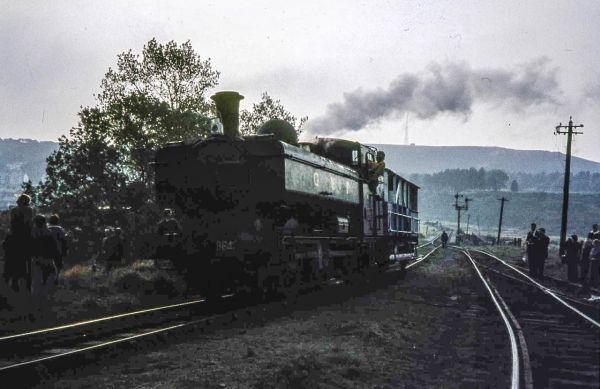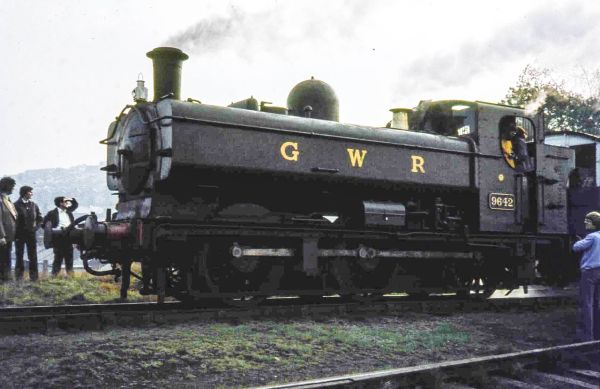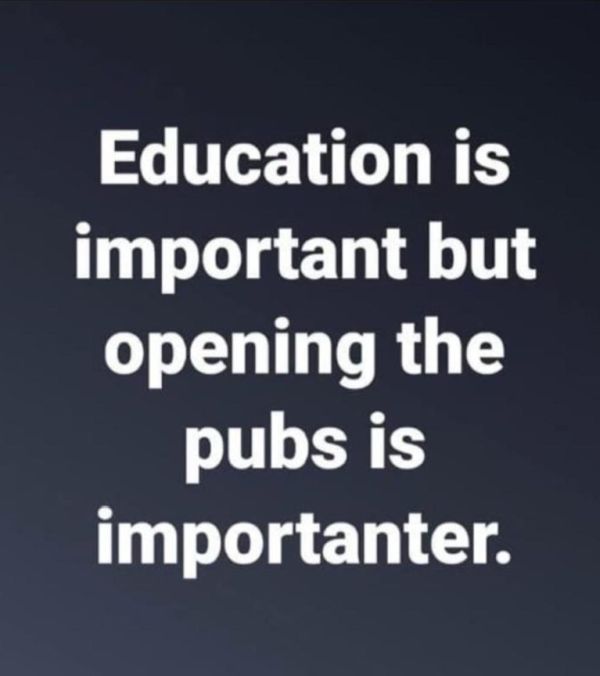 Evercreech Junction to Burnham on Sea and Highbridge 'The Branch'

Please CLICK HERE

Today's thoughts

The first piece of luggage on the carousel never belongs to anyone.

-George Roberts

If God had intended us to fly he would have made it easier to get to the airport.

- Jonathan Winter


---
13 May 2020
MEMORIES OF STEAM IN VALLEYS (Part 2) by Roger Marsh - see commentary 12 May 2020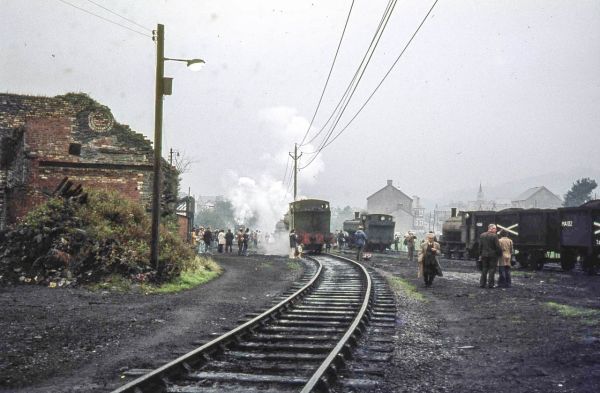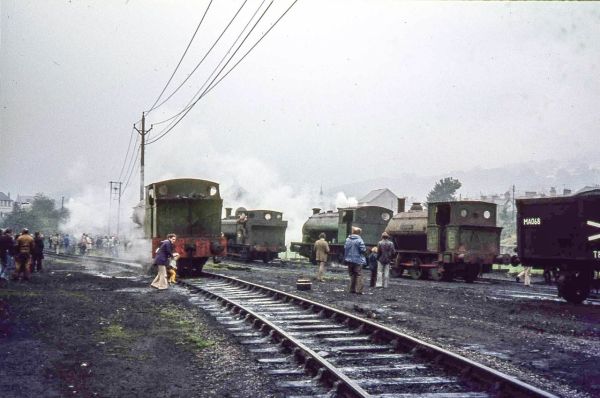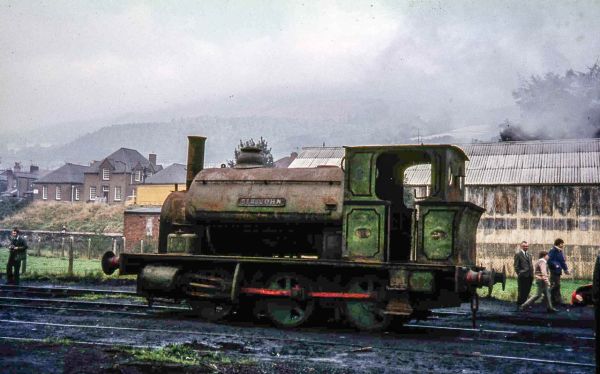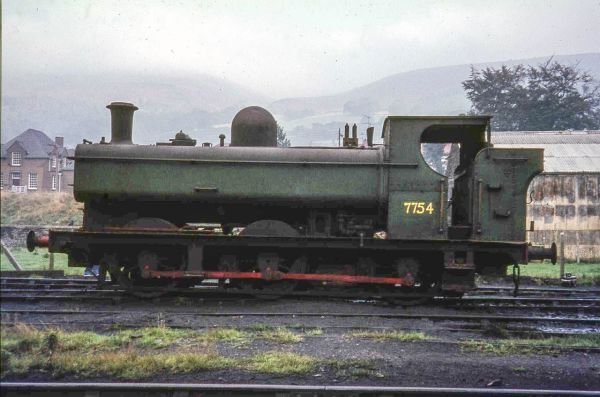 Bottle of Gin


Templecombe to Bath Green Park in 1963

35028 is at Templecombe Upper whilst there is a glimpse of Templecombe Motive Power Depot, Wincanton and much more in this 7 minute You Tube memory

CLICK HERE

Today's thoughts

Home cooking. Where many a man thinks his wife is.

- Jimmy Durante

America is so advanced that even the chairs are electric.

- Doug Hamwell


---
12 May 2020

CLICK HERE to go to our normal Index and other pages.

Deltic D9016 'Gordon Highlander' and Peckett 'Pectin' Bob has sent in a 'blast from the past'. He says: 'I went to Yeovil Junction to film the departure of the A4 on 15th Oct 2003 afterwards I was told that 'Pectin' was going to push the Deltic back into the shed. It was getting up a well big head of steam but for a little engine it did it easy'.


Why....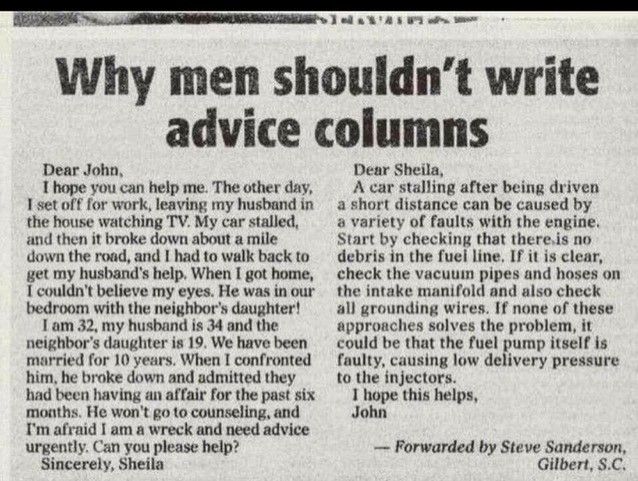 MEMORIES OF STEAM IN VALLEYS by Roger Marsh

Almost a decade after British Railways steam disappeared from the main line metals it was still working in the NCB collieries of South Wales.

The Monmouthshire Railway Society was renowned for their trips by DMU up the valleys of South Wales to view working steam before it also disappeared. On Saturday the 15th.October 1977 I took the opportunity to join one of their trips from Newport to visit Mountain Ash, Maesteg and Craig Merthyr (Pontarddulais) Collieries.

The DMU departed from Newport at 09.15 making its first call all Cardiff at 09.31. We then travelled to Mountain Ash Colliery via Radyr Quarry Junction. At Mountain Ash we spent a couple of hours photographing a rather dilapidated variety of locomotives including an Andrew Barclay, Hudswell Clarke and an Avonside. The GWR still live on though in the form of Pannier Tank No.7754, a locomotive subsequently preserved and now can be seen on the Llangollen Railway.

We were treated to a display of energetic shunting of empty mineral wagons by Andrew Barclay Works No 2074 Llantarnam Abbey 0-6-0ST and Hudswell Clarke Works No.1885 0-6-0ST NCB No.1 over some very rickety trackwork.

We rejoined the DMU and made our way back down the valley from Mountain to Cardiff. A trip along the main line was then made out beyond Bridgend to the Craig Merthyr Colliery at Pontarddulais. A special arrangement was made at this colliery to have Hunslet Austerity 0-6-0ST No. 3770 'Norma' in steam. Two other 0-6-0ST locomotives were also at the colliery, W G Bagnall Works No 2758 0-6-0ST on display outside and partly dismantled Hunslet Works No. 3844 0-6-0ST inside the workshop.

After a short time we again rejoined our DMU to return via Bridgend to make a final trip up the valley to the colliery at Maesteg. Again a special effort was made in that Ex.GWR Pannier Tank No.9642 was in steam to provide brake van rides. Interestingly the locomotive was previously shedded at both Weymouth and Bridport between 1948 and 1956.

Finally a return trip was made via Bridgend and Cardiff arriving back at Newport at 5.42 pm and all for the princely sum of £4.25.

There are 19 photographs in total, the remainder will follow over the coming days. We really appreciate the great photographs and informative commentary which Roger has kindly provided!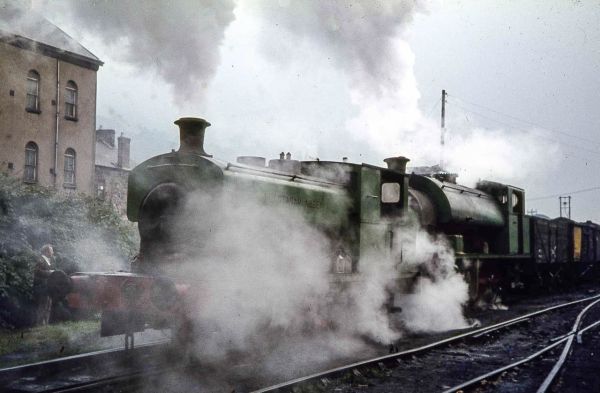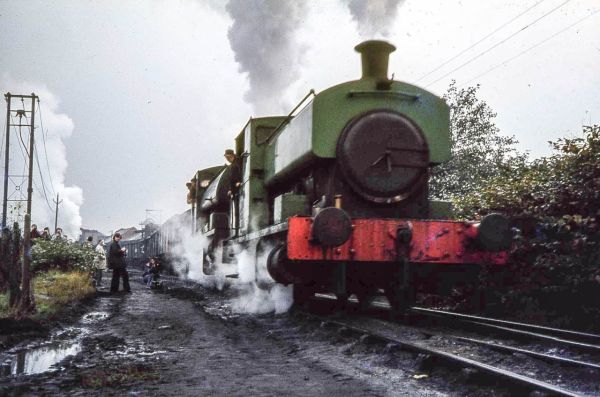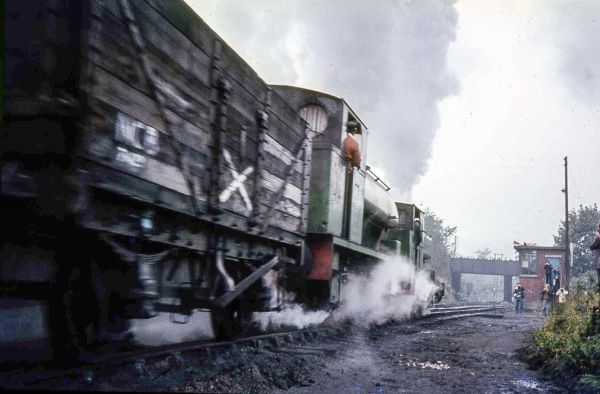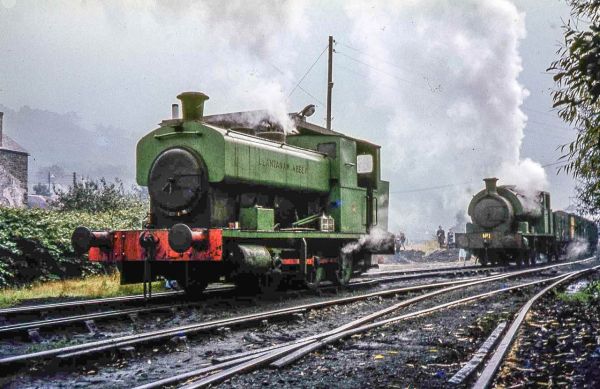 Some more Tommy Cooper

A guy walks into the psychiatrist wearing only Clingfilm for shorts. The shrink says, 'Well, I can clearly see you're nuts.'

I went to buy some camouflage trousers the other day but I couldn't find any.


---
11 May 2020

Green Arrow Completing the set of photos provided by Rog of the visit by 'Green Arrow' on 7 August 1999 we see the engine at Platform 4 (with our Water Tower under construction) and a view of the engine enroute back to Weymouth at Thornford.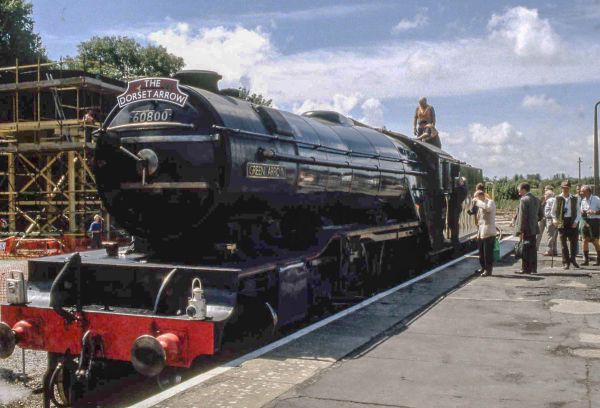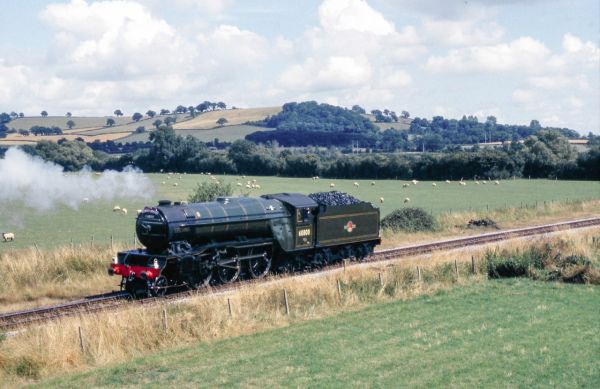 Templecombe Upper, Motive Power Depot and a journey to Bath Please CLICK HERE

Today's thoughts

If life were fair Elvis would still be alive today and all the impersonators would be dead.

- Johnny Carson

Hollywood must be the only place on earth where you can be fired by a man wearing a Hawaiian shirt and a baseball cap.

- Steve Martin


---
10 May 2020

S15 Class 828

An interesting video has appeared on You Tube. First section is a run on 26 September 1993 with 'West Country' 34027 'Taw Valley' from Salisbury to Yeovil Junction. This is just prior to Yeovil Railway Centre being established. Interesting to note the lack of the upside car park and also seen is a brief glimpse of the large Coal Concentration depot, situated where the Permanent Way depot is now sited.

A second section (starting at around 26.50) has scenes at Castle Cary and Trent when 828 was in use on Yeovil-Castle Cary shuttles during our second Railway Festival. 828 also appeared during our first Railway Festival held in 1994.

CLICK HERE .

We already have a photo of the run from Salisbury (courtesy Roger Marsh)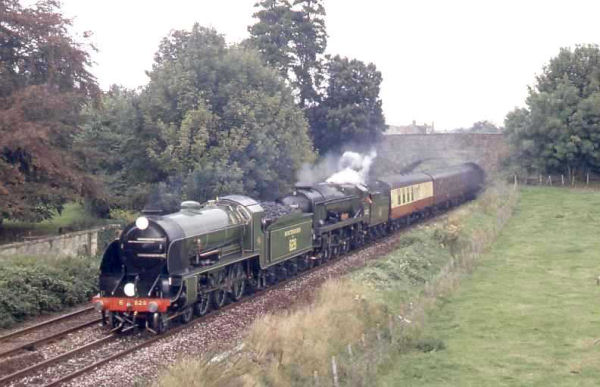 Today's thoughts

Having more money doesn't make you happier.

I have 50 million dollars but I'm just as happy as when I had 48 million.

- Arnold Schwarzenegger.

We are here on earth to do good unto others. What the others are here for, I have no idea.

- W. H. Auden


---
9 May 2020

Bubble Car - again! On 6 May, the SWT Bubble Car was featured at Bruton. Here is a short video of the unit there (courtesy Bob).




Tommy Cooper anyone?

1. Two blondes walk into a building..........you'd think at least one of them would have seen it.

2. Phone answering machine message - '...If you want to buy marijuana, press the hash key..'

Last Days of the Lyme Regis branch - two You Tube videos with Ivatt tanks.

HERE and HERE

Today's thoughts

Lawyers believe a man is innocent until proven broke.

- Robin Hall

Kill one man and you're a murderer, kill a million and you're a conqueror.

- Jean Rostand.
---
8 May 2020

Churchill's victory speech and Red Arrows flypast - VE Day 75 - BBC CLICK HERE

Green Arrow - continued See commentary yesterday. Now we see the coaling operation, then using a conveyor and individual coal bags. Now of course it's bulk and loaded via an elevator at Yeovil.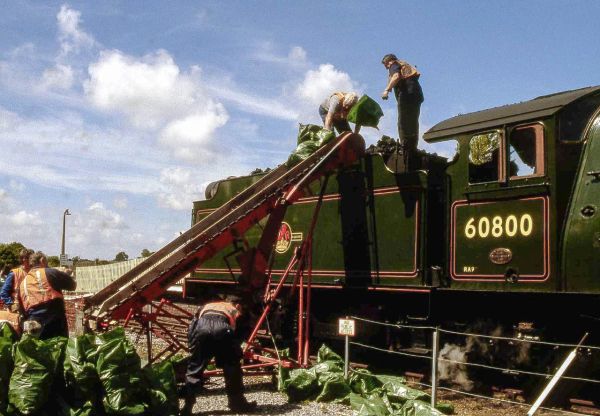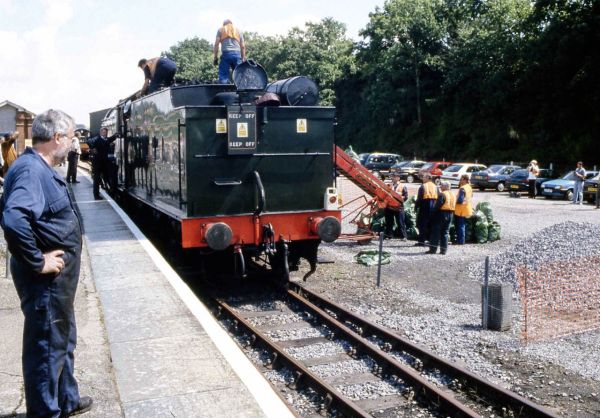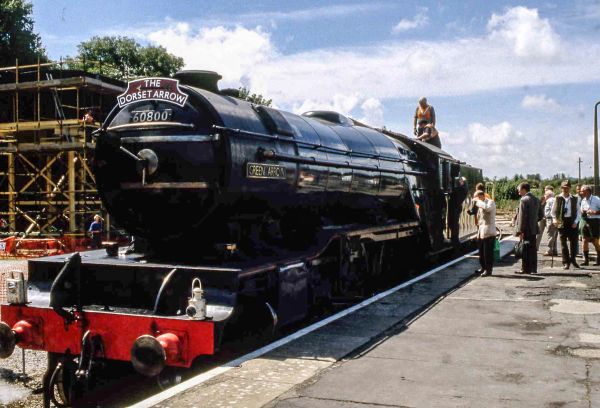 Today's thoughts

Wood burns faster when you have to cut and chop it yourself.

- Harrison Ford

The best cure for sea sickness, is to sit under a tree.

- Spike Milligan


---
7 May 2020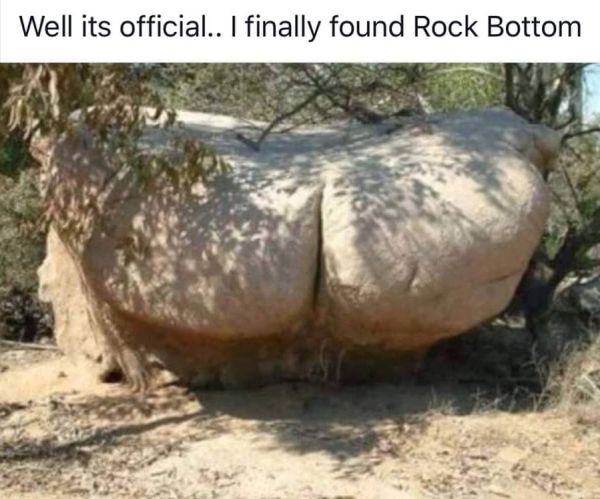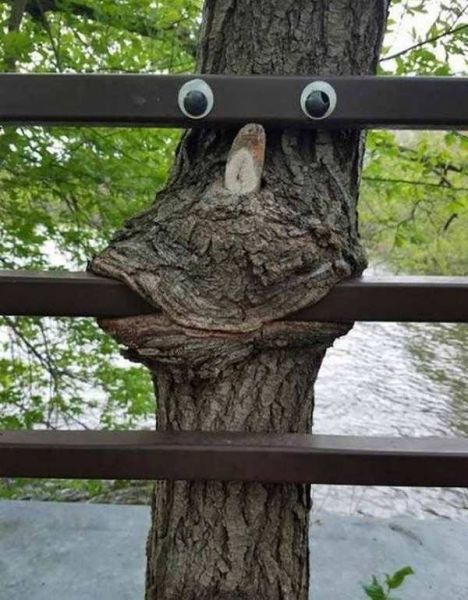 Yorkshire Airlines


60800 'Green Arrow' Rog remembers: "On the 7th.August 1999 LNER Class V2 No.60800 'Green Arrow' hauled the 'Dorset Arrow' rail tour from Paddington to Weymouth. The locomotive came off at Yeovil Pen Mill and the train continued on to Weymouth diesel hauled.

The attached photographs show the train at Trent on the outward journey, the locomotive being services at the Yeovil Railway Centre and finally the light engine move to Weymouth taken at Thornford. There may be some familiar faces in some of the photographs".

More photos of this visit tomorrow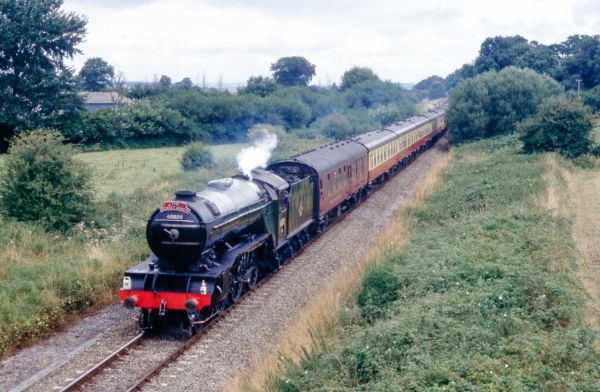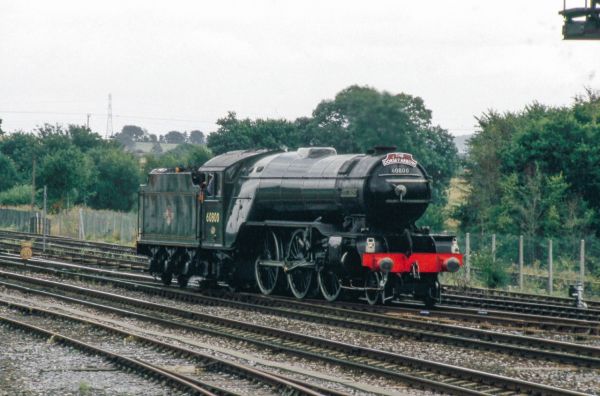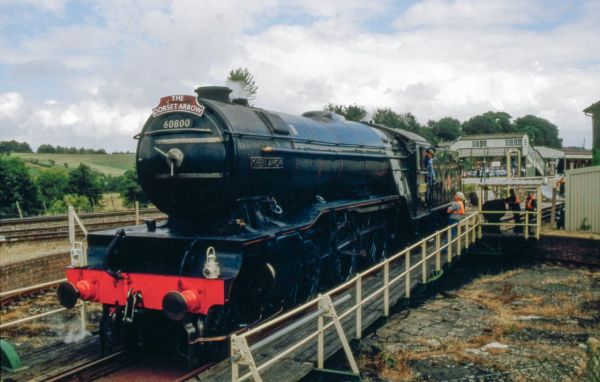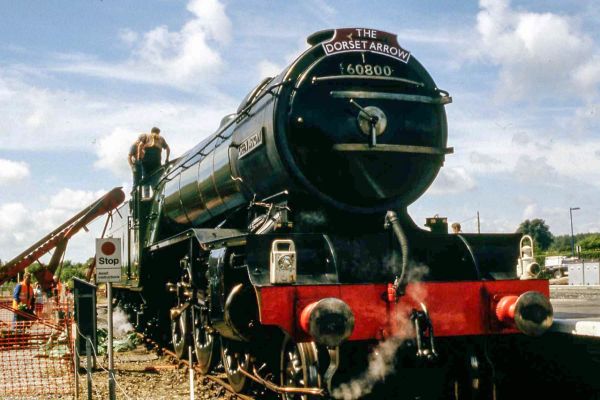 Today's thoughts

I've been married to a communist and a fascist, and neither would take out the garbage.

- Zsa Zsa Gabor

When a man opens a car door for his wife, it's either a new car or a new wife.

- Prince Philip


---
6 May 2020

Our Appeals If you are able to contribute either to our Toilet Block Appeal or our General Funds please see the links above! Any help will be greatly appreciated!

Bring Back BR - All is Forgiven....... CLICK HERE

Find the 8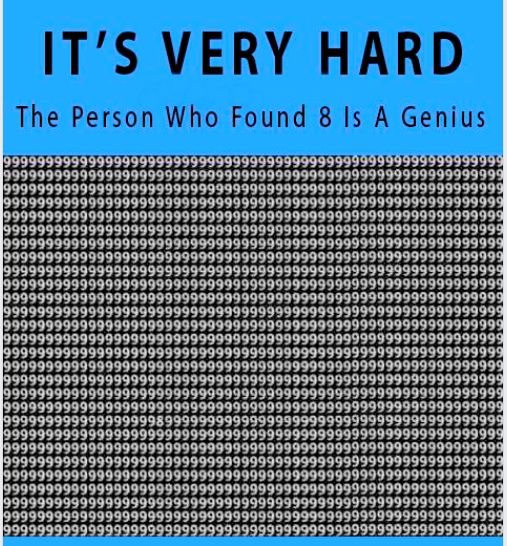 Bob relates: "On Thurs 12th April 2007. I went to Bruton in search of return engineer trains to Westbury, which did not show as usual!!

But the SWT Bubble car came whizzing up the hill.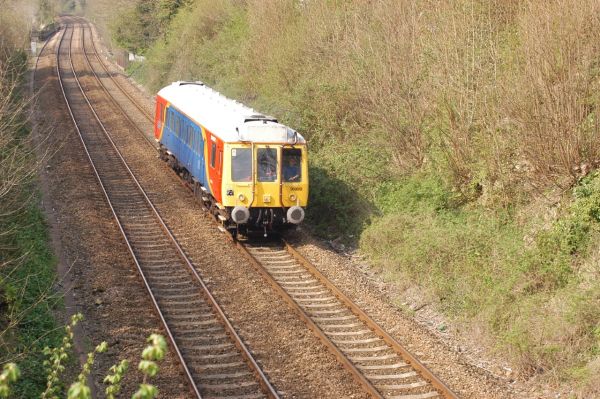 and here for good measure is the same unit at Yeovil Junction (en route to Exeter) on 26 February 2006.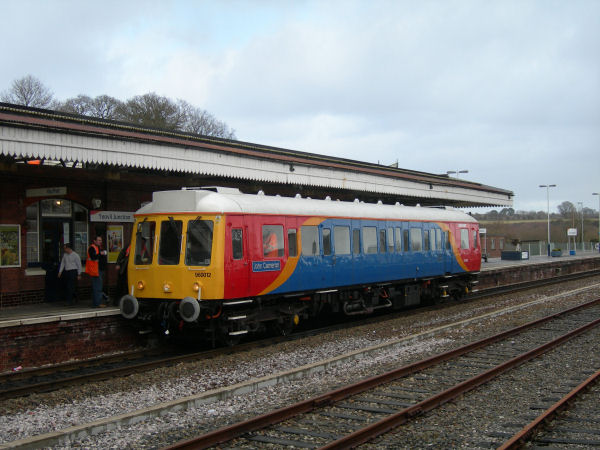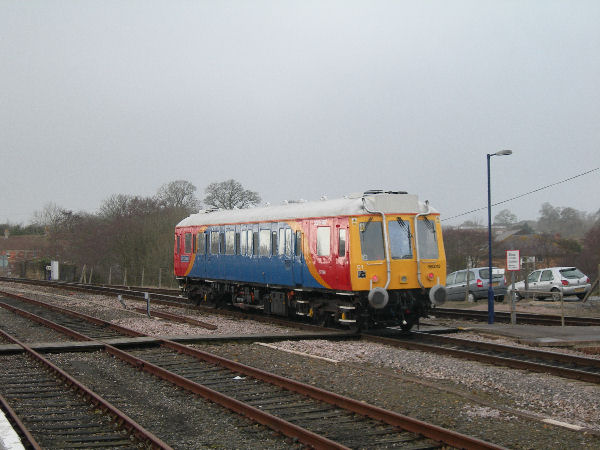 Ronald Reagan


Today's thoughts

After the game, the King and the Pawn go into the same box.

- Italian proverb

The only reason they say 'Women and children first' is to test the strength of the lifeboats

- Jean Kerr


---
5 May 2020

6024 King Edward I Rog says: "Hopefully you can open this video of 6024 at Taunton on our final run on March the 17th 2012. I was on the footplate as the owners rep and we were running just short of our max permitted speed of 75mph. I was on the engine from Exeter to Bristol and it was one of the most enjoyable runs I have had on the engine., this ended a run of 37 rail tours with no major issues." View this thrilling scene with whistle in action HERE

Funny video from Rog




More photos of Snowdown in 1993. See commentary yesterday Thanks the other Rog.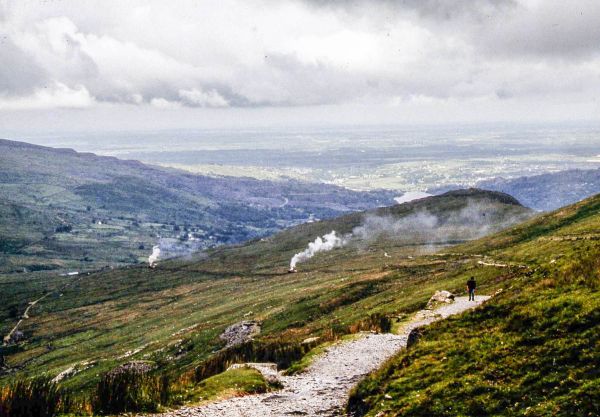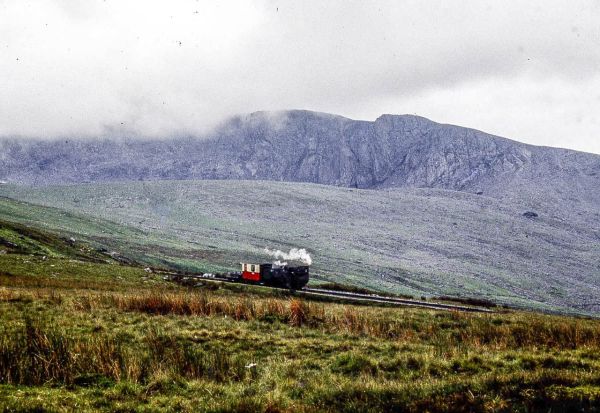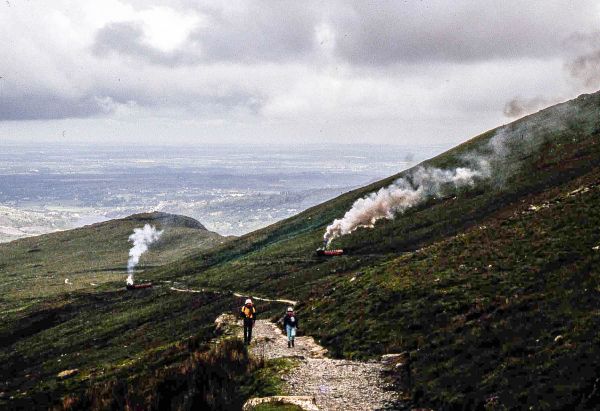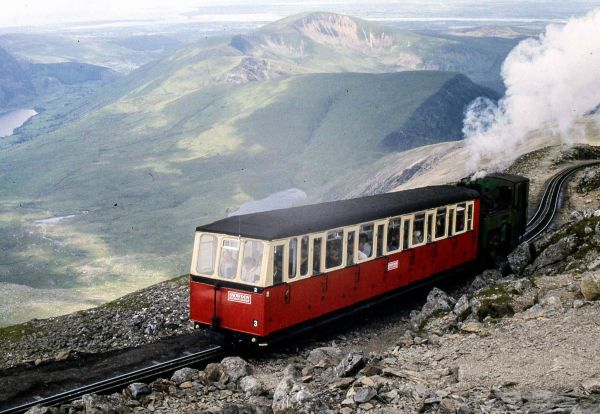 Today's thoughts

America is the only country where a significant proportion of the population believes that professional wrestling is real but the moon landing was faked.

- David Letterman

I'm not a paranoid, deranged millionaire. I'm a billionaire.

- Howard Hughes


---
4 May 2020

Fox Thanks Bob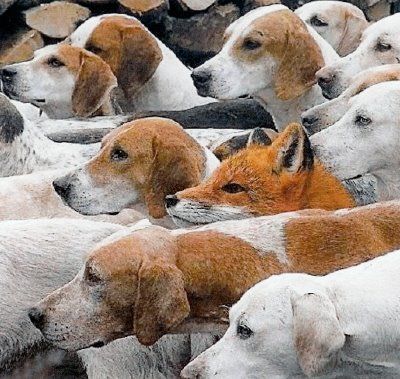 Another beast! Thanks Rog

Whether or not you own a dog, you must appreciate the efforts of this owner trying to sell her dog.

Look at the picture of this lovable Chinese Mastiff and then read the sales pitch below.

Dog For Sale.

Excellent guard dog.

Owner cannot afford to feed Jethro any more, as there are no more drug pushers, thieves, murderers or molesters left in the neighbourhood for him to eat.

Most of them knew Jethro only by his Chinese street name,
Ho Lee Schitt.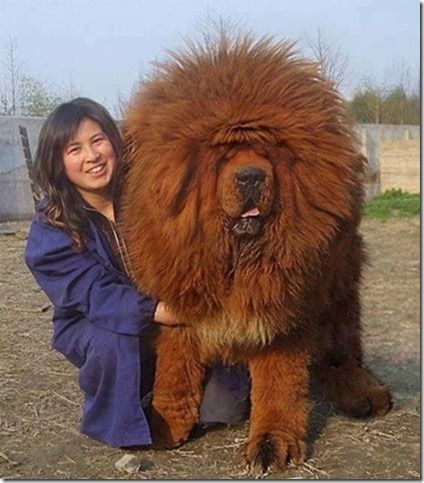 Snowdon - more photos tomorrow Rog remembers back when:

In 1993 my wife and I had the first of many holidays in North Wales. We were a lot younger and fitter then and we did quite a lot of walking.

On the first Thursday of our two-week holiday we thought that we would walk up Mount Snowdon. Being unfamiliar with the area we were not sure which of the several routes to take to reach the top of the mountain. In the end we decided to walk the Rhyd Ddu Path which started from the now site of the station on the Welsh Highland Railway.

We set off in sunshine but before reaching the top the cloud descended, however we pressed on. After walking precariously along a ridge back we finally reached the top. The sun broke through the clouds for 30 seconds and that was it.

We then walked part way down until we got below the cloud level where we sat under a wall and ate our lunch. We then retraced our steps back to the car park.

Not to be outdone, the following Tuesday we decided to walk to the top again. This time we walked the path from Llanberis, which for most of its way followed the railway track.

Now here was an opportunity for a bit of railway photography. Luckily this time the cloud level was high and we managed to reach the top in partial sunshine. Now many of you may have been to the top of Snowdon?

I expect most have travelled there on the train. I suspect that some 27 years later I would also be using that way to the top now!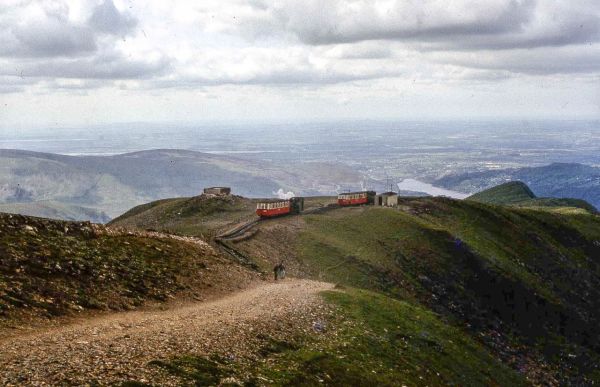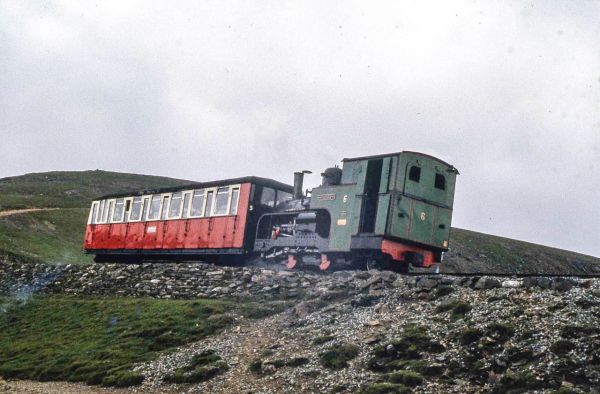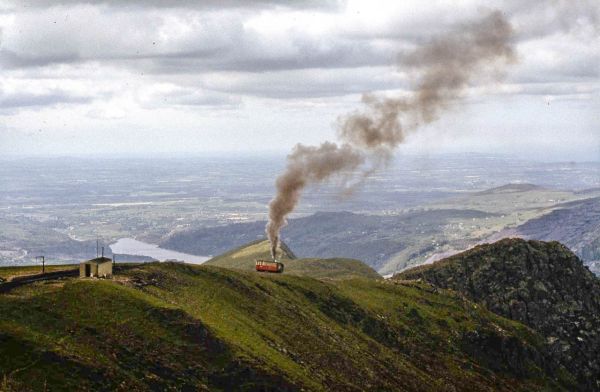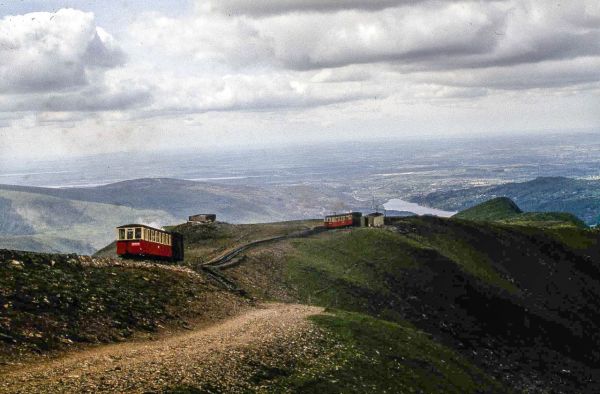 Today's thoughts

As I sat, strapped in my seat waiting during the countdown, one thought kept crossing my mind... every part of this rocket was supplied by the lowest bidder.

-John Glenn

When the white missionaries came to Africa they had the Bible and we had the land. They said 'Let us pray.' We closed our eyes.

When we opened them we had the Bible and they had the land.

- Desmond Tutu


---
3 May 2020

A visit to Yeovil Junction (pre-Centre days) in 1988 as photographed by Roger.

In October 1988 80080 visited.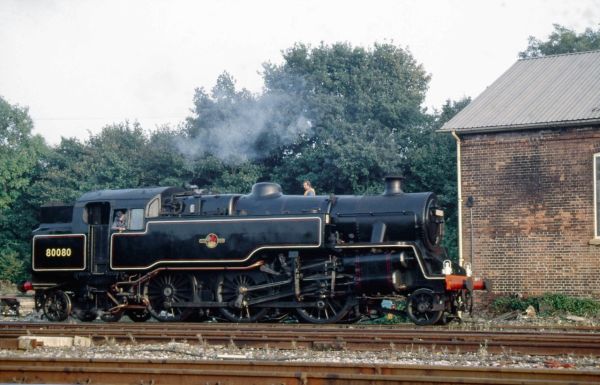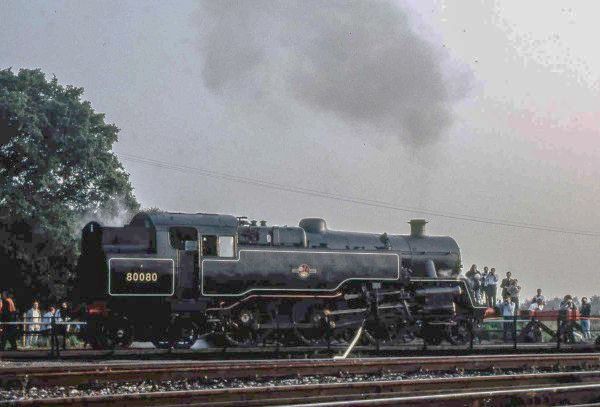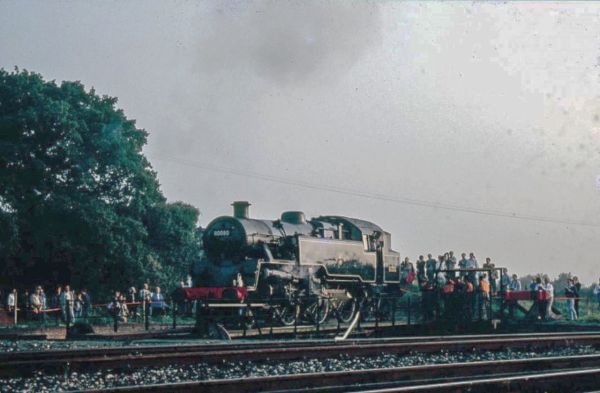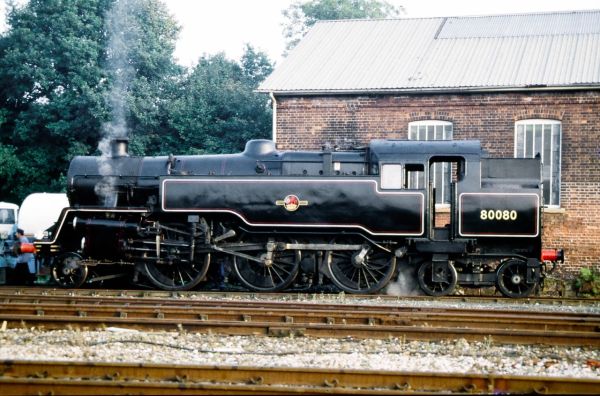 Today's funny - a Doritos advert courtesy (the other) Rog




TransportXtra has masses of news and information on all forms of Transport. CLICK HERE

Colouring page for copy and print featuring our logo.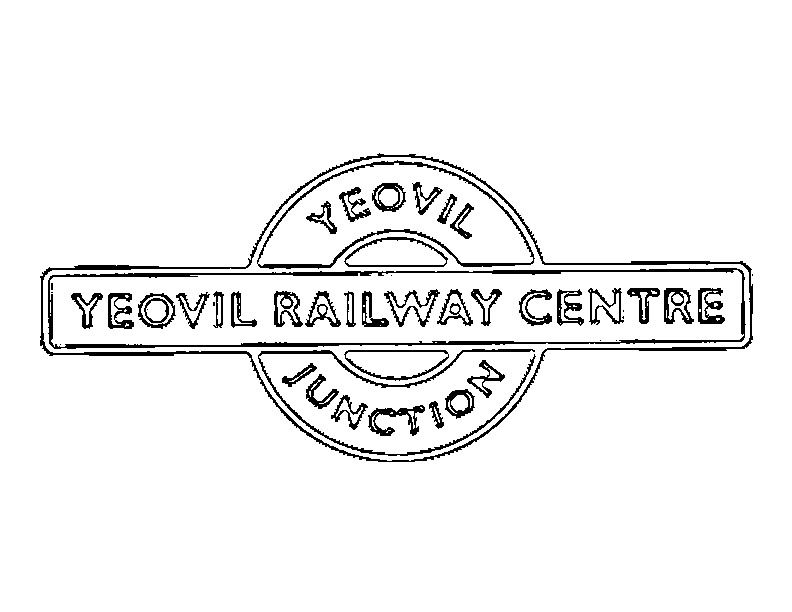 ---
2 May 2020

A Sad Railway Enthusiast Eric has sent this in CLICK HERE

Adrian has a tolerant wife!

Another Rog (not the original) funny



Plymouth, Dartmoor and Looe in 1954. Lots of vintage transport including the GWR Princetown Line HERE . BBC Spotlight recreated the journey in 2018 and this is the FIRST PART and HERE is the part relating to GWR line over Dartmoor and the final part is HERE Finally for good measure is a photo of Ingra Tor Halt (site) on 12 October 2016.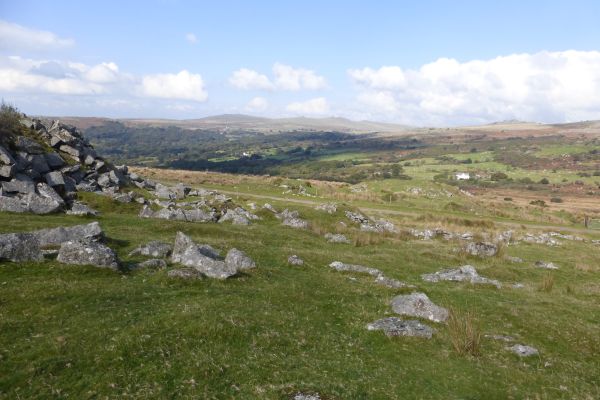 ---
1 May 2020

Don't get stuck on a level crossing - quite shocking. Truck driver in Porsgrunn, Norway causes chaos this morning. Fortunately no injuries. Trailer with boat became stuck on a level crossing, it's hit by, and derails a train. 2 people video the collision
CLICK HERE (apologies for adverts)

Excess Sanitiser! Thanks Roger!




Weymouth Quay Did you know a Parry People Mover have a brief trial on the Quay Line?

CLICK HERE

Whilst in that area here are two You Tube videos of the last passenger train from Weymouth to Easton.
HERE and HERE

Show Off!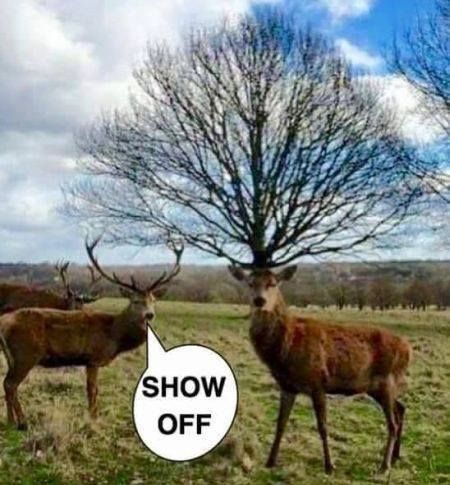 ---

30 April 2020 Just a reminder, please, to keep those contributions coming. There has been a great response so far. Thank you!

Virtual Model Railway Show Over on Facebook, Andy has been busy compiling some video of Model Railways in lieu of our, sadly cancelled, actual 2020 show. Have a look HERE

Peter has been busy! "attached is a photo for your collection of my lock down activity. A South Chord!! I have built one along with a narrow gauge Fowler. 45mm G / 16mm scale. It is still a 0-4-0 like Sam. It is so small that the final drive looks like a wheel."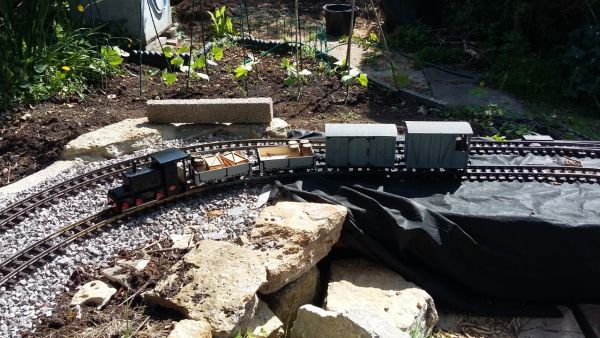 Doing your daily exercises? You will be able to do this with just a little practice.
Bend and Stretch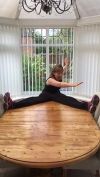 Careful as you go!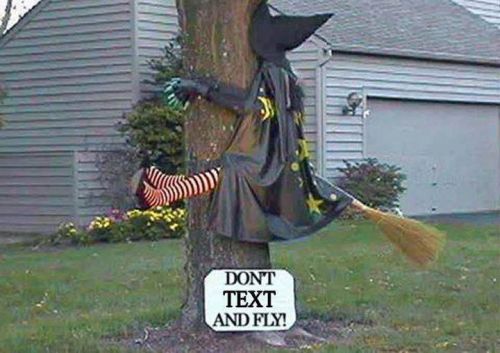 Toilet Roll Challenge Anyone up for this? CLICK HERE

If there are willing particiapnts these can be combined and the results shown. Send your video (small file only please) to yeovilrailway@hotmail.com

On 15 April this was asked. Where in the world is this? stews.issued.shaky Some of you may already know how to find the answer but for those who don't all will be revealed in a few days!

Now is the time to say where this is! - Of course its Yeovil Railway Centre - where else!

what3words is a really simple way to talk about location. "We have assigned each 3m square in the world a unique 3 word address that will never change."

Read more about this HERE We all know about Postcodes etc but in some places a Postcode may cover a large area whilst what3words divides the world into 3m squares and is increasingly used by emergency services to locate a precise location.

Try: stews.issued.shaky - and check the result! Try your own property in the Search Box and see what 3 words come up for you! Apologies - there was an error in the original question which is now corrected!


---
29 April 2020 The World of Nature through webcams You can lose hours looking through the webcams hosted by Explore.Org On occasions a live stream from the Space Station is carried.

NASA live stream is HERE

Colouring picture for today is (on the turntable) from Right to Left - Ruston shunter, Yeovil Gas Works wagon and Gunpowder Van.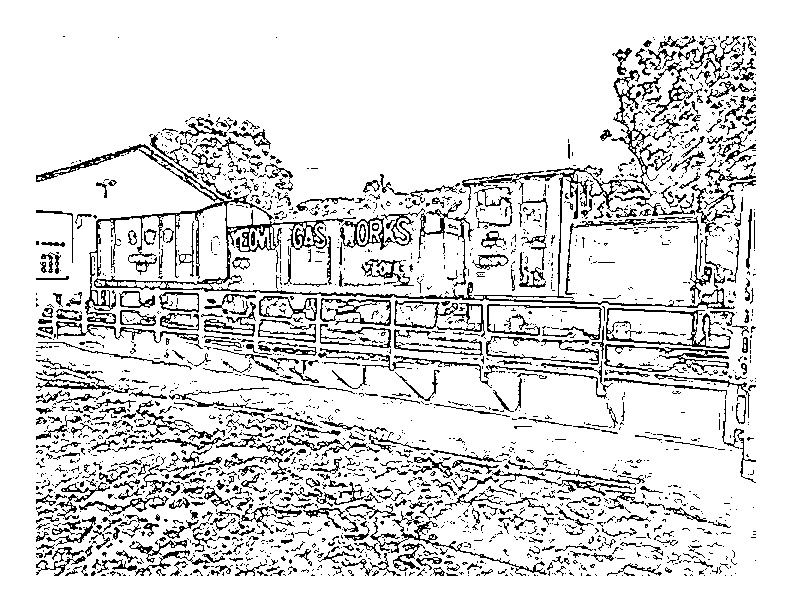 Cerne Giant Has been in the news recently:
2020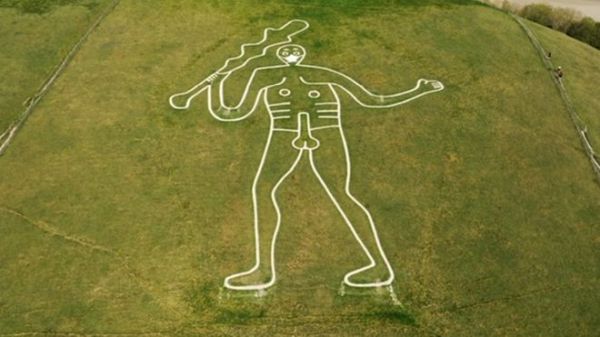 2019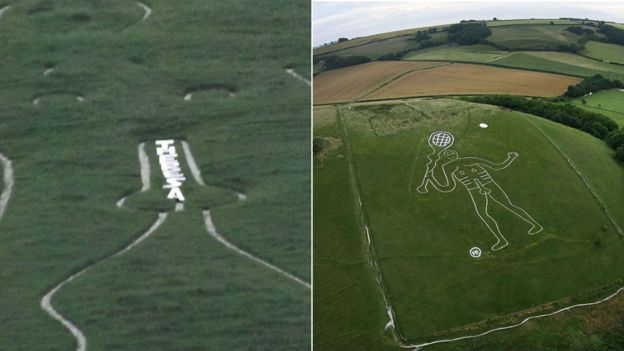 (both from BBC website)

Bob Tucker writes:

Cerne Abbas Giant July 2007

A figure of Homer Simpson had been painted next to the Cerne Abbas giant in Dorset.

The figure, representing Homer in his Y-fronts holding up a doughnut, is standing to the left of the chalk giant. The cartoon character was drawn on the hill slope to promote the new Simpsons film, which will be released later that month. He was painted with water-based biodegradable paint that will wash away when it rains.

Its amazing they got permission to do something so ridiculous. Being an area of scientific interest.

The giant has previously been used to promote products such as jeans and bicycles. He receives a full rechalking every 25 years.

2007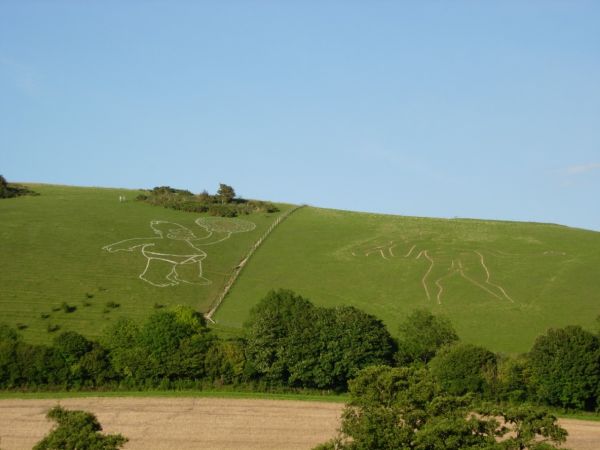 Sound of Music right music but words reworked for today - very clever!

CLICK HERE


---
28 April 2020

1898 - Barnstaple to Ilfracombe HERE (Note there is a 15 second gap around 3.17 but does resume) Posted by South West Film & Television Archive who also hold archives of Westward TV 1961-1981, TSW 1982-1992 and BBC South West 1961 - present. Established in 1993 by TSW.

Gus Honeybun Those of you who used to get those ITV channels will probably remember the rabbit! Here is an episode of him with Judi Spiers. With Gus the announcer would read out a birthday card and the puppet would give a jump, known as bunny hops, for each year of the child's life. Alternatives to bunny hops were ear waggles, head stands, winks and later "putting out the lights" and a colour distorting "magic button".

Gus appeared with virtually every Westward/TSW presenter, including the late Ian Stirling, Fern Britton, Judi Spiers, David Fitzgerald, Ruth Langsford & Sally Meen.

My Wife Won't Like This:

While riding my Harley, I swerved to avoid hitting a deer, lost control and landed in a ditch, severely banging my head.

Dazed and confused I crawled out of the ditch to the edge of the road when a shiny new convertible pulled up with a very beautiful woman who asked, "Are you okay?"

As I looked up, I noticed she was wearing a low'cut blouse with cleavage to die for... "I'm okay I think," I replied as I pulled myself up to the side of the car to get a closer look.

She said, "Get in and I'll take you home, so I can clean and bandage that nasty scrape on your head." "That's nice of you," I answered, "but I don't think my wife will like me doing that!"

"Oh, come now, I'm a nurse," she insisted. "I need to see if you have any more scrapes and then treat them properly."

Well, she was really pretty and very persuasive. Being sort of shaken and weak, I agreed, but repeated, "I'm sure my wife won't like this."

We arrived at her place which was just few miles away and, after a couple of cold beers and the bandaging, I thanked her and said, "I feel a lot better, but I know my wife is going to be really upset so I'd better go now."

Don't be silly!" she said with a smile. "Stay for a while. She won't know anything. By the way, where is she?"

"Still in the ditch, I guess." Thanks Rog for that!

SERUG Salisbury to Exeter Rail Users Group do an excellent job in keeping the recent poor performance before the decision makers. Their Chairman, Bruce Duncan, wrote to Rail Magazine and here is a reply from the Wessex Route Director, Network Rail and SWR Interim Managing Director.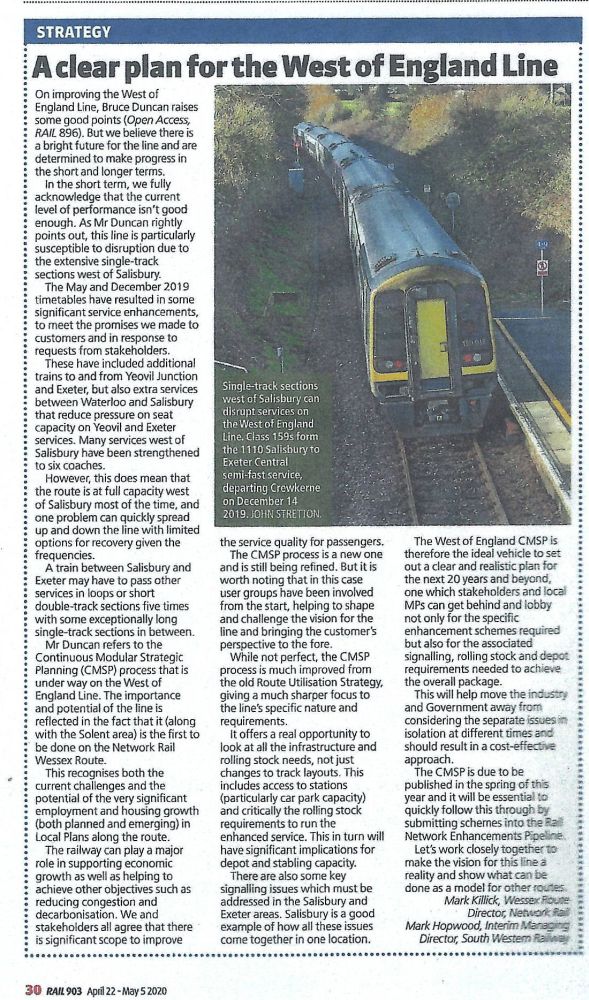 ---
27 April 2020

The innocence of youth! Des relates the following story: "As promised. My introduction to train spotting was by my father who was track ganger based at Cattistock. Then about 1954 he got a better paid job for United Dairies cheese factory. As he finished later and not coming home for dinner (as I expected) I went down Mill Lane to find him climbing through the fence. I sat on rail of the down line to wait.

Luck was on my side, his old work mates found me just before the stopping train to Weymouth passed through. Had I been 15 minutes earlier it was the Channel Island express. I can't remember it but have it being told to me many times."

Des also worked on the railway for some 4 years undertaking relief duties around the Yeovil area (up to Gillingham and down to Maiden Newton and Bridport branch either maintaining the signal lamps (not a favourite job especially the gantry at the Junction) or on other days dealing with the newspapers off the down early morning train from Waterloo.

Another page to copy, print and Colour This is Lord Fisher and the coach at our platform.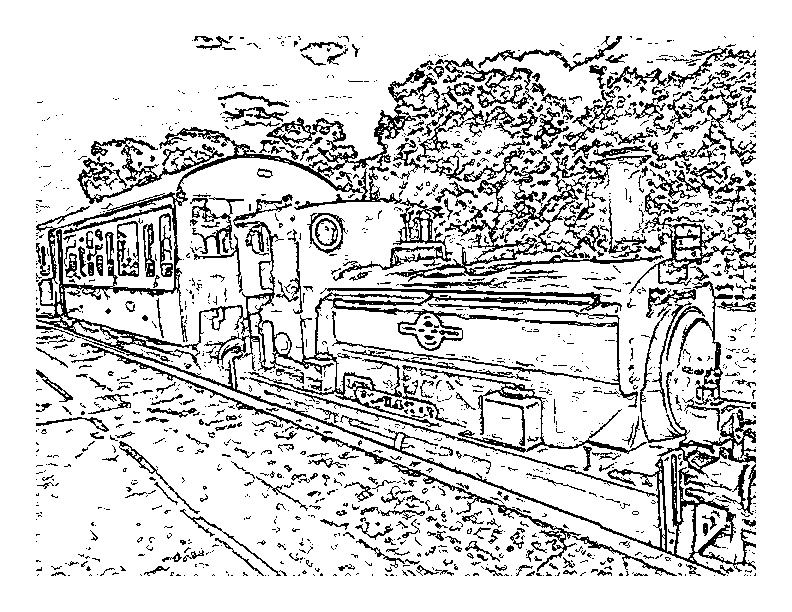 BBC Caption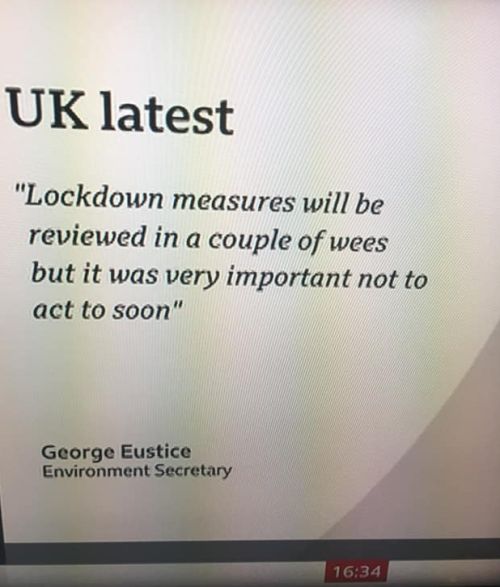 Another failure to plan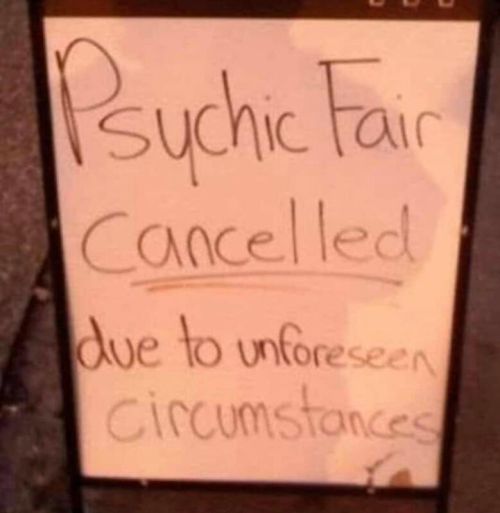 One for the GWR fans - 5028 'Llantilio Castle' A website dedicated to the only Castle class engine to be withdrawn directly as a result of an accident.

See the website HERE. If you would like to watch the You Tube video of 5028 Llantilio Castle crossing the Royal Albert Bridge with the Down Cornish Riviera Express Summer 1959 in a larger size the link is HERE. This is before the road bridge was built alongside and there are shots pictures of the old car ferries below as well as the single line token exchanges and signalbox scenes. Another You Tube video of the construction of the new Tamar Road bridge is HERE and also has railway scenes.


---
26 April 2020
Hot off the Axminster Press
Some logic here?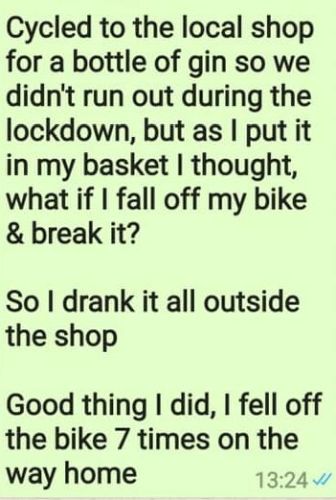 Blue Peter Roger has submitted some photos of 60532 'Blue Peter' at Dinting Railway Centre and Yeovil Railway Centre. He says "I have been scanning some of my railway slides and I came across several that I took at the Dinting Railway Centre when I went on 'The White Rose' railtour on the 31st.March 1979. Among the slides were some pictures of LNER 532 'Blue Peter' and it reminded me of the time when she was stabled at the Yeovil Railway Centre in July 2000. Attached are some photographs of both locations"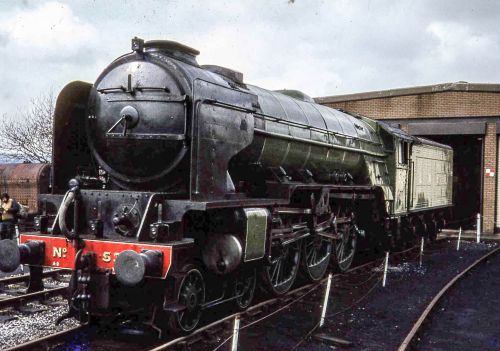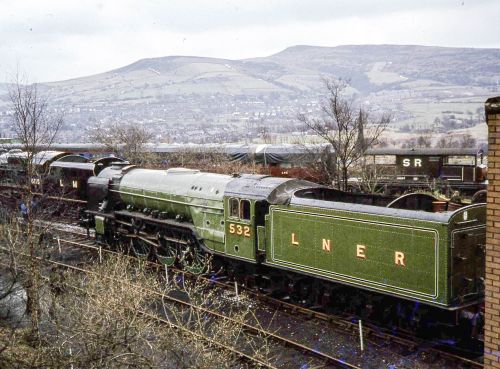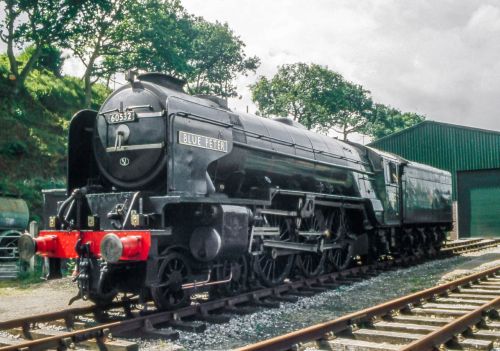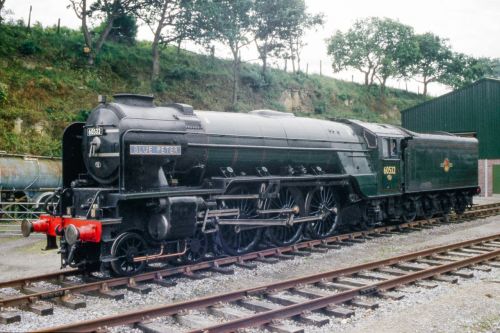 Worth noting that the second Shed road had yet to be laid, the old blue water bowser and the less amount of vegetation and trees on the cliff face.

As an aside Dinting Railway Centre (as a Heritage site) was open from 1968 to 1990 and housed many important locomotives. I believe the derelict shed is still there with a plan to build housing having being refused. Here is a You Tube video of a visit by 'Lion'

Talking of closed sites here is a long You Tube video of Pectin and King George V at a Bulmers Cider open day. And here is another. Both feature Pectin and the Toad brakevan, which now reside at Yeovil Railway Centre. Seems both spent as much time going backwards as they still do at Yeovil! If anyone spots our Roger let me know!

More Breaking news, this time from Malcolm President Trump's comments have led to the first official death, a clergyman in Oregon dies after his wife injected him with disinfectant.

A police spokesman stated they had attended a Domestos incident and recorded the death as a bleach of the priest.


---
25 April 2020

Another picture to copy and colour The left hand vehicle is our SR brakevan (recently returned to service), then the LSWR Gunpowder van and to the right is the ICI Acid tanker. You can find photos by looking through our Gallery HERE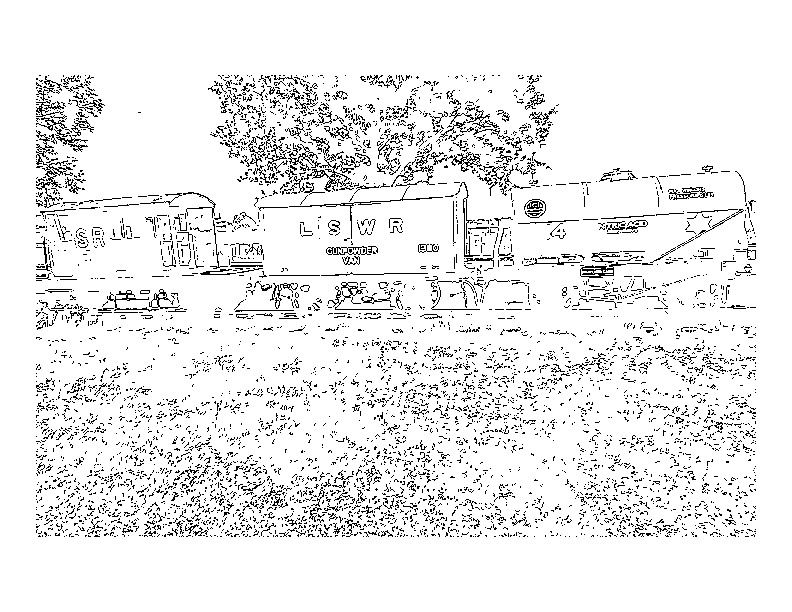 On 23 April three photos were sent in by Brian - Roger has looked at these and kindly comments:
"I'm locating the three photographs of Ray Bakers that Brian supplied. The right hand one of the train running past a stone building is actually Castle Farm, Oborne Road, Sherborne. The stone building is still there."

then

"Just located the other two photographs. Both are taken near Castle Farm. The lower one is facing Sherborne with the distant signal in the photograph. In the far distance Castleton Bridge can just be made out. The first photograph is take looking up Oborne Bank, just across to the north side of the track and from a point near to the previous photograph. Both are about two hundred yards up the trach from Castle Farm."

and finally regarding the motive power:

"Looking at the photographs of the two passenger trains I would date them around the late 1920's as they both look like Urie King Arthurs with the design of cab roof. These locomotives were the mainstay of west of England express passenger trains at the time. The class were gradually fitted with smoke deflectors from 1927 onwards, so the photographs are probably from around that time. Concerning the other photograph of the T9. This is in the unrebuilt condition and rebuilding was completed by 1929, so I think that all the photographs date from the mid to late 1920&s.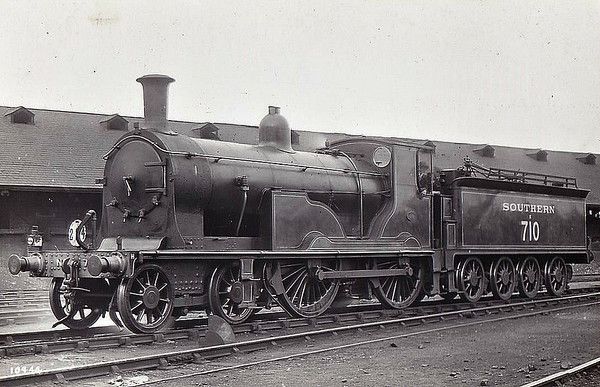 Thanks to Brian for sending in the photos and Roger for his research!


---
24 April 2020

Virtual Model Railway Show Over on our Facebook page HERE is a request for videos of Model Railways so we can have a 'Vitual Model Railway Event on a separate Facebook page HERE

On the subject of Model Railways courtesy Roger. Marpit Sidings - Hunslet The owners of Marpit Sidings have purchased a Hunslet 0-6-0ST from NCB Littleton Colliery so that they do not have to rely totally on BR providing a Class 08 to carry out the shunting movements. (click on the picture)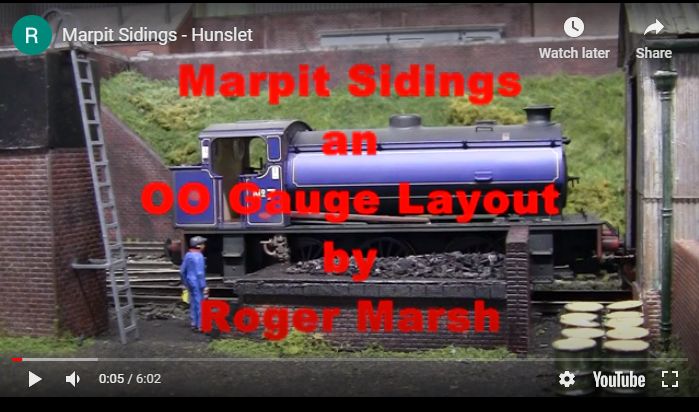 These are genuine clips from council complaint letters (at least it says on Facebook):
1. My bush is really overgrown round the front and my back passage has fungus growing in it.
2. He's got this huge tool that vibrates the whole house and I just can't take it anymore.
3. it's the dog mess that I find hard to swallow.
4. I want some repairs done to my cooker as it has backfired and burnt my knob off.
5. I wish to complain that my father hurt his ankle very badly then he put his foot in the hole in his back passage.
6. And their 18 year old son is continually banging his balls against my fence.
7. I wish to report that tiles are missing from the outside toilet roof. I think it was bad wind the other night that blew them off.
8. My lavatory seat is cracked, where do I stand?
9. I am writing on behalf of my sink, which is coming away from the wall.
10. Will you please send someone to mend the garden path? My wife tripped and fell on it yesterday and now she is pregnant.
11. I request permission to remove my drawers in the kitchen.
12. 50% of the walls are damp, 50% have crumbling plaster and 50% are plain filthy.
13. I am still having problems with smoke in my new drawers.
14. The toilet is blocked and we cannot bath the children until it is cleared.
15. Will you please send a man to look at my water; it is a funny colour and not fit to drink.
16. Our lavatory seat is broken in half and is now in three pieces.
17. I want to complain about the farmer across the road; every morning at 6am his cock wakes me up and its now getting too much for me.
18. The man next door has as large erection in the back garden, which is unsightly and dangerous.
19. Our kitchen floor is damp. We have two children and would like a third, so please send someone round to do something about it.
20. I am a single woman living in a downstairs flat and would you please do something about the noise made by the man on top of me every night.
21. Please send a man with the right tool to finish the job and satisfy my wife.
22. I have had the clerk of works down on the floor six times but I still have no satisfaction.
23. This is to let you know that our lavatory seat is broke and we can't get BBC2.

Check your Buffer Stop! (Click on the picture)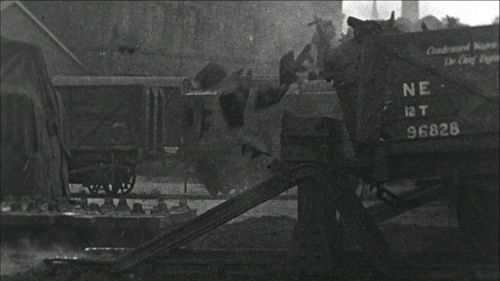 ---
23 April 2020
Three pictures from the steam era.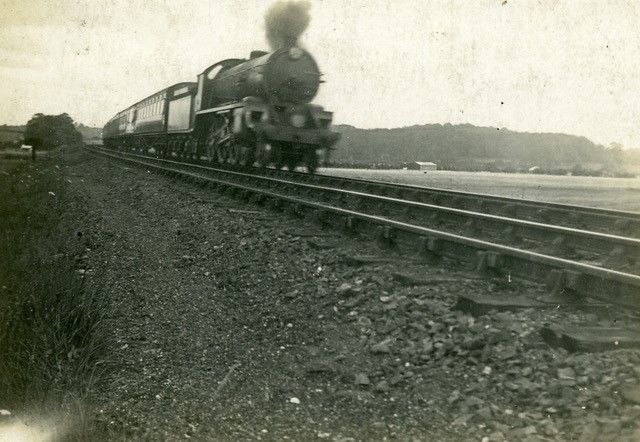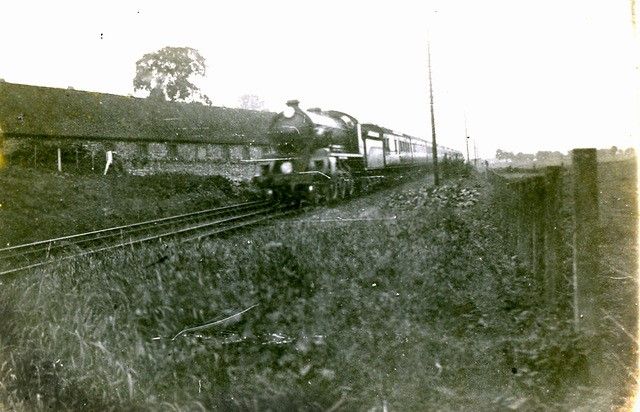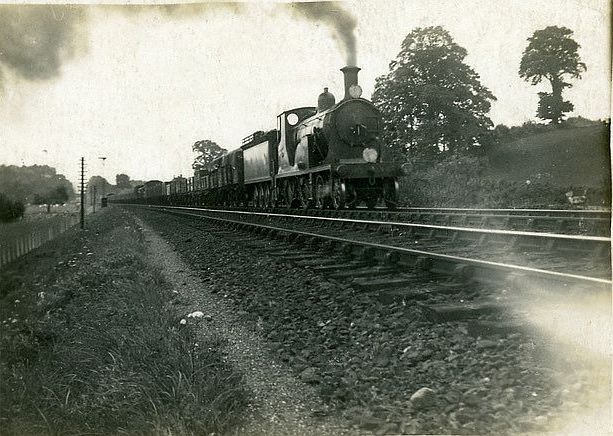 The second photo shows the train passing Blackmarsh Farm ,Sherborne which is still there today. Brian says: "Here are three more photos from the late Ray Baker's collection, not brilliant quality but historic, they were taken near Oborne. Dates? -at a guess pre WW2, say 1930's, wooden wedges are holding the rails in place, the track and trackside vegetation look well maintained. The locos are clean and shining so not post war grime with steam leaking from every joint. The first carriage of the express passing Blackmoor farm has a destination board. I don't know what type of carriages they are. On the goods train one of the wagons has painted lettering. All clues for dating, any experts out there who could give more information?

More information re date, locomotive class etc much appreciated!

Another colouring page to copy and print (Thanks Helen) This is of Black 5 45212 on the turntable. LMS Stanier Black Five 45212 was built at Armstrong Whitworth in 1935, returned to the mainline in 2017.

45212 is one of 842 'Black Fives', as they became affectionately known, built for the London Midland and Scottish Railway. It is one 18 members of the class to survive into preservation.

The engine started life in Bradford and was withdrawn from Lostock Hall (Preston) in 1968 but not before having the distinction of heading the final steam-hauled revenue-earning service for British Railways on 4th August 1968.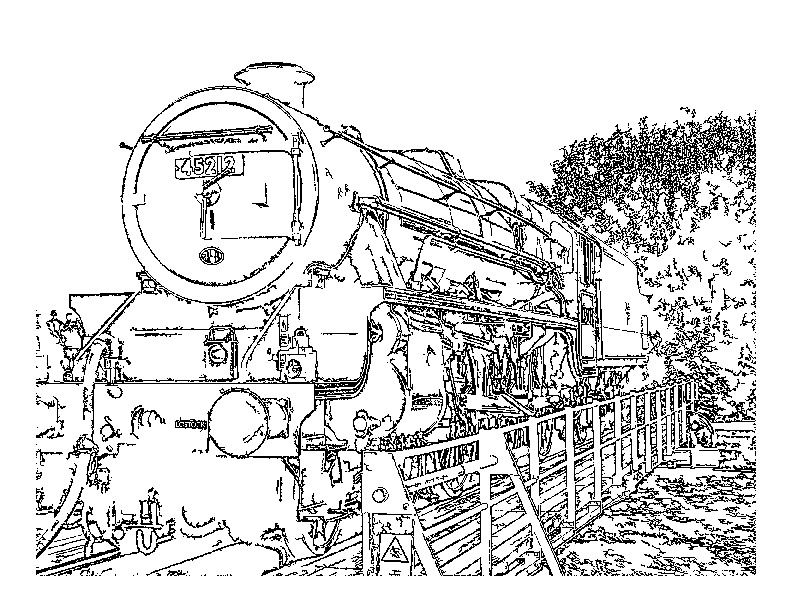 Rog (the other one) hopes this makes you smile!
---
22 April 2020

Goods Sheds For those interested in the buildings side of railways HERE is a most interesting listing of surviving goods sheds (including ours) and a description of styles, architecture etc.

and HERE is a listing of Second World War Prisoner of War Camps with the following:-
ST 5600 1446 194 405 - Barwick House Camp, Barwick, Yeovil Somerset - 4 Base Camp Restored parkland, cropmarks visible on Getmapping coverage
There are stories of Italian prisoners of war carving icons into the cliff alongside the Centre. The small caves are still extant but any carvings are gone. Perhaps Barwick Camp is where the Italians were housed?
There are also listings for Motcombe (Shaftesbury) and Maiden Newton.

Stone Lane Following on from yesterday's photos, here are three of Roger's layout with more to come soon.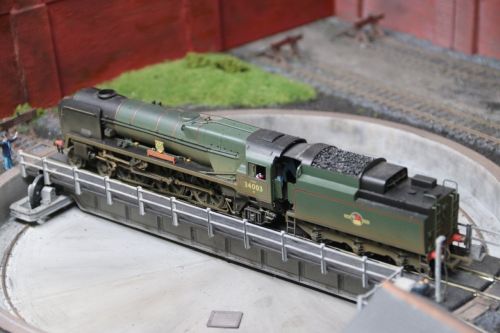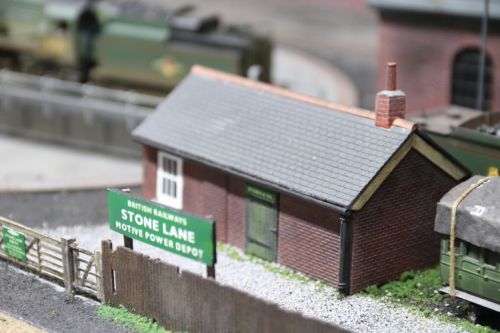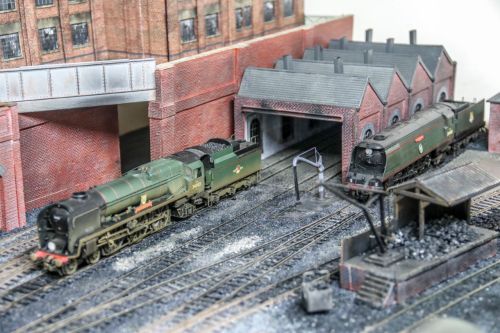 Colouring picture today is 'Lord Fisher'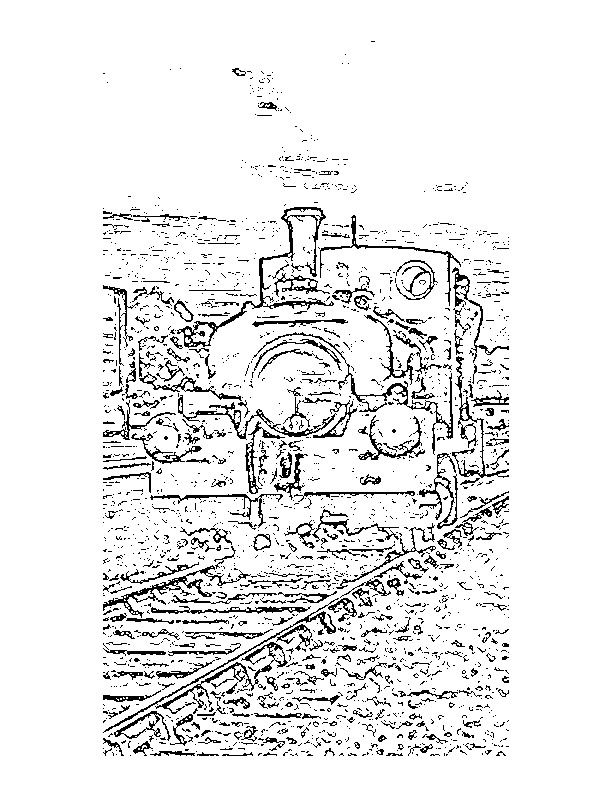 And finally for today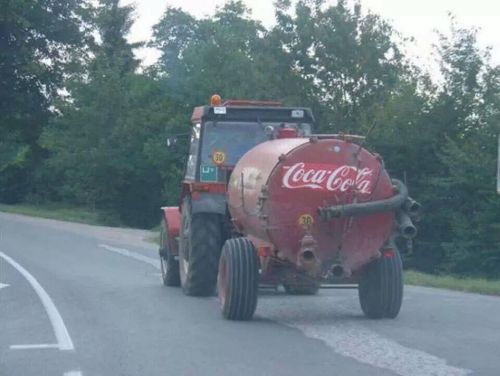 ---
21 April 2020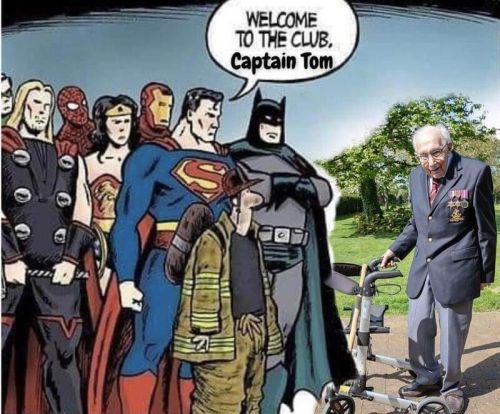 Stone Lane - Motive Power Depot Rog has sent in some photos of scratch built structures for his third layout which fits on a table top. The detail is outstanding! Photos of the layout in the next couple of days.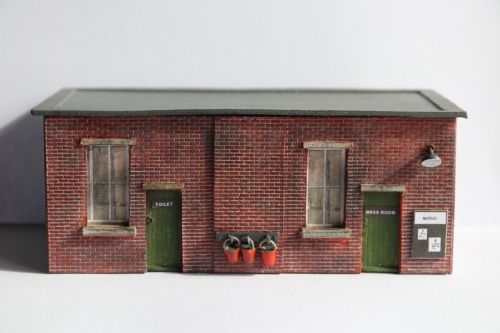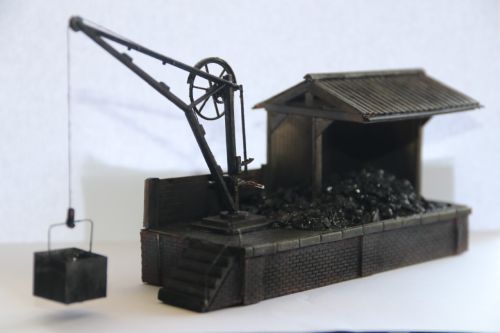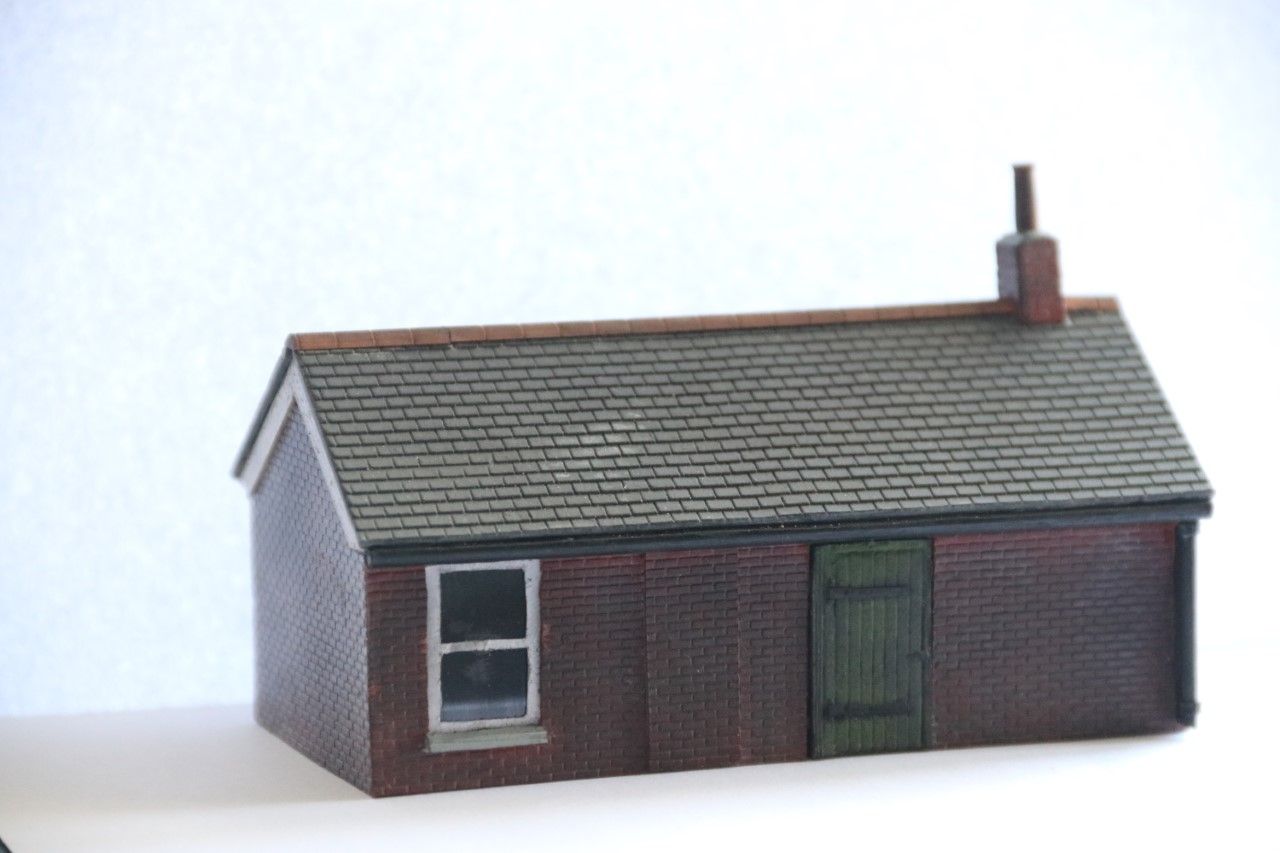 Union of South Africa Third picture to copy and colour is 60009 Union of South Africa visiting Yeovil Junction. This engine has recently retired from main line work.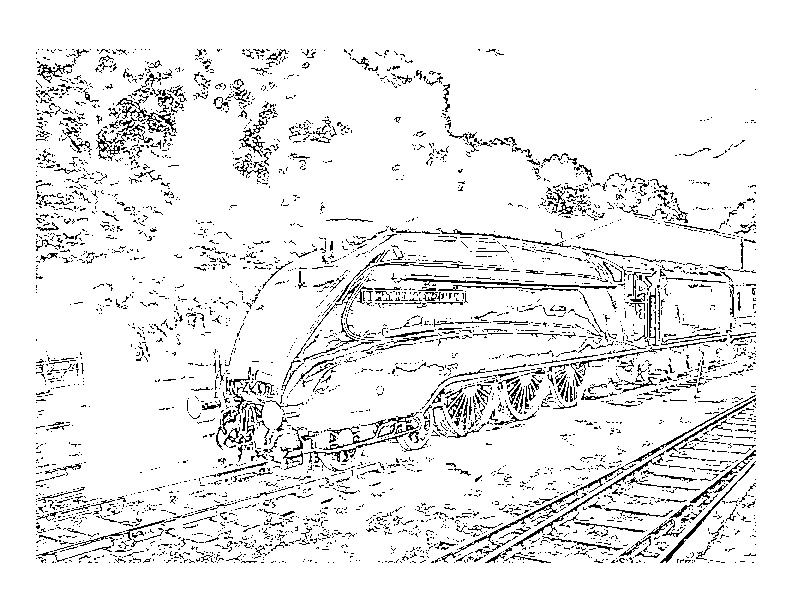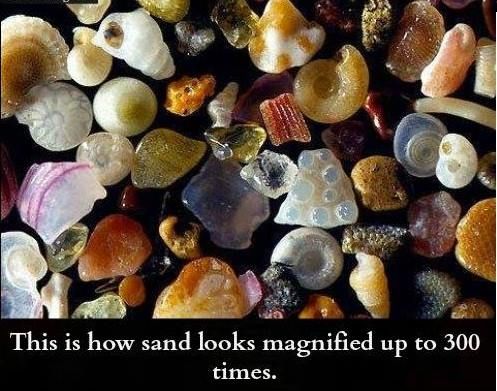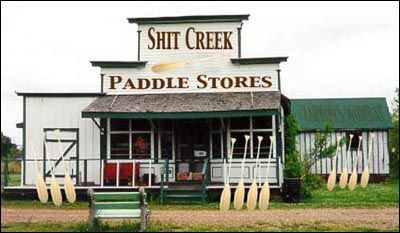 Thanks Bob for that one!


---
20 April 2020

Flower train. Here's the second picture to copy, print and colour. This is a engine and two trucks containing plants and flowers on our platform. There is the bridge and a house in the background. The main station canopy and buildings are to the right.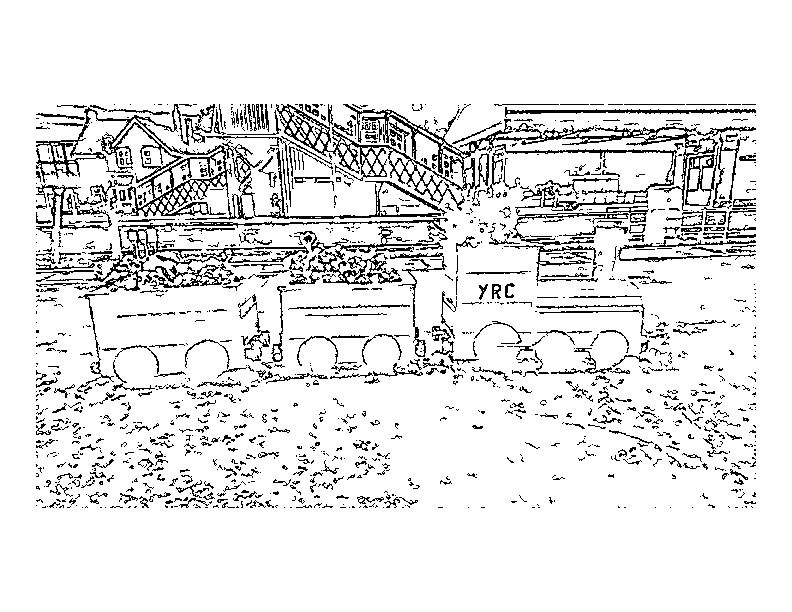 Unseen Steam Here are three links to short You Tube videos of 1956 colour films featuring Yeovil and Lyme Regis.

Yeovi, West of England lines

Yeovil to Axminster

Lyme Regis Branch


---
19 April 2020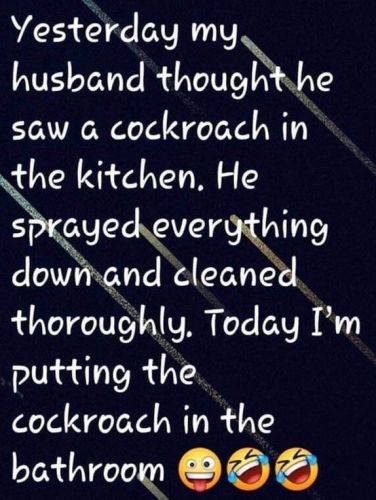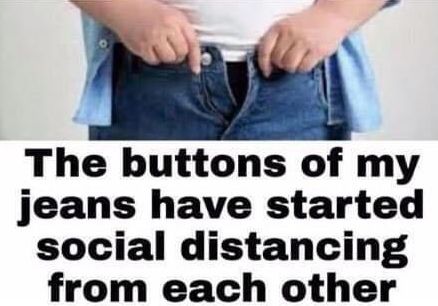 First of a series of Colouring pages (for children and adults alike) to copy. Produced by Helen-thank you! This is of our little diesel Ruston shunter 'River Yeo'. In the background is a South Western Train 159 unit in front of Yeovil Junction station buildings. Feel free to look at our photographs if any inspiration re colours is required! If you want to send in your completed picture we would be very pleased to publish it! Send to yeovilrailway@hotmail.com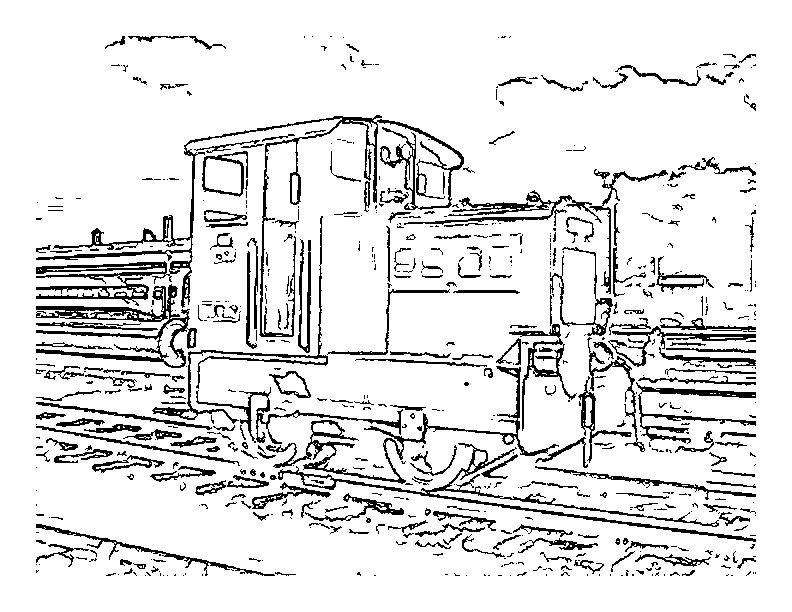 Roger says Perhaps readers of the website would be interested to see my video presentation of the Welsh Highland Railway that both Jill and I have travelled on many times.

The video shows the return journey we made from Porthmadog to Caernarfon on the second day of through operation in March 2011. All photographs are my own.
Click on the photo: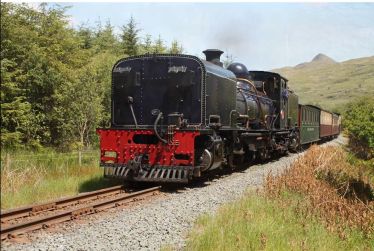 ---
18 April 2020

Lawrence of Arabia Bob sends in: 'Way back in 2005, I was working on a contract at Bovington Camp Dorset to upgrade facilities for those mobile destruction machines called tanks.

During that time I got to explore a bit around the area.

A mile or so just north of the main gate at Bovington is a viewing area for the public.

Sited in the car park is a memorial stone under a tree stating: Near this spot 'Lawrence Of Arabia' crashed on his motorcycle and was fatality injured. 13th May 1935"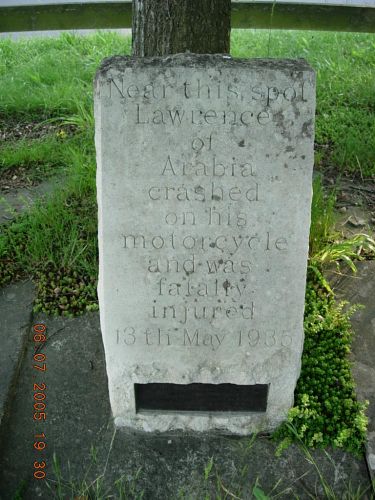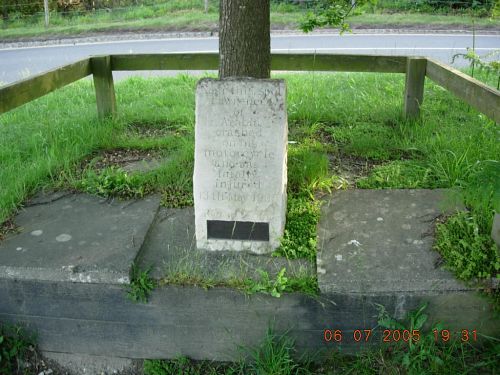 As a follow on - a second memorial The Accident Site

The site of Lawrence's fatal accident is marked by a stone erected by the T. E. Lawrence Society.

The site can be reached by heading north along a narrow footpath from the small car park situated 400 yards to the south of Clouds Hill on the road to Bovington.

In the car park is another memorial to Lawrence placed there in 1983 by Tom Beaumont who served with Lawrence in the Arab Campaign.

The road no longer follows exactly the same route as it did in 1935. It has been realigned since the accident and is wider, with the dips levelled out.

Lawrence is buried in the parish churchyard in Moreton. It is a quiet rural setting and just a very short walk from the church of St Nicholas and St Magnus where his funeral was held on May 21 1935.

The funeral was attended by Winston Churchill, other eminent friends, and friends from his Service days.

Moreton. The church received a direct hit from a fleeing German bomber in World War 2 which destroyed the stained glass windows. These were replaced by clear glass engraved by Laurence Whistler, giving a unique atmosphere and a worthy addition to your visit to Moreton.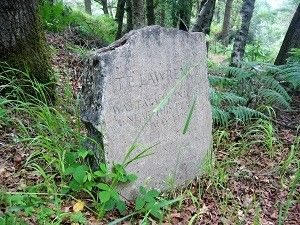 Further information and photo here
The windows at Moreton Church are certainly a WOW factor!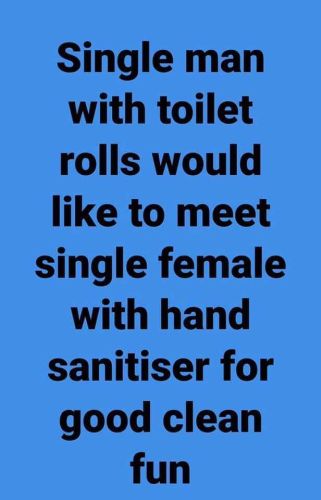 Thanks Roger (the other one)

Rog recalls a disappointing event! When I was a young lad I thought that I would try my hand at railway photography.

Whilst in Woolworth Stores in Sherborne one day I spotted that they had a small camera on sale for 4/6d. This was worth more than a week's pocket money in those days and it took me a couple of months to save up for one. I was so proud as I went into the shop and bought my first camera. It had a hinged frame that flipped up that you looked through and a small lever that you slid to one side to operate the shutter.

I then went to Mr. Lush the Chemist next door to Woolworths to enquire on the price of film. It was after saving a bit more pocket money that I then returned to buy my first and only film for the camera. After loading it I then went off down to Sherborne Station to try my hand at photography.

After about a week of 'snapping' I put my film into Mr.Lush for developing. Oh! was I so disappointed when I later returned to the chemist to pick up the results of my efforts. After finding the photographs down in the corner of the pocket of the packet I was surprised that they were about the size of a 35mm slide!

I was expecting much larger photographs that would match anything that I had seen in Trains Illustrated magazine! Most were off centre and some had corner distortion where the light had got in. But I still have those photographs today as a lasting memory of T9's, N's, and original Merchant Navy Class locomotives.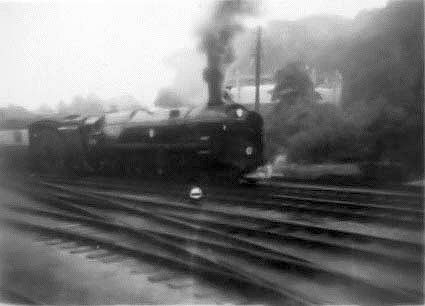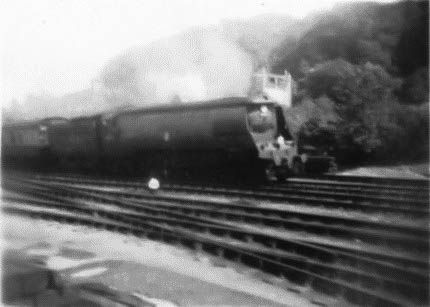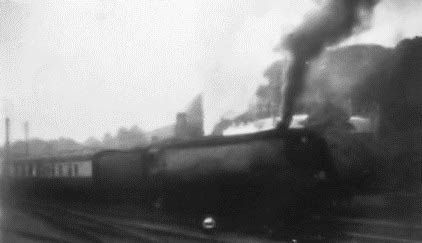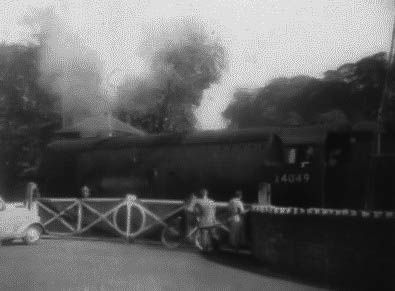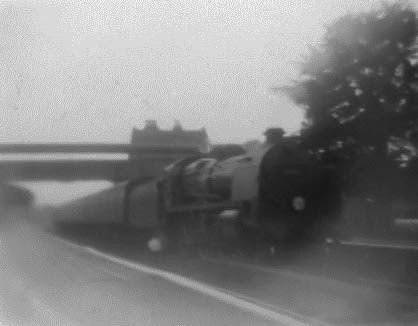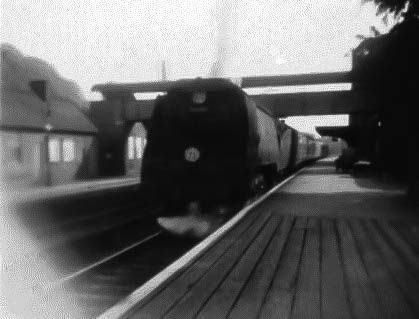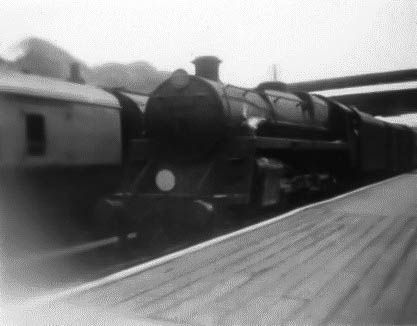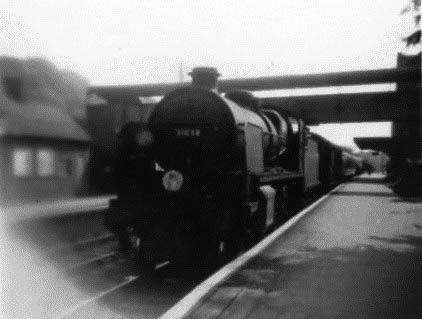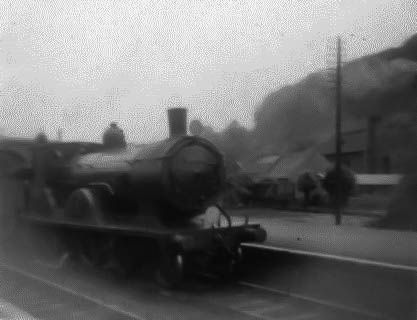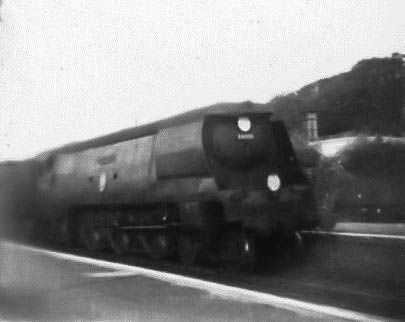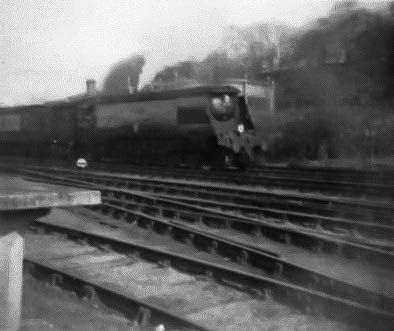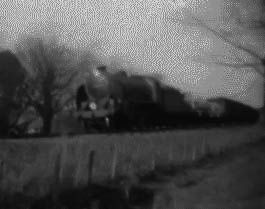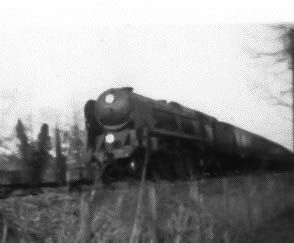 ---
17 April 2020

New Zealand One especially for our colleague currently residing there. A unusual train/road bridge! CLICK HERE

and another unusual crossing in Australia!: CLICK HERE

You are such an annoying bird!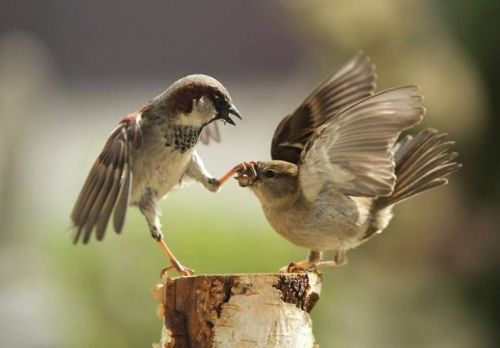 Marpit Sidings Roger says: 'Attached are three photographs from Marpit Sidings which is another one of my three model railway layouts. This is a layout of a coal distribution loading facility in the green diesel era of BR.'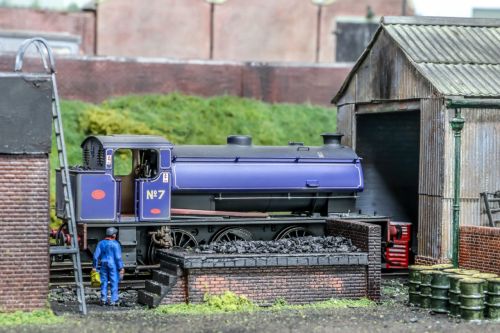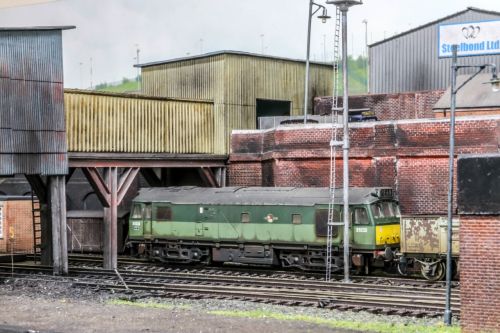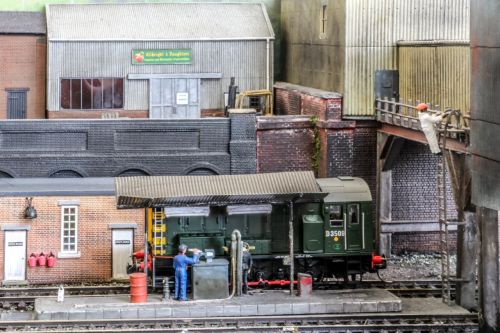 Rog (the other one) hopes this makes you smile!
---
16 April 2020

The Leveller is a free magazine for Somerset published monthly and usually available to pick up (from Yeovil Junction station amongst other places). This month (and thanks to Peter for drawing this to my attention) they have produced a .pdf version.

Note that the publication has views on some subjects and is not afraid to express them! Having said that it is an interesting read (in my opinion).

If you want to have a read please CLICK HERE and download a copy

Rog says: 'We won't be seeing a repeat of these scenes this year at Castle Cary. Photographs taken on the 27th.June 2019.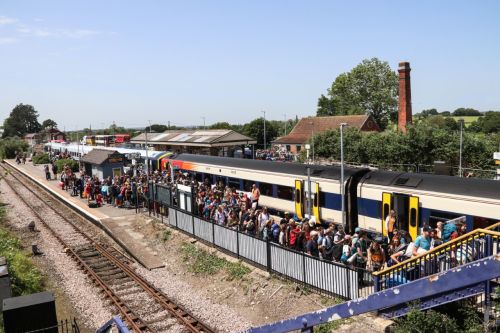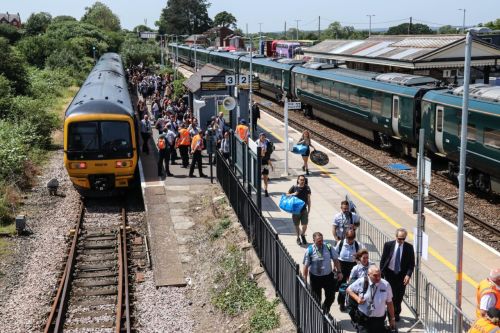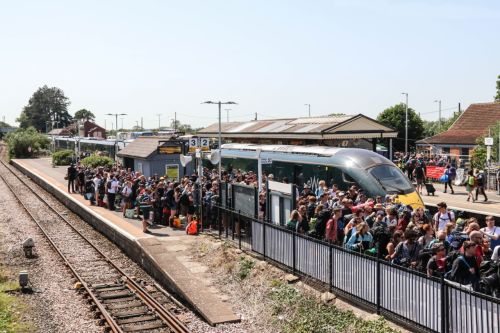 Oh dear! - it couldn't have happened to a nicer horse!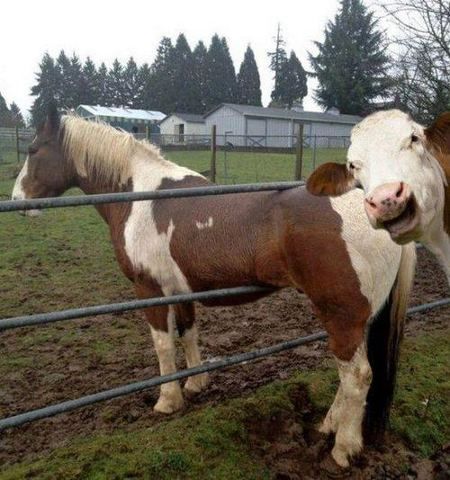 Rog (the other one) offers this ditty


Lucky escape. Bob says: ""On August Sundays in 1999 the Flying Scotsman was doing circular tours out from Paddington London via Bristol/Westbury/ Salisbury and back to London. Providing a high class dinning service.

On one of the Sundays it was reported a OAP jumped on the train at Westbury Station to travel to Salisbury mistaking it for a regular service. The tour promoters thought it was so funny they gave her the full dining service as a gesture dropping here off at Salisbury.

On the 22nd August I travelled up to the 1/2 barrier crossing at Codford (East of Warminster) expecting no 4472 to storm by. Unfortunately it was running late and quite a gallery had arrived. Lucky for me I had a good spot behind the barrier and took it as it went by.

As I turned around to get an away shot a woman in sun glasses had drifted on the down line to get her shot of F.S. Now remaining there to check the camera picture!. Certainly unaware of the danger of both lines being active and 159/8 units travelling on the down line at 90mph towards Warminster with her back to it.

I shouted at her above the noise but she looked at me rather strangely. Totally unaware of the dangerous position she was in. All the gallery were more intent on getting their shot than warning her"

Beware the public for they do not know what they do!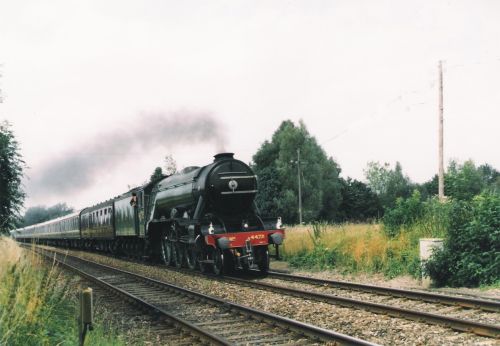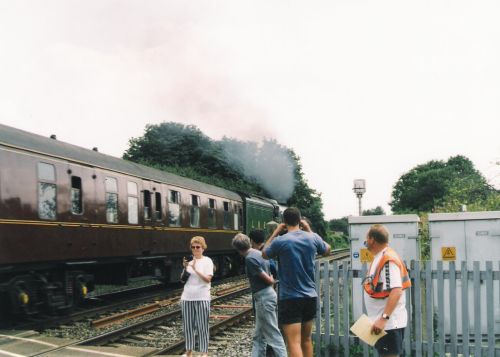 ---
15 April 2020

The Trustees have decided tonight that the Centre will remain closed to the General Public 'Until Further Notice'. We are all looking forward to re-opening but this can only happen when Government instructions and guidance allow. In the meantime stay safe and well.

Where in the world is this? stews.issued.shaky Some of you may already know how to find the answer but for those who don't all will be revealed in a few days!

Class 33 33032 Roger offers- "A rather grubby BRCW Type 3 Class 33 No.33032 heading a service to Exeter St Davids stands at Yeovil Junction on the 9th.October 1977. The same locomotive is seen standing near the same spot two years later on the 23rd.September 1979 looking slightly cleaner as it head 'The Devon Belle' railtour.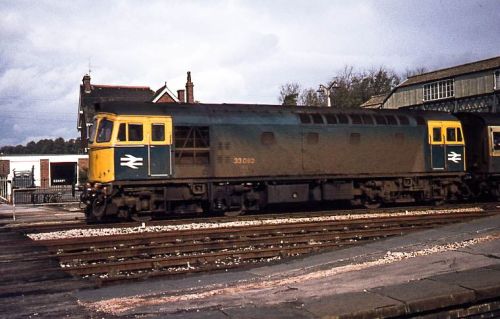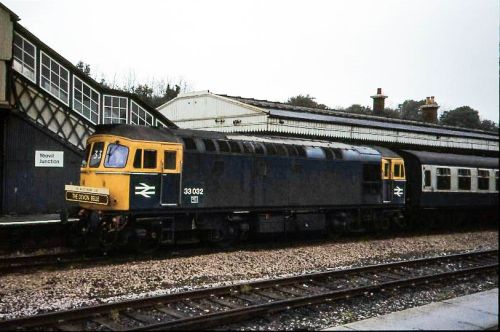 Finally couldn'nt resist this wallow!
CLICK HERE and ENJOY!
---
14 April 2020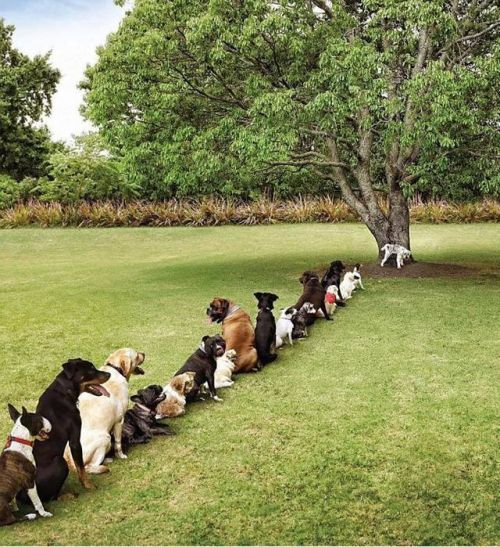 Roger shares 'A write-up an some photographs of my visit to the Ji-Tong Railway in China August 2004. I rode for 6 ½ hours on loco No.6882 as seen in the attached photographs.'
Wot! No Hi-vis...Looks like he enjoyed himself!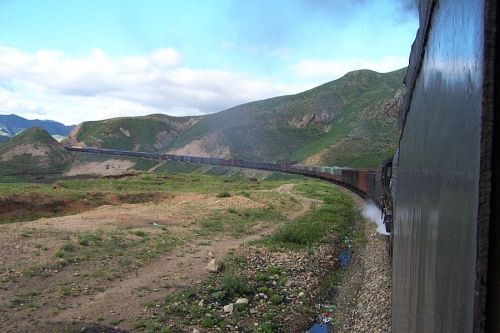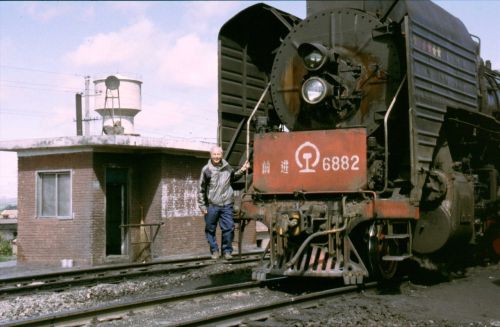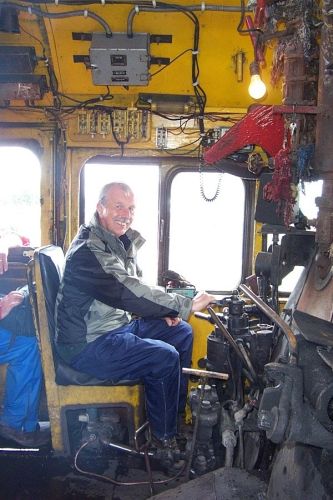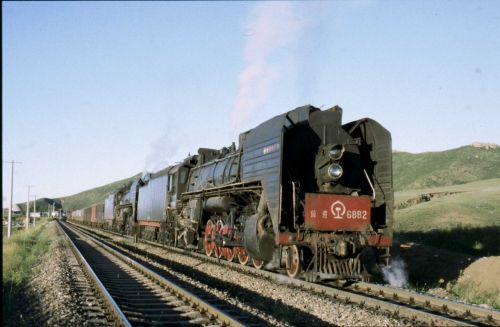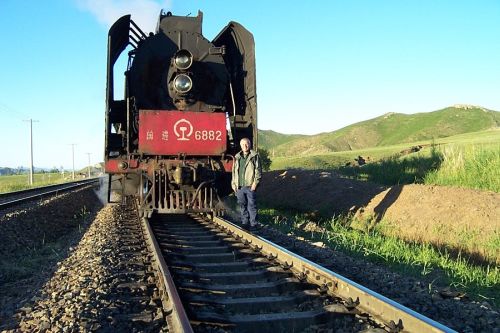 THE HORSEBRIDGE "IRONCLAD" CARRIAGE
BY
DAVID LINDSELL

The carriage now arriving at Platform One at Horsebridge Station is the 1pm from Stoneymarsh, Mottisfont. The picture depicts the arrival of a former London and South Western Railway "Ironclad" carriage for restoration at Horsebridge Station in Hampshire in 1987. It was driven up the old "Sprat and Winkle" line trackbed from Mottisfont Station site by a Haulage Contractor from Essex, who had transported the carriage from Branksome Depot in Bournemouth, where it had been part of the breakdown train unit. It had been bought for £2,000 from British Rail plus £1,500 moving costs, by Val and Tony Charrington who then spent some £30,000 restoring the coach.

The Charrington's had bought the station from Hampshire County Council in 1985, who had acquired it from British Rail (Southern) as part of the trackbed, to enable the Test Way Footpath to be built They then proceeded to restore it as it would have appeared in Southern Railway days, from derelict condition. The station, which became Grade 2 listed in 1986 by Historic England, was opened on the 6 March 1865 and closed on the 7 September 1964.

On arrival the coach was transferred to the track, just seen in the picture, which had been laid, by two railway workers, one from Winchester and the other who worked on the Mid-Hants Railway. Initially, the coach was restored in L & SWR colours but later reverted to Southern Railway Green to match the decor of the station.

Many of the station artifacts came from local Southern stations, such as signals from Weymouth and a buffer stop from Eastleigh. The signal box is from Yalding Station in Kent and the porter's barrows came from Winchester.

Now it is time to go back nearly 100 years to July, 1921 when the carriage was built at Eastleigh as a Third Class Corridor to diagram 24 and numbered 773, which was soon changed to 717 when it became part of Southern Railway set 431. "Ironclad" carriages were built to improve comfort for travellers using the Bournemouth line expresses and they were in use on the line for many years. The nickname "Ironclad" came from the construction of steel panelling and double framed bogies. They also had more generous dimensions at 57ft long, 9ft wide and 12ft 6ins high.

Number 717 was withdrawn from service between 1957 and 1959, as were many of the other "Ironclads", and became a Breakdown Train Unit (BTU) Staff Coach at Bournemouth Depot, numbered ADS226.

Once installed at Horsebridge and restored, the carriage was used as an overflow dining area and for dinner parties taking place at the station. In 2018 the carriage was completely internally restored and is currently being used as two-bedroom luxury self-catering accommodation. Details of the accommodation available can be found on the Mulberry Cottages website. Property Reference M555057. No doubt with this use it will survive for many more years after its centenary in 2021.

Pictures
1. The Carriage arrival courtesy of Val Charrington.
2. S728S in Clapham Yard Sidings in BR (S) green as part of set 435 in about 1957 by J H Aston/Mike King Collection.
3. ADS226 seen at Branksome Depot, Bournemouth in May 1985 by Mark Jamieson.
4. The carriage seen by the Author at Horsebridge on the 16 March 2020.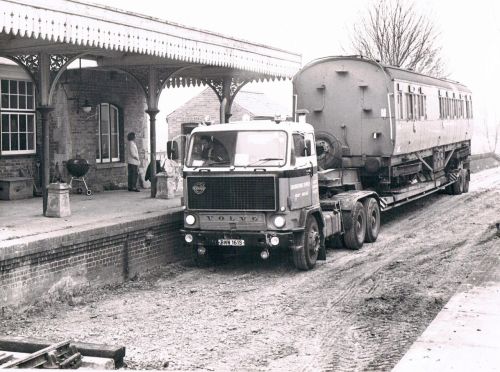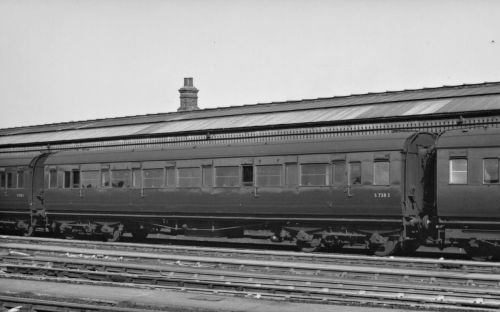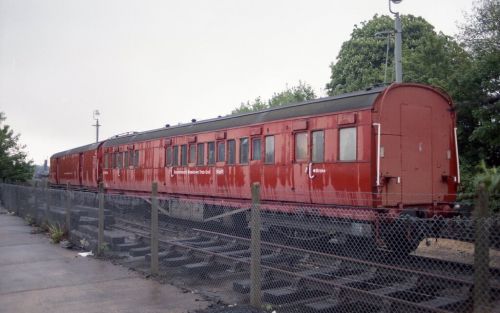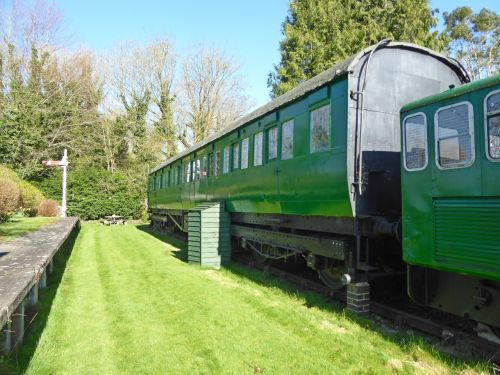 and finally for today - your contributions are needed to keep the updates coming!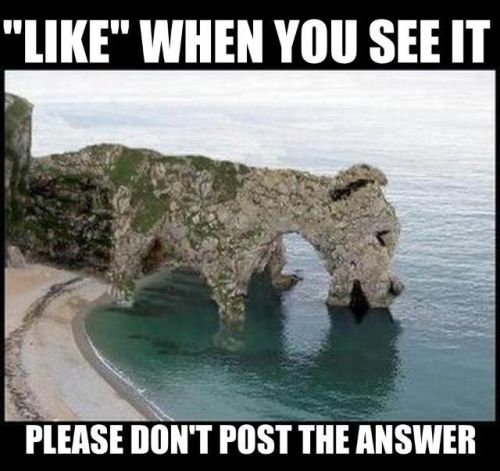 ---
13 April 2020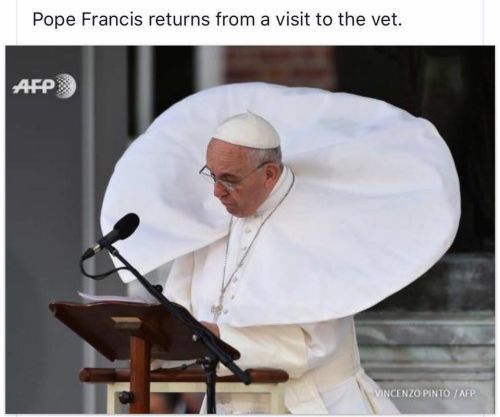 Roger - 'Attached are a couple of photographs that I took with my mother's Kodak Brownie box camera at Sherborne of consecutive trains one morning in 1961. (My trusted bike can be seen on the extreme left in one of the photographs - never did own a Bentley!).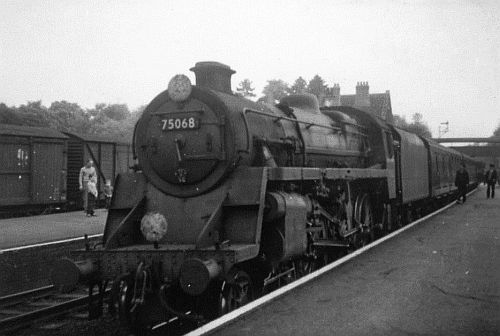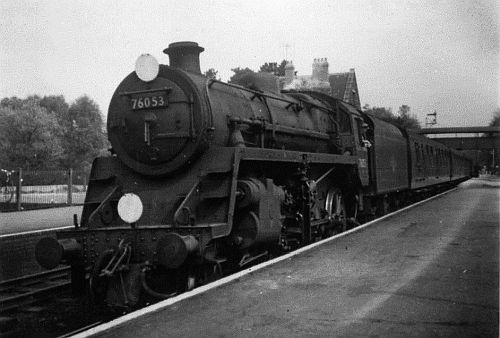 Bob obviously likes getting close to nature!"In August 2004 I was out travelling around in the Bruton area to catch the 31 turns and a possible return engineer it was another hot day. I moved to a bridge down from the station at Bruton waiting for the engineers train which did not show, I was just about to go home when this large bug landed on the parapet, sunning itself & flexing its wings.

Unusually I had a macro lens in the bag which enabled me to get the shot of it"

"Perhaps you could ask the punters to identify it."

"The 31s I did capture was the down Weymouth train 31454 + 31128 rear at Dimmer 26 08 2004" - email yeovilrailway@hotmail.com with the information - and any more contributions!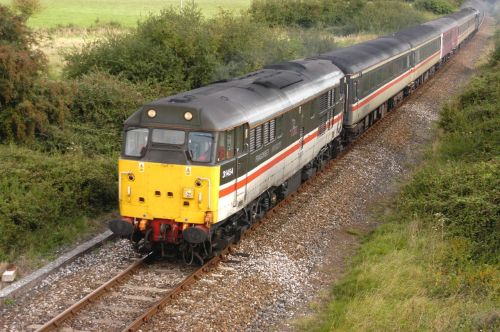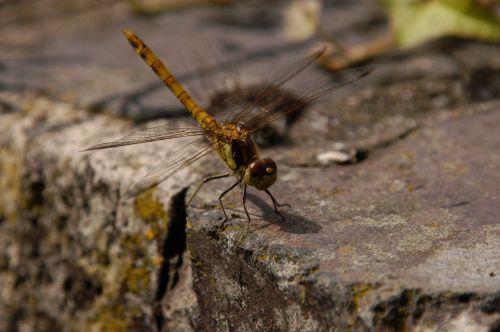 Roger, the other one, follows up the videos of his trip to Harz mountains which has been featured HERE by providing the following information: 'A brief summary of our trip to the Harz Mountains.

Our trip to the Harz mountains coincided with my Grandsons confirmation on Sunday 5th May 19 at Skivholme Nr Arhus Denmark.

Shaun decided he would like to drive over and break our journey by visiting the Harz Mountain railway. We set off on Tuesday the 30th April to catch the night ferry from Harwich to the Hook Of Holland. Wednesday we drove up to Wernigerode about 6hr drive, we stayed in the Altora Hotel over looking the railway and shed area. The Hotel has a neat way of delivering your drinks using a miniature railway when you are sat in the dining room, (also seen in Prague).

Thursday we caught the 8.55 train to the Brocken arrived 10.36, when we left Wernigerode it was 18c at the Brocken it was freezing guess who was not dressed for this. We then caught the 10.51 to Drei Annen Hohne arrived 11.43 We changed there and caught the 12.40 to Eisfelder Talmuhle arriving 13.48. We returned on the 14.08 arriving Drei Annen Hohne 15.16. We changed again and caught the 15.53 arriving at Wernigerode at 16.33.

Heights in Metres - Wernigerode 234m Drei Annen Hohne 540m Brocken 1125m Eisfelder Talmuhle 352m.This is a small part of the Harz Mountains you would need to spend a week to see the most of it, still on my bucket list.


---
12 April 2020

The final two clips from Roger's trip to Harz Mountains by steam - CLICK HERE

Matt has provided photos taken (he is a key worker) during the current situation, highlighting the recent changes have made on the use of public transport. ' Bath Spa empty about an hour ago (Sunday 12 April), Kings X/St P tube station empty during a weekday, a normally crowded XC Voyager empty, stranger in the camp at Ilford EMU depot East London, my 37 keeping company with many unused units due to reduced services, and an empty IEP from London.'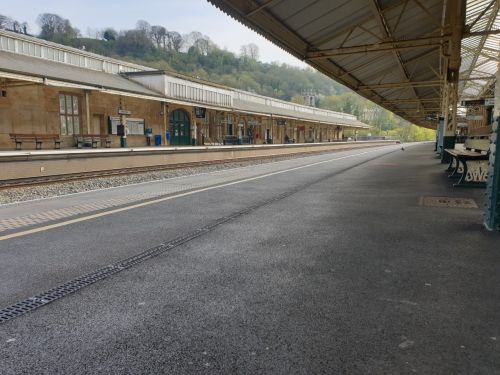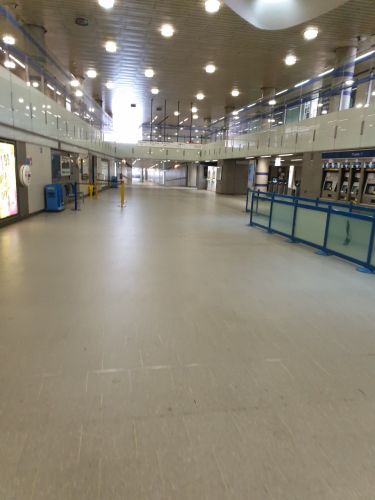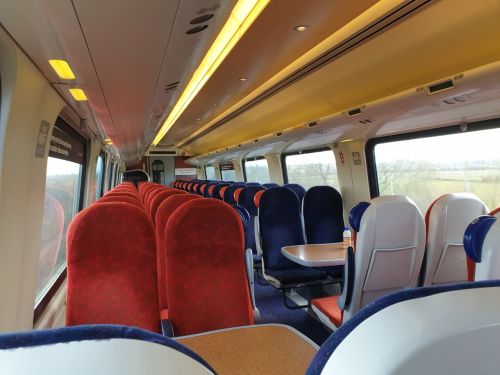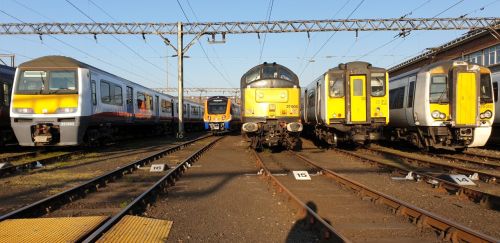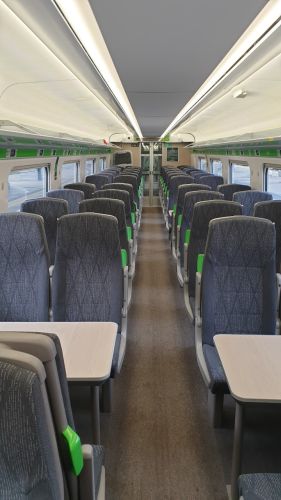 Finally for today Roger the original sends in a couple of photos taken on Sunday 19 October 1986 when 'Burton Agnes Hall' arrived with 'Blackmore Vale Express'. Note the Transfer Shed (with door open) was still in the possession of Border Engineering. The Class 50 seen is 50010 'Monarch'. The arrival of steam drew large crowds then, still does today and will do again in the future!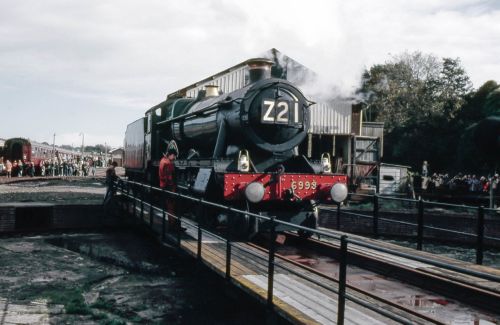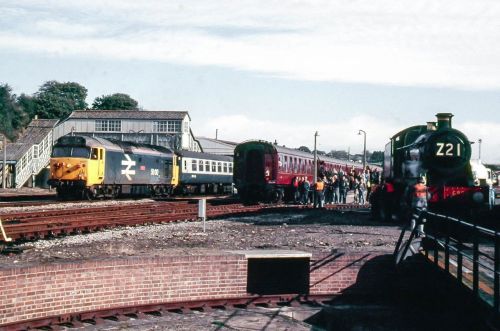 ---
11 April 2020

Another video of the Harz mountain trip by steam. Final two instalments tomorrow. Please CLICK HERE

Rog (original) sends in some more photo of car trains locally:- Attached are some photographs of 47095 at Sherborne on the 16th.March 1985 with a loaded train and the same loco at Milborne Wick returning on the same day with another loaded train.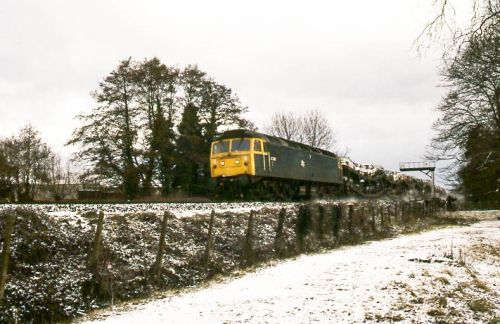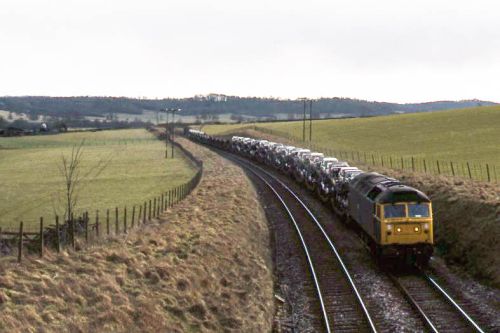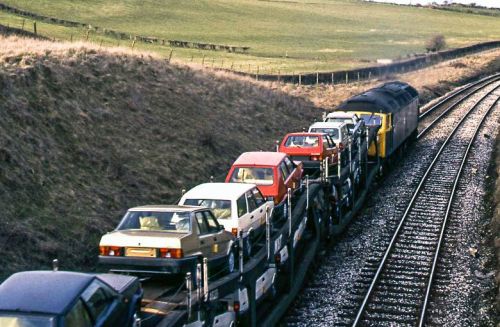 ---
10 April 2020

Two more clips of Roger's visit to the Harz mountains by steam. Turn the sound up and be impressed! - please CLICK HERE

Rog (the original) sends some very interesting photos. Also worth noting in the second photo are the Lighting Tower and that the siding immediately in front of the photographer (now the Centre's running line) connects with Railtrack's sidings. This was later slewed when the Centre took on the lease of the site.

'In 1985 a trial run was made between Yeovil Junction and Queenborough Docks with cars from Abbey Hill Motors of Yeovil. On the 2nd.March 1985 a loaded car transporter train is seen at Yeovil Junction hauled by BRCW Type 3 Class 33 No.33018.'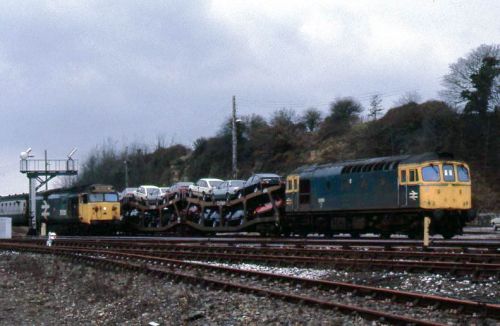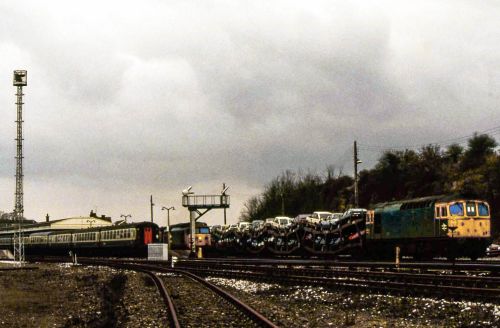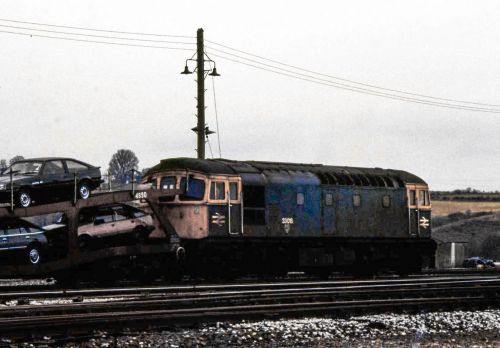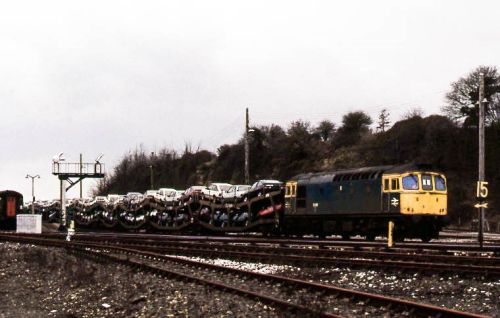 ---
9 April 2020

Keep the contributions coming! Tell us about your self - hobbies - embarrasing events - other funnies! email yeovilrailway@hotmail.com

Two more clips of Roger's visit to the Harz mountains by steam - please CLICK HERE

Brian writes:- Do you remember when in 1986 there seemed to be an almost overnight change to our stations, starting by painting the lamp posts red, (mocked at the time) but the start of a new way of looking at running our railways. A psychological as much as a physical change. British Rail had introduced sectorisation with a business led organisation by traffic type. Three passenger sectors were created in 1982, of which Network SouthEast (NSE) was one, responsible for commuter and inter urban traffic around London. It also took in the West of England line to Exeter.

The person responsible for making things happen was Chris Green who took over as director in 1986, with a proven track record of having already transformed and rebranded Scotrail. He now proceeded to do the same for NSE. Drab, dirty stations were to become clean, bright and colourful, and he was looking for reliability of services within five years. Station platforms had new red metal seating, which on sitting down in winter froze the parts which were not intended to be frozen. Then there were the click-clack digital clocks, red with the NSE logo along the bottom. Signs, advertisements, information, all were rebranded, and locomotives and carriages had a new livery of rail blue with a horizontal white (or very light grey) band with red stripe, the ends of which were later upturned (like a go fast stripe) to meet the yellow front. The carriage interiors were refreshed and brightened with seating recovered in rail blue moquette and the NSE logo on fittings. All this was done as an interim measure until new rolling stock could be introduced.

The off-peak Capital Card from local stations to London was introduced, with unlimited travel on bus and Tube journeys within the London area. Then there was the network card introduced to tap into the unused off peak leisure market which allowed a third off the fares after 9.30 am weekdays and all day at weekends. The whole of the NSE region was covered, from Exeter to Southend, Milton Keynes to Weymouth. NSE was launched with a massive TV and press campaign and proved a great success.

I made good use of this to go to London. At this time the main motive power on our line was the English Electric Class 50. Originally built to take heavy Anglo-Scottish expresses over Shap during the time the West Coast line was being electrified, once the Crewe to Glasgow section had been completed they moved to the Great Western. They in turn started to introduce HST's so the 50's passed to the West of England line. Powerful 100mph machines, they were an overcomplicated design and by the time they came to our line their age was showing. Designed for continuous full power running they were unsuitable for the stop-start nature of our line, much of it singled. So when a 50 sat down the timetable went through the window waiting for a rescue loco.

I experienced a problem loco one grey and misty November day. The up train arrived at Sherborne sounding rough and misfiring, occasionally cutting out then restarting. At Salisbury the engine finally stopped completely, I went up and asked the driver what was the problem, "contaminated fuel line, I am going to absolutely thrash it, we will see if that clears it, if that doesn't do it nothing will". He was as good as his word, once clear of Tunnel junction the 50 went up the rising gradient past Porton Down like a rocket, and so it continued. Andover came and went, then Basingstoke, between there and Woking there are long straight stretches, leaning out of the window I could see a succession of green signals stretching into the very far misty distance. The arrival at Waterloo was almost uneventful, but the problem had clearly been solved.

Another journey on a sizzlingly hot summers day in London, so hot you could fry an egg on the pavement, I departed from Waterloo in the late afternoon. With all the window vents open to try and get cooling air the sound levels from the engine's exhaust steadily increased as the train accelerated through Vauxhall, easing for Clapham Junction then really opening up to a full throated steady roar, exhilarating but at the same time with an element of apprehension as the ride became lively. How fast were we travelling? I had had this discussion on a previous occasion with an enthusiast armed with stop watch, timetable, gradient profile etc. He said up trains could achieve 100+mph, It was more difficult on the down ones as the gradients were against them, but with a good loco and driver it could be done.

(to be continued)

Paul recalls trying to check the speed of Class 50 hauled trains on the long straight approaching Templecombe from the Gillingham direction. Using the method of counting the number of rail joints he managed to convince himself that 100mph was achieved on occasions!

The Trustees are practising holding meetings via the internet using Zoom. Its a bit different - as long as only one person talks at a time it seems to work!


---
8 April 2020

A second clip of Roger's visit to the Harz mountains by steam - please CLICK HERE

Brian sends in a response. Following on from Roger's experiences at Sherborne signal box, here are some photos that were passed on to me by Ray Baker from the camera club.

His great grandfather John Isaac was signalman at Sherborne signal box about 1870's? The other two photos are of the station, one taken from the signal box dated 1875 (and appears in Salisbury to Yeovil by Mitchell and Smith). The other photo from the footbridge is in rather poor condition but may be from the same date. One of Ray's relatives was an amateur photographer, there are a few more photos to follow on other subjects.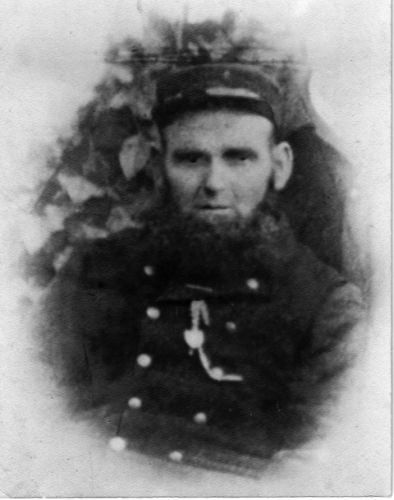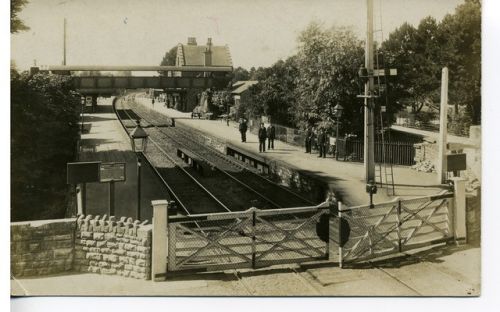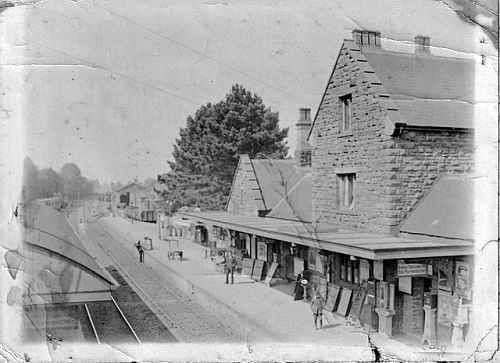 A heartening display locally marking an important birthday Please CLICK HERE


---
7 April 2020

Another Roger (you can't have too many Rogers) has forward lots of interesting clips of his (and family) visit to Harz mountains by steam on 1 May 2019. Turn up the sound and enjoy the action! We have created a Yeovil Railway Centre You Tube (thanks Tony) account to show these - please CLICK HERE

MEMORIES OF SHERBORNE STATION (by the original Roger...)

As a lad in the 1950's I used to spend hours at Sherborne Station which was at the other end of the town from where I lived. During the days spent on the platform I got to know a few of the station staff. Most memorable was Bill Downs who was a porter with a broad Devonshire accent. When on duty you could hear Bill bellowing out 'Shabone' as each stopping train drew to a halt in the platform.

One of my favourite times was watching the early morning shunter which was usually a Yeovil Town 'U' Class that spent time shunting various wagons around the yard before proceeding to the down side of the station to shunt the gasworks. The final part of the shunt was to propel a couple of box vans and a guards van up through the station to the Dorset Farmers sidings located where the Sainsburys supermarket is now located. The loco used to leave the guards van on the up line whilst it dropped off and pick up wagons from the sidings. Joy of joy - I was sat by the cattle dock one morning when Bill shouted across to ask if I wanted to ride in the guards van with him up to the sidings - of course I didn't want asking twice. It was only a small thing but it's funny after sixty years how the memory of that trip still lives on.

Whilst on the platform one morning I ventured to enter the parcels office and in conversation with the porter I discovered that he was a distant relation of mine - I was in. From then on I spent hours of my time helping Jimmy Read with his work. Sticking labels onto boxes of cheese that were delivered from the South Western Dairies for onward journey to London. Booking in boxes of flowers from a grower at Sandford Orcas to be sent to Covent Garden etc. Looking back now I realise how much free labour I gave the railway at that time. I must have been trusted (and used) as it was quite normal for me to be left holding the fort whilst Jimmy and a couple of others went for their mid-morning break across the road to the Woolmington Hotel - not drinking tea either! Then there was the afternoon Waterloo bound train where I used to help load the cheese boxes into the luggage compartment of the leading coach, with the guard looking on telling us to hurry up as he kept checking his watch and accusing us of holding up the train departure.

Some of these memories came flooding back a while ago when I came across the attached photograph of Battle of Britain Class No.34072 '257 Squadron' at Sherborne with postman Harry Green standing on the platform with the mail ready to load onto the train and the parcels office in the background.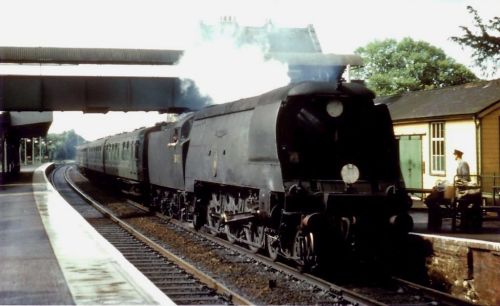 Happy days!

Derek has kindly sent in this tale (should make Ron smile...) and a few groany jokes at the end! Thanks Derek.

An amusing story as told to me by Stan Symes, a driver down at Swanage during my days down there.

Stan was firing a Bullied Pacific out of Waterloo when a "special" came out at the same time, headed by a GWR engine. A Castle I think, but it may have been a King. Now, back in the day, it was quite normal to be passed and then repass another train. Stan made sure that every time they passed the other engine, he was sitting in his seat with his newspaper open and giving them a cheery wave as the other fireman was shovelling hard. He did say, however, that he had to work really hard himself in between times to keep his fire right! One for the Southern over the GWR perhaps?

Also, to pass some time during our enforced imprisonment, I have been reading a joke book. Here are a few.

What's the difference between a kangaroo and a kangaroot? One's a marsupial, the other's a Geordie stuck in a lift.

Is the Isle of Dogs the Isle of Man's best friend?

And my favourite Daffynitions. Aardvark: the honest way to make money.

Climate: what you do with a ladder.

And lastly, one for this trying time.

Doctor, I've just been attacked by a giant beetle with an axe. Yes, there's a nasty bug going around!


---
6 April 2020

Some photos taken by the late John Cornelius (a much missed volunteer) as provided by Brian. You may already know that the later Chard signalling panel (not this one) - incorporating the Axminster loop is now at Yeovil Railway Centre and being worked on to, eventually, provide a simulation.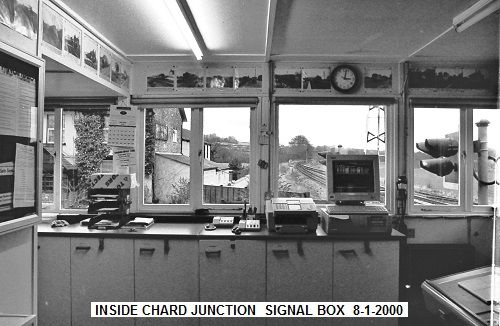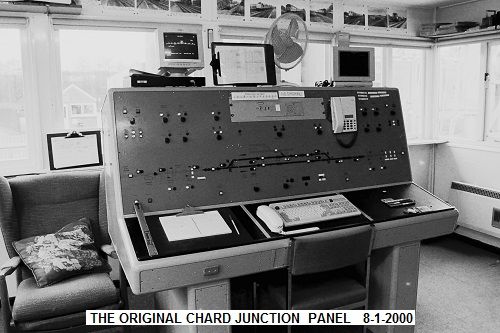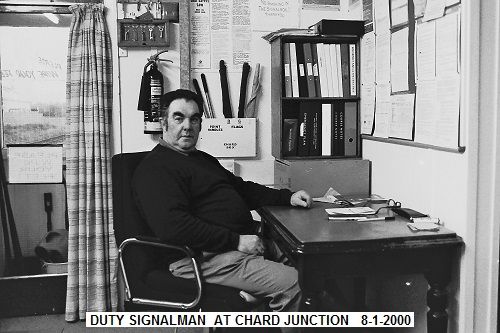 Roger has provided a link to an accident that happened at Templecombe on 10 July 1894 which may have had a bearing on the later remodelling of the station to provide a separate platform for S&D trains.

The accident report can be found HERE . A photo of the said accident follows which is full of interesting detail including the two wagon mounted cranes lifting the tender.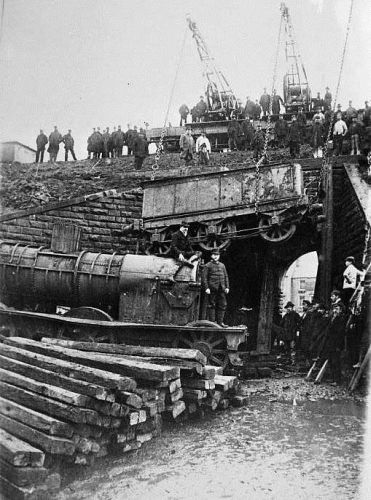 Remember the question set by Bill on 31 March? No? - a reminder:-

To name the railway the loco worked on, the make of loco and the gauge.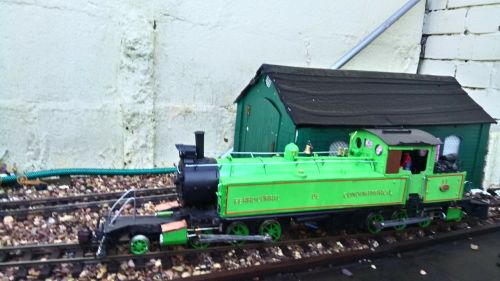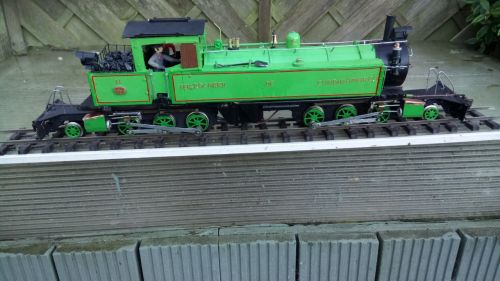 The answers are:- The loco is 3 ft gauge made by Kitson & Co, Works no 5415/7 of 1928 road number 11 number 13. Lost at sea. Built for the Cundinamarca Railway (Colombia). This was when the UK made the Locomotives for the world.


---
5 April 2020

First today is a copy of Railway Modeller from August 2017 featuring 'CRUMFORD', one of Roger's layouts. 4 pages - HERE

and click BACK when done.

Bob kindly sends in photos from 1 August 2007. He says "On a hot Aug day in 2007 I travelled to Thornford to catch a shot of the ECS move of 37 class no 37428 + kettle 34067 on the rear from Weymouth to YJ for servicing on a Kensington Olympia to Weymouth Steam Dreams Charter on 01 08 2007" "I arrived early and got set up, while I was waiting I noticed a movement in the corn field on the opposite side of the track. The next thing I saw was a small dear 'pop' its head up above the corn, it must have been having 40 winks in the warm sun, as soon as the growler 37 came it moved away".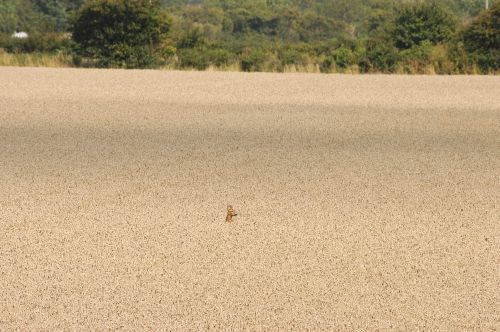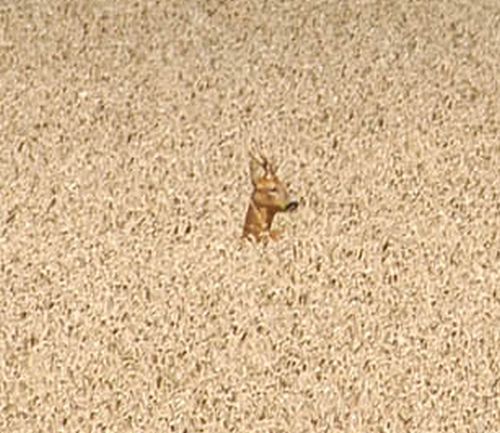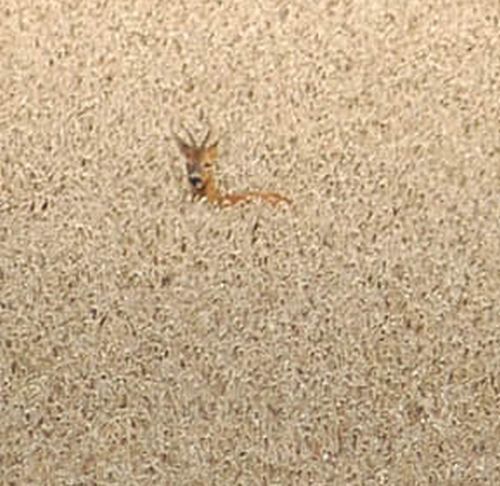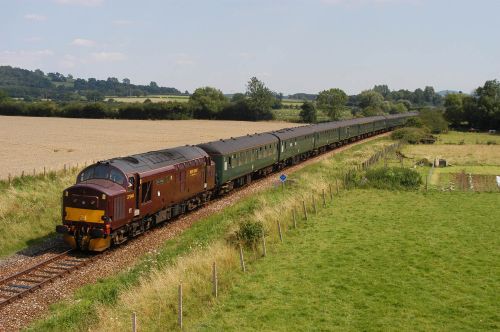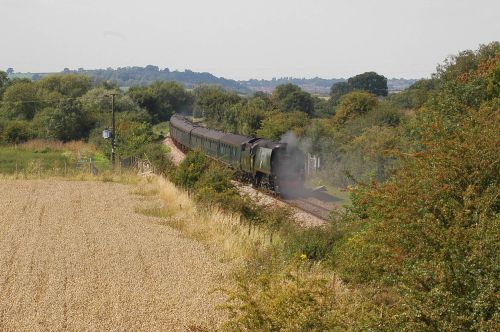 Malcolm has been catching up with work at home (just like many of us I expect!).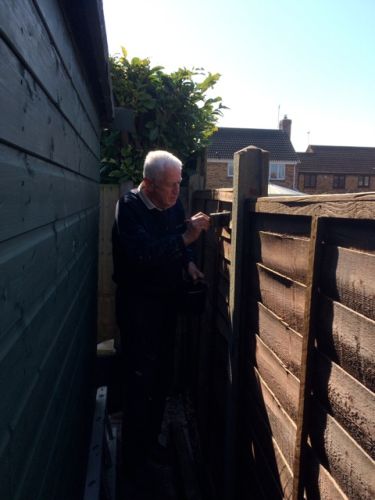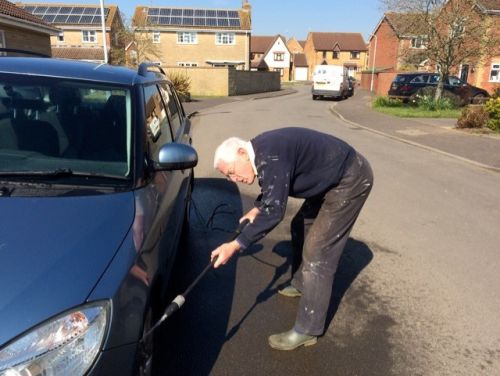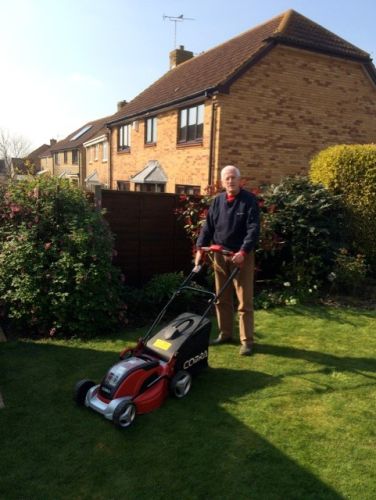 ---
4 April 2020

Our friends at Steam Dreams have put a Podcast on their website of their 20th Anniversary train to Sherborne (for the Abbey Carol Service) and onto Yeovil Junction. Includes a description of the locomotive and carriage servicing activities. CLICK HERE and turn the sound up!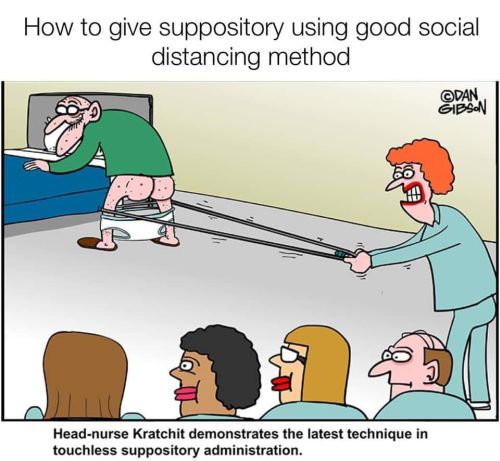 Another contribution from Roger - During the early 1980's I quite often spent some summer Saturdays at Taunton photographing the variety of motive power heading to the west. The 1st.September 1984 proved to be a memorable day.

At that time I had forgone my usual format of photographing using Agfa colour slide film and was using up a roll of black and white film that I had lying around. As you might imagine with the volume of traffic heading west quite often trains either ran late or out of sequence.

During the afternoon the 12.10 Liverpool to Penzance appeared to be missing, but that was nothing unusual, however much to everyone's surprise usual HST turned up being hauled by a Railfreight Class 58 No.58002. This must have been the first visit of a Class 58 to the west unless anyone knows different.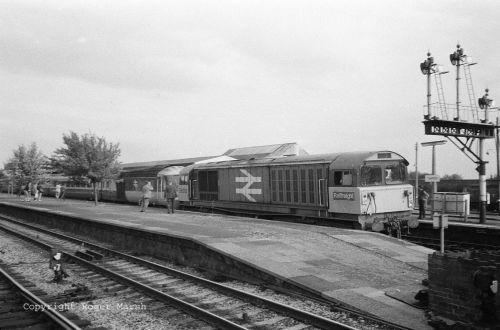 A super photo - sometimes B&W enhances the scene. Semaphores, well maintained middle platform (later closed and since reopened).

Are you superstitious? - submitted by Ian (best not read if of a nervous disposition.....)

A brief history of an exciting voyage.

1974 and after some delay I had finally passed my Second Engineers Certificate and I changed shipping companies. In August I joined a general cargo ship as Third Engineer on the Isle of Dogs loading for the Pacific Islands. We did not get off to an auspicious start! As the Third I was relieving left he said, 'Oh! by the way there is white metal in No. 2 crank case', deep joy, I had not sailed with this type of engine before (6 Cylinder Harland and Wolf.) and neither had the Second Engineer so we set to and changed the offending bearing. (The second was of little help!). We sailed on time for the Panama Canal taking Bunkers at Cristobal (east entrance to the canal.) prior to Canal transit, on completion of Bunkers I went up to my cabin to find it occupied by a new Third Engineer; going to the Chiefs cabin I was informed that the Second had been sacked and the job was mine!

Canal transit went without incident and we headed for Tahiti, however four days out from Panama we had a disastrous engine room fire. We managed to put out the fire and went up onto the Bridge for a beer and to discuss what next when the Captain said. "I will have to have words with that Pilot;" que curious looks! The Captain said that as the Panama pilot was leaving the ship he said; "do you realise Captain that you are the thirteenth ship I have taken through today, you now have a thirteen day passage to Tahiti, and thirteen ports of call through the Islands, plus today as you leave Panama it is Friday the thirteenth." Silence, we were not impressed.

After a night's sleep we spent to the next day assessing the damage and started to salvage what we could and jury rig cables to the one easily salvageable main generator, it took some days until we got running, thankfully the weather was calm and we headed to Tahiti where a riding crew of electricians were to meet us to rewire the engine room.

Our problems did not end there; the third and fifth engineers who had been on watch when the fire broke out had both badly burnt their hands, so myself and the fourth Engineer were working six on six off (normally you work four on eight off.) until the third and fifth were fit.

The trip progressed until French New Caledonia where for some reason the Second and Third mate and the Third Engineer decided to steal a car, which they crashed; breaking the Third Eng. leg in the process and he had to be paid off. The Captain was somewhat less than amused as were myself and the Fourth Eng. who were back to six on six off. Oh and to cap it off I had picked up a nasty ear infection.(both ears.)

Cargo discharged we sailed to Mourylian (Queensland) to load sugar for Penang, we also at last gained a new Third Eng. the joy did not last as the Fourth Eng. then went sick and was paid off in Penang; back to six on six off. But at least a Doctor in Penang managed to shift my ear infection.

Things did not improve as we then went to load cargo around the Bay of Bengal; Calcutta, (twice) Chalna, Chittagong, Rangoon, Madras and Colombo, bound for the West Coast of Africa. Not a pleasing prospect, but at least we gained a new Fourth Eng. back to four on eight off.

The World has been here before and come out the other side - just as it will do this time!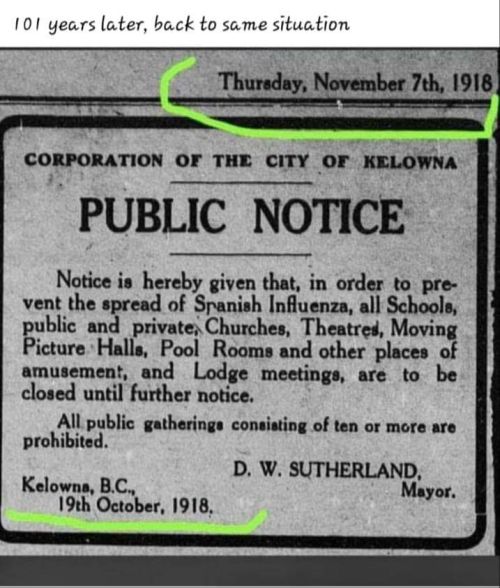 ---
3 April 2020 One of our friends takes a constitutional around the site and here are some of the flowers flourishing:-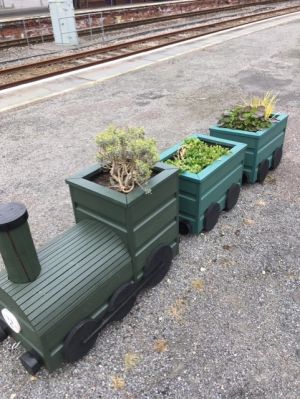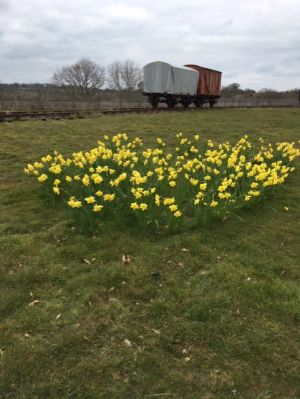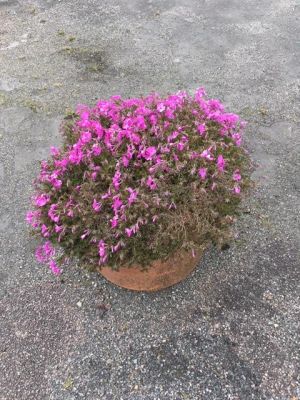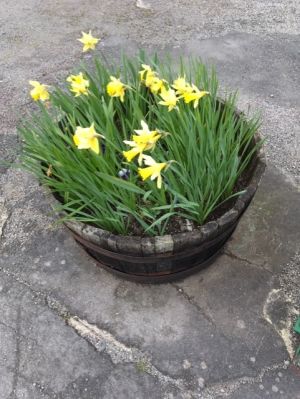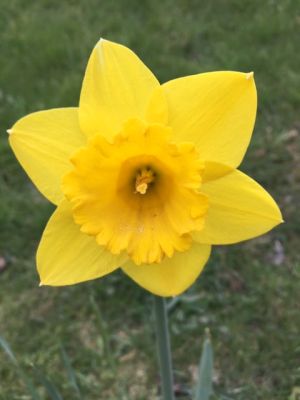 The Transport Library Mike sends on a link to this website where images can be purchased. Certainly a significant number locally (enter location in search box) by photographers which are known to us. Can't add any images as they are all copyright but may be have a browse? CLICK HERE .

Hopefully this video will make you smile?



Another fascinating story from Roger with a remarkable coincidence! (the late Terry Gough was well known to several of us and a super person) - A MEETING OF RAILWAY ENTHUSIASTS

Having always lived in Sherborne I have had a lifelong affinity to the Waterloo to Exeter line. From the days when my mother used to take me to the local station to see the 'Devon Belle' often hauled by a blue liveried Merchant Navy right up to the present day with the endless procession of Class 159 DMUs.

It was during the summer Saturdays of 1960 to 1962 that a most unsual service ran for a short period that being the Exmouth to Cleethorpes service return working. The train ran via Sidmouth Junction, Templecombe, Bath Green Park and on from Birmingham New Street. Leaving Exmouth at 10.42 a.m. the up service passed through Sherborne around 12.30 p.m.

For us trainspotters this was always an opportunity to see something different from the usual Bulleid Pacifics interspersed with a Yeovil Town 'U' Class or Standard Class 4 etc.

On Saturday the 8th.July 1961 I was sat on the wall by the lineside in East Mill Lane a quarter of a mile east of Sherborne Station awaiting the up Exmouth train and to my surprise it was hauled by a 'U1' Class 2-6-0 No.30901. I was really chuffed as this was the first of the class that I had seen. Normally they worked on the Eastern Section but some had been transferred to Exmouth Junction following the electrification of the Kent Coast Line.

It wasn't until the early nineties that I became friends with the late Terry Gough when he moved to the local area to live at Beer Hackett. We both discovered that we had an affinity for railways and it wasn't long before we were reliving the days in the 50's and 60's when we spent time around the Southern Region of British Railways. Looking back though our notes we found that I quite often saw a particular train at Bournemouth that he had seen passing his home station of Woking on the same day.

The coincidence didn't stop there when I relayed to him the story of the Exmouth to Cleethorpes service of the 8th.July 1961 I was only to find that Terry was at Axminster that day and to prove it here is his photograph of the same train.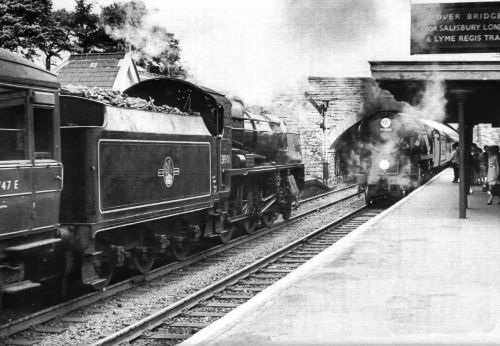 How do you get from Yeovil Pen Mill to Westbury? via Yeovil Junction and Exeter of course:- A couple of engineers on Sunday 5 April via 'The World'
CLICK HERE and CLICK HERE To think Westbury is not far from Yeovil (Thanks to Dave for these - shame we won't be around to 'spot' these!)

Our colleague in New Zealand seems to have enjoyed his long holiday! 'Yes thanks. must have been on about 60 railway journeys in Asia. 3 steam rides. lots of old steamers around too. NZ has a fire ban due to lack of rain so not much steam here. There is a brilliant miniature rail layout here too, but everything is closed now. I have taken some photos.'. We look forward to the stories and photos!


---
2 April 2020 Dave from Exeter sends in this photo of 35028 'Clan Line' at the platform at Gillingham, Dorset in October 1986.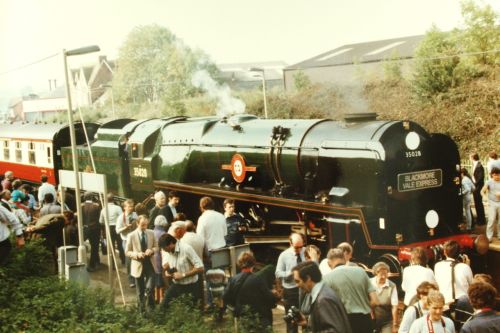 Glad to hear that our volunteer who has taken three months off to travel Asia is safe and well, holed up in New Zealand with his brother until flights are resumed! 'I have been on the lathe making drive shaft parts for a 1910 Renault vintage car rebuild, and one for a Tuktuk repair.'



The 160 eggs we had purchased ready for the Bank Holiday openings have been donated to The Lord's Larder Food Bank. The Lord's Larder Food Bank is operated by a charity called Yeovil Christian Support Trust, and is our local 'foodbank' of non-perishable food, operated by volunteers of all denominations that work together for the benefit of the community.


Roger recalls:- As a schoolboy in the 1950's I spent a lot of time at Sherborne station and I got to know most of the staff quite well. I always enjoyed talking to Jim Maidment and Ralph Bartlett, the two regular signalmen. On the odd occasion Jim would invite me up into the old signal box. It wasn't until one evening that I realised how unstable the box was when I was in it as the 7.00 pm from Waterloo sped through non-stop and one could feel the box rocking. No wonder a replacement box was built on the opposite side of the line!

Stan? Bright was another signalman that worked the box on a relief basis as I believe that his home box was Yeovil Town.

After the new box opened in 1960 I used to make a visit on the odd occasion. This was usually a Wednesday when the Station Master, Mr.Shepherd, had a day off. On that day there was usually a relief signalman on who came from Taunton and quite often he would invite me up into the box.

One evening I was in the box operating the levers, gates and bells whilst he completed the train register, the telephone rang, it was the Milborne Port signalman asking who was in Sherborne Signal Box. Obviously my bell pushing was not as snappy as the professional railwayman!

There used to be an evening goods trip working often hauled by an unrebuilt Bulleid Pacific from Yeovil Junction to Templecombe. The engine used to return light about an hour later. One evening whilst in the box with the relief signalman we passed the time by playing the odd game of cards. On one particular evening we were so engrossed in the card game that we forgot to send the train leaving section bell code to the Yeovil Junction box as the returning light engine passed through. Some minutes later the signalman for Yeovil Junction was on the phone enquiring why the loco was stood at his outer home signal when we hadn't sent him the bell code. A bit of time adjustment was hurriedly made in the train registers of both boxes!

I also remember being in the Signal Box one summer Saturday afternoon when we had to go into the locking room below to take up the slack on the up distant signal wire that had expanded due to the heat. That distant signal was always difficult to pull off, it was an acquired knack.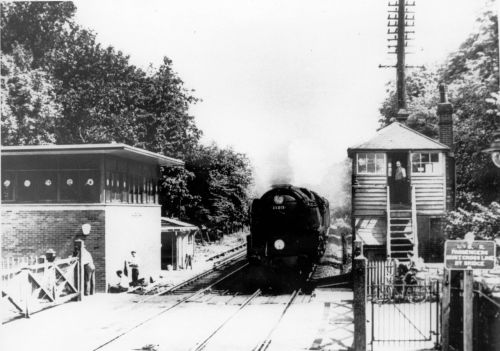 Rog also supplied a very interesting photo. He is talking to signalman Jim Maidment whilst 35015 'Rotterdam Lloyd' rattles through. Probably dating to very late 1950s as the rodding to the box is being fitted (no Hi-Vis in those days) and the box opened in 1960 with the old box being closed.


---
1 April 2020 (All Fools Day) - A prank gone wrong! CLICK HERE

John M writes:- Merchant Navy Class, 35025 'Brocklebank Line'.

35025 'Brocklebank Line' has been rusting away at Sellindge, Kent for the past 12 years, following a chequered history of movements from several sites following its exit from Woodhams Scrapyard.

Recently, The Brocklebank Line Association agreed with their Chairman Brian Seddon's proposal to put 35025 in the care of Southern Locomotives Ltd who are based at Sellindge and at the Swanage Railway and Herston Works.

SLL have made it clear that they cannot guarantee restoring it! (There are many pieces missing after a theft at Quorn many years ago). However, the Owners believe that there is more chance of something happening to it rather than leaving it slowly rusting away.

There may be hope for it yet.

South Western Railway take over Romsey, Dean and Mottisfont and Dunbridge stations from Great Western Railway with effect today (no joke!). The latter two stations have not had any GWR services for many years with the only trains calling being SWR. Read the announcement here CLICK HERE

Finally for today - is this for real (given the date)? CLICK HERE

31 March 2020 - First up is a challenge from Bill to name the railway the loco worked on, the make of loco and the gauge - email yeovilrailway@hotmail.com and answer in a few days!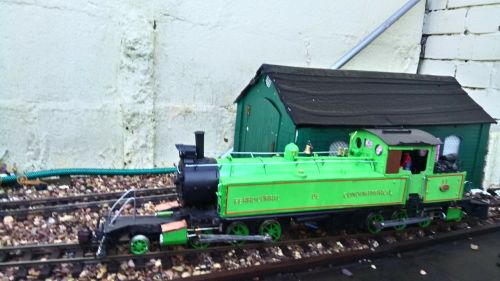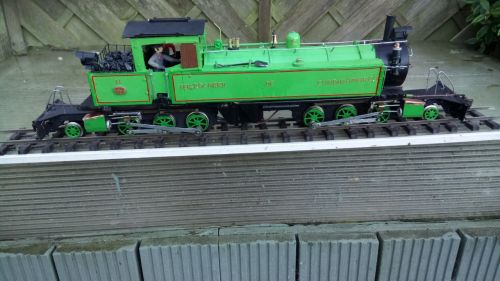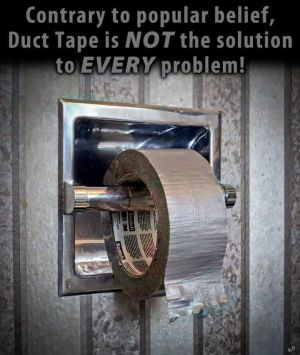 Ken has been busy in the garden (nice views!) and started on the baseboards for a new Model Railway layout (Chard Junction) - send in some photos of how you have been keeping busy!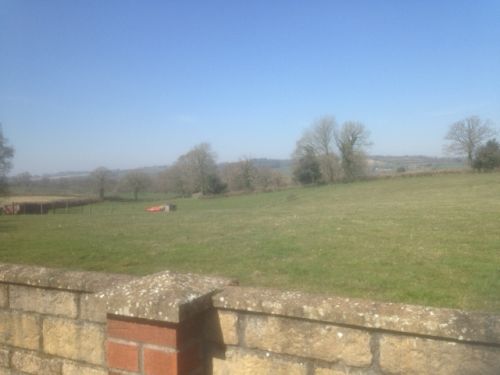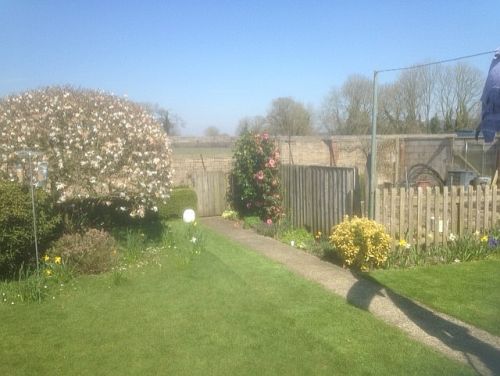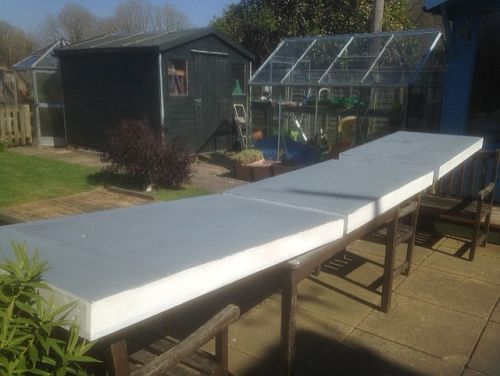 ---
Privacy | Dogs | Drones

---
South West Main Line Steam Company
a Company registered in England and limited by Guarantee.
Reg No. 2929246. Reg Office Yeovil Railway Centre, Yeovil Junction, Stoford, YEOVIL BA22 9UU.
VAT Reg No. 634 5484 28. Reg Charity No. 1043581.



Visitors from 1 December 2001.

The website and all material is © South West Main Line Steam Company and the owners of photographs included by kind permission. Although every effort is made, no guarantee is given of the accuracy of the website or the content of any linked websites. In addition attractions can be cancelled or amended as circumstances dictate - sometimes at the last moment.